The 20 Best Daytrotter Sessions of 2018
Daytrotter recorded more than 200 sessions this year. Here are some of our favorites.
Images via YouTube
Music
Lists
Best of 2018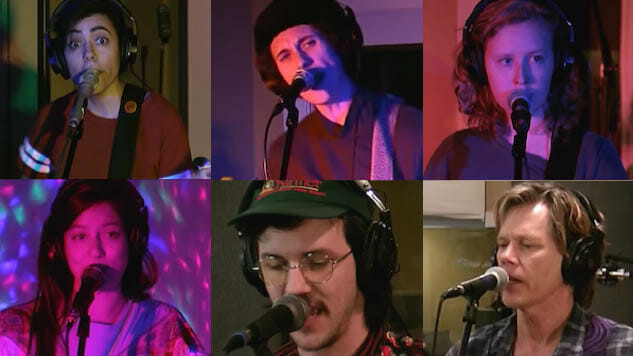 Watching or listening to Daytrotter sessions on a regular basis in 2018 was like hearing a fantastic opening band every single day. Maybe the band was fairly obscure, with nothing but two singles and a t-shirt to their name, but they nonetheless struck a chord (or several), causing us to do a deep-dive of their microscopic discography. The people who play Daytrotter sessions are often established artists, but other times, like opening bands at show, they're uncharted, up-and-coming bands just trying to get their name out there. That's what's magical about Daytrotter. It's first and foremost a platform for discovery, and on most any given day you can tune into a live session that's almost guaranteed to impress, or you can browse our expansive log of recordings by well-known and on-the-rise bands alike. Daytrotter is the place where you can hear Fleet Foxes play songs from their debut album the same year it was released. And it's also the place where you can find your new favorite band without leaving your house, and the lead singer of that band just might be Kevin Bacon. This year, we transitioned to primarily video sessions recorded in our Davenport, Iowa studio, bringing a fresh, new way to visually experience Daytrotter. With more than 200 sessions recorded in 2018, there was a lot to choose from, but we rounded up 20 of our absolute favorites and listed them by date.
Here are the 20 best Daytrotter sessions of 2018:
1. Wild Pink
Feb. 21
When it comes to indie labels, few are playing the game like Tiny Engines. Their focus is heavily artist-centered, and they were behind several of the year's best rock records. One of those lucky bands is Wild Pink, a New York City-based trio who confined arena-sized sounds to our petite Daytrotter studio during their February session. Their sophomore record, Yolk in the Fur, hadn't yet arrived, so the band played songs from their 2017 debut including "Wizard of Loneliness" and "Battle of Bedford Falls." —Ellen Johnson
2. Theo Katzman and Four Fine Gentlemen
March 10
You know Theo Katzman as the ringleader of Vulfpeck, the internet-savvy funk collective responsible for deliciously groovy and goofy tunes like "Back Pocket" and "1612." But most members of Vulfpeck's ever-steady rhythm section are also busy with their own hustles and contributing to each other's. Katzman and his band Four Fine Gentlemen, which here includes Vulf bass master Joe Dart, take a slightly more rock 'n' roll approach, but their Daytrotter session was every bit as funky as you'd expect. They played four songs from Katzman's 2017 solo effort, Heartbreak Hits: "Hard Work," "Crappy Love Song," "Good to Be Alone" and "Love Is a Beautiful Thing." —Ellen Johnson
3. Colter Wall
March 29
Canadian singer/songwriter Colter Wall is the sound of outlaw country in 2018. His gritty voice, deep enough to give Jackson Maine a run for his money, is on full display during his Daytrotter session, during which he performs with only an acoustic guitar. Wall is a troubadour from another time, and somehow he ended up here. His latest album, Songs of the Plains, arrived in October, so for this set he previewed a few of those tunes including "Plain to See Plainsman," "The Trains Are Gone" and "John Beyers (Camaro Song)." —Ellen Johnson
4. Paul Cherry
March 31
The Chicago music ecosystem is beautifully fragmented and diverse, containing a multitude of smaller scenes. One artist who has recently emerged from the city's garage rock arena is Paul Cherry, who released his debut solo album, Flavour, in March on Feeltrip Records. He visited the Daytrotter studios on album release day to share live versions of four songs from the record: "So Easy," "The Comeback," "Like Yesterday" and "Your Letter." —Ellen Johnson
5. The Lonely Biscuits
April 17
Nashville's The Lonely Biscuits are perpetually on the road. Since their humble beginnings in 2011, they've built a fan base thanks to frequent festival appearances, opening slots and tours throughout the South and beyond. In 2018, they carved out time for Daytrotter session a few weeks after the release of their long-awaited debut LP, The Universe in You. The trio performed several songs from that record including "Blue Glass" and "Afterglow." —Ellen Johnson
6. The Suffers
May 4
The Suffers, an eight-piece soul ensemble from Houston, Texas, start their Daytrotter session in the most ecstatic way possible, by simultaneously throwing their hands to the sky and shouting "Ahh!" all at once. It's a joyful beginning to a jubilant 10 minutes during which the band play three songs from their 2018 album, Everything Here—"Mammas," "You Only Call" and "Do Whatever." Their session was also something of a miracle in physics: Fronted by the fierce Kam Franklin, the octet consists of two percussionists, two horns, a keyboardists, guitar player and bassist, all of whom miraculously fit in the tiny Daytrotter studio. —Ellen Johnson
7. Skating Polly
May 15
Skating Polly just might be the loudest rock band from Oklahoma. They've since relocated to the rock-friendly Pacific Northwest, but step-sisters and Skating Polly frontwomen Kelli Mayo and Peyton Bighorse have been playing together since they were just 9 and 14, respectively, so it's no wonder the hard rockers are so comfortable in their shoes, or, in Bighorse's case, no shoes at all. During their set, in which Bighorse went sock-footed, they played a few songs from their 2018 record The Make It All Show, including "Hollywood Factory," "Flatwound Strings," "Long Ride" and "Camelot." Their brother and drummer Kurtis Mayo joined them for what would become one of the loudest, and most-watched, Daytrotter sessions of the year. —Ellen Johnson
8. Navy Gangs
June 6
Brooklyn-via-Omaha indie-pop quartet Navy Gangs came to Daytrotter to perform songs from their debut full-length album, Poach, released earlier this year through Modern Sky USA. The 14-track LP was mixed and mastered by none other than singer/songwriter and guitar stalwart Delicate Steve, who was an early champion of the band. After releasing their self-titled debut EP back in 2016, DIY quintet Navy Gangs really came into their own on Poach, and it's apparent in this Daytrotter session as well—their fuzzy, jangly and twinkling guitars pair with their harmony-laden pop vocals like peanut butter and jelly. —Lizzie Manno
9. Bat Fangs
June 11
Formed two years ago by Betsey Wright (Ex Hex) and Laura King (Flesh Wounds, Speed Stick), rock duo Bat Fangs released their self-titled debut album this February via Don Giovanni Records. After fellow D.C. band Ex Hex took a break, Wright was eager to get back in the ring, and Bat Fangs prove that Wright hasn't missed a beat. They play the kind of uplifting, summery power-pop, punk and classic rock that's perfect for riding a motorcycle victoriously into the sunset. They stopped by the Daytrotter Studios in Davenport to play a selection of songs from their album—"Boy of Summer," "Rock the Reaper," "Bad Astrology" and "Fangs Out," the latter of which they fondly refer to as the "Bat Fangs theme song."
—Lizzie Manno
Read Paste's list of 15 Washington D.C. bands you need to know in 2018
10. The Bacon Brothers
June 18
We've seen him dance, but who knew he could sing and play guitar, too? Actor Kevin Bacon and his brother Michael have been playing in a band since 1995, but chances are you're just finding out about it. With less than 5,000 monthly listeners on Spotify, these bros are flying under the radar—but maybe that's just the way they like it. Kevin and Michael, along with their robust band, performed a sizzling session in the Daytrotter studio in June, just a few weeks after the release of their self-titled album. The brothers are clearly influenced by arena rockers like Bruce Springsteen and Tom Petty (they perform a song called "Tom Petty T-Shirt). But the best part of this session, without a doubt, is during "A Road We Know Too Well," when Kevin performs a harmonica solo for the ages. —Ellen Johnson
11. Caroline Says
Aug. 10
The sound of Caroline Sallee's music seems to be rooted in whimsy. Yet, for Sallee, who makes music with her band as Caroline Says, making her sophomore record No Fool Like an Old Fool was no light-hearted task. She recorded much of the album in her dingy basement apartment, dodging noisy upstairs neighbors and simultaneously working three jobs. It's miraculous, then, that No Fool should feel so bright and light, despite the circumstances and often dark subject matter. The Alabama native and her band stopped by Daytrotter in August to play the first three tracks off No Fool, "First Song" "Mea Culpa" and "Sweet Home Alabama," plus an older favorite, "Winter Is Cold." —Ellen Johnson
Read Paste's list of the 20 best folk albums of 2018
12. The Shacks
Aug. 17
The Shacks' widespread influences surface much more in their music than that of most bands. The New York City group finds inspiration in everything from glittery dream pop, doomy psych-rock, jazz-leaning pop and '60s blues and soul. The band came into the Daytrotter Studio to perform tracks from their debut album, Haze, released earlier this year via Big Crown Records. Haze is characterized by frontwoman Shannon Wise's airy, ribbon-like vocals and guitarist Max Shrager's timeless songwriting—fluttering between delicate, jiving sweetness and a peppy grab bag of unpredictable keyboards and charming guitars. Watch their full Daytrotter session below with numbers like "My Name Is" and "Blue and Grey." —Lizzie Manno
13. River Whyless
Aug. 23
Hailing from an Appalachian metropolis—Asheville, N.C.—River Whyless are skilled at pasting traditional bluegrass sounds onto whatever musical canvas catches their fancy. On their excellent sophomore LP, they chose the whole world as their sonic starting point, incorporating flute, bongos and even sitar into their experimental folksy stylings. With their third album, Kindness, A Rebel, the quartet expand the horizons of folk music even more. Their captivating Daytrotter session, during which they play three tracks from that record, switches from casual rock show to a be-fiddled barn-raising at a moment's notice. I can't name all the instruments River Whyless use during this 20-minute set, but there is a word for how it sounds when they all blend together: seamless. —Ellen Johnson
14. Native Sun
Sept. 5
Native Sun caught our attention with their 2017 debut EP, Songs Born from Love and Hate, which showcases the band's untamed energy and garage-rock bona fides. They also landed on our list of NYC Bands You Need to Know in 2018, and we included them in our best Paste Studio sessions of 2017 list, where Matthew Oshinsky wrote, "This quartet from Brooklyn has been around for all of six months and positively gives no fucks—and that's what you need in a young band: hunger, amplifiers, and something to scream about." Before this year's blistering Daytrotter session, the band dropped another EP, Always Different, Always The Same—a six-track release full of dusty, snotty rock 'n' roll. They popped into the Daytrotter Studio to play cuts from the new EP like "Hippie Speedball" and "Big Succ(ess)." —Lizzie Manno
15. Elizabeth Moen
Sept. 15
Maybe you've never heard her records before, but after watching Elizabeth Moen's Daytrotter session, you just might find yourself Googling her tour dates. The singer/songwriter and ace guitarist brought along a team of equally talented musicians, including a trumpeter, to her set where they played a few tunes from her latest album, A Million Miles Away. Hers looks like the kind of live show you could dance and move to even if you didn't know a lick of lyrics. After opening for artists like Lake Street Dive, Margaret Glaspy and Lucy Dacus, the Iowa native is one to watch out for on the road. —Ellen Johnson
16. Illuminatti Hotties
Sept. 23
On their Facebook page, Illuminati Hotties' genre description reads "post-naptime burrito-core." Jokes aside, the L.A. band's jubilant rock would probably pair well with Mexican foods of all varieties, but not so much a midday nap. The group, whose only permanent member is longtime studio musician Sarah Tudzin, released Kiss Yr Frenemies, Tudzin's first record under the moniker, in May. Tudzin, along with her band, stopped by Daytrotter in September to play a few songs from the record including "(You're Better) Than Ever," "Shape Of My Hands," "Cuff" and "Paying Off the Happiness." —Ellen Johnson
17. Yonder Mountain String Band
Oct. 24
Any time there's more than three or four musicians in the Daytrotter studio, something interesting is bound to occur. At this session, the five string-fluent musicians forming Yonder Mountain String Band arranged themselves in a half-moon shape before shooting again for the stars: They start the set with a delightful cover of King Harvest's "Dancing in the Moonlight," and if you think acoustic instruments don't hold the power to move mountains and control jam sessions, just watch. The Colorado bluegrass band impressively manage with no rhythm assistance whatsoever, and they still know how to rock out. —Ellen Johnson
18. Odetta Hartman
Oct. 26
In August, experimental folk artist Odetta Hartman released her second album, Old Rockhounds Never Die, a follow-up to her 2015 debut, 222. Though "experimental folk" feels like an appropriate tag, Hartman's music is not just one thing: She's a whiz at the bass guitar, but she's also fierce on the electric banjo; she sings with gospel soul, but her accompaniment is often a drum machine, an electronic warp or maybe even a gun shot. During her set, she bounced through four songs from Old Rockhounds Never Die—the spooky almost-a-title-track "Old Rockhounds," shivery stomper "You You," plucky banjo number "Misery" and the rambling ranch poem "Cowboy Song"—plus two 222 tracks, "Batonebo" and "Dreamcatchers." But the most impressive part of her set wasn't the amount of songs she played, it was the amount of instruments she wielded. Hartman started the session with a bass, then switched to the violin for a blazing string solo, then finished out on the banjo. The sounds ranged from jittery to soulful to grimy—but never boring. Hartman is a hot-blooded performer and deft instrumentalist. —Ellen Johnson
19. Ron Gallo
Nov. 3
Ron Gallo made an appearance in the Daytrotter studio in November, a month after the release of his second full-length LP, Stardust Birthday Party, which follows Really Nice Guys, an EP that arrived earlier this year. The wise-cracking garage rocker (and part-time philosopher) played four songs from the new record during his set: "Happy Deathday," "Always Elsewhere," "Prison Décor" and "Love Supreme (Work Together!)." Gallo and his band throw a righteous "Deathday" party, complete with thrashing drums and Gallo's own witty narration between songs. —Ellen Johnson
20. Axis: Sova
Nov. 13
With the transportive sound of Chicago psych-rockers Axis: Sova, they may as well have teleported into the Daytrotter Studios for their session this past November. They were promoting the release of their third album, Shampoo You, which follows 2015's Early Surf and 2016's Motor Earth. The new album was released via Drag City imprint, God? Records and it's the first Axis: Sova album entirely performed and recorded live to tape as a trio. In this session, they played four songs from Shampoo You—"Terminal Holiday," "New Disguise," "Dodger" and "Same Person Twice." The opening warped guitars of "Dodger" are tantalizing, but if you lean in too close, its groove will lock you into a hypnotic state, and the slow tempo of "Same Person Twice" will similarly trick you into a false sense of security, trapping you in its blustery guitar maelstrom. —Lizzie Manno