The 10 Best Songs About New York Released in 2019
Image via YouTube/Jagjaguwar
Music
Lists
Best Songs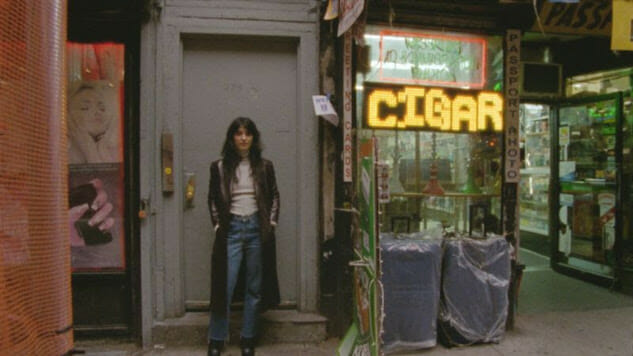 Joni Mitchell sang of "butterscotch" sunshine and a fleeting "rainbow" on "Chelsea Morning," a song from her 1969 classic Clouds. She didn't depict the hustle and bustle of New York City, but rather a peaceful a.m. scene—breakfast, oranges, "a song outside my window." You can't hear it without longing to slip into a bathrobe, pour a cup of coffee and just nest. Yet, it's undeniably about New York City. That "song" she mentioned?—"The traffic wrote the words." "Chelsea Morning" possesses a movement and a light that's felt in all the best songs about NYC. It's there in Harry Nilsson's urban hymn "I Guess the Lord Must Be in New York City" as the banjo cracks on. It's there—in a somber way—in LCD Soundsystem's lilting, lovely, relatable (if you've ever spent considerable time in the city, that is) "New York, I Love You But You're Bringing Me Down." It's even there in Taylor Swift's charged 1989 opener, "Welcome To New York," the kind of classic awestruck, bright-lights banger the city so often inspires. New York City is infinite, therefore its potential for musical muse is also infinite. As long as NYC stands, people will write songs about it, and 2019 has brought its own share of material. Here are the best songs that mention—or owe their entire heart to—New York City, from this year in particular. The playlist is best enjoyed with a Tompkins Square Bagel, but any carbohydrate will do.
Listen to our Best 2019 NYC Songs playlist on Spotify right here.
10. Deerhunter: "Greenpoint Gothic"
This is an instrumental cut from Deerhunter's latest, Why Hasn't Everything Already Disappeared?, and Bradford Cox did not explicitly say what it was about when prompted by CoS, so we can't confirm that it's actually about Brooklyn's Greenpoint neighborhood, one of the borough's hipster hotspots. "Greenpoint Gothic" sounds exactly like its title: noir and foreboding, but funky and nearly psychedelic at the same time. It's a fuzzed-out jam that would make the perfect soundtrack for your L-train ride.
9. Anna Tivel: "Two Strangers"
You wouldn't necessarily know Anna Tivel's gorgeous song "Two Strangers" was about New York City, beyond a wild guess as to which "city lights" she's gazing upon. But the Portland-based singer/songwriter let us in on the secret when she performed the tune in Paste's NYC studio. "This is the last song on the album I wrote after a trip to New York," she said. "I think there's so much happening here that I go home and my brain is just full of colors and sounds. Then I get some time to think about it." "Colors and sounds" are certainly words one might associate with NYC, but the song is full of the city's hallmarks—waiting for the train, eating in "vinyl back-booth" diners downtown, "a flower stand and trash cans on the curb," buying coffee from "a man who never saw me"—as well as the little intimate details that make the song so beautiful and personal, including the titular "two strangers" who shared a gaze on the subway. It's both vast and inward-looking, the perfect song for a city that shouldn't logically feel as small as it often does. Tivel leaves us with a sentiment shared among so many of NYC's residents: "I'm holding out, for something better, what it is, I don't know."
8. The Tallest Man On Earth: "The Running Styles of New York"
The Tallest Man On Earth, aka Kristian Matsson, has always had a keen sense of place. But it's pretty rare to find him singing about urban landscapes as opposed to more pastoral—or even figurative—ones. "The Running Styles of New York," a track from his 2019 LP I Love You. It's A Fever Dream, doesn't make direct references to NYC locales, save for the title, but it has a haunting way of describing a shadowy city in time with a long-term relationship. Matsson may have picked up more instruments for his latest release, but his lyrics remain as simple and affecting as ever.
7. Caroline Spence: "Song About A City"
Charlottesville-born, Nashville-based country/Americana artist Caroline Spence may not be the first singer you think of when it comes to music with urban themes, but her poignant "Song About A City" hits all the right notes. It begins with a verse about New York City specifically: "I used to take the train / Upstate to see the colors change / Nothing's falling quite the same / No matter where I land / This New York City rooftop bar /Just looks up at the same old stars." But she quickly comes to the conclusion that it doesn't matter what beautiful city she's in—she's only inspired by one person. "Wish I could write a song about a city," she sings. "Instead of songs about you." Turns out, she did both.
6. Laura Stevenson: "Living Room, NY"
Singer/songwriter Laura Stevenson mentions New York specifically in her stunning song-of-the-year contender "Living Room, NY," but this quiet scene could take place in any room, in any city, anywhere. It's about "missing someone on the other side of the world," Stevenson said in a tweet, and you can feel the longing in her every breath. She was in Australia when she wrote the tune, and we can only assume the other person was in New York, hence this song about missing both a city and a soul.
5. The National: "I Am Easy To Find"
Oftentimes, it's easiest to define the massive, mobile ecosystem that is New York City by what it's not. In the title track from The National's new album I Am Easy To Find, Matt Berninger delivers a line so cold and sharp you don't know whether the person on the receiving end should feel insulted or embraced. I suppose it depends on how you'd feel about being called a New Yorker. "You were never much of a New Yorker / It wasn't in your eyes," he croons over cricket sounds and the glitchy beats that underscore the album. "If you ever come around / This way again, you'll see me / Standing in the sunlight / In the middle of the street."
4. Bodega: "Shiny New Model"
Bodega's identity as New Yorkers is built into the very fiber of their bandhood, from their name to their lyrics to their personalities. They were once called "The Summer's Ultimate Brooklyn Band" by the Village Voice (RIP). Their soaring new rock song "SHINY NEW MODEL," released this summer, contains details pertaining to their nomenclature: the whole thing takes place inside a wilting bodega. It becomes a metaphor for the city's gentrification as Ben Hozie spouts the line, "Yeah, you can increase up your service charge / But you're competing with a shiny new model." They're describing something as seemingly mundane as a corner bodega in need of a paper towel restock, but "Shiny New Model" ultimately pays homage to the Bushwick neighborhoods from whence this rowdy five-piece band emerged.
3. Vampire Weekend: "Jerusalem, New York, Berlin"
Vampire Weekend wrote New York City songs for a new generation. The group's first two albums were all but odes to the isle of Manhattan, specifically Ezra Koenig and co.'s academic playground that was the Columbia campus and its Upper West Side surroundings. There's nothing on their latest album, Father of the Bride, as forthright as "Walcott," "Campus," "Mansard Roof" or "Taxi Cab," but there's a sliver of NYC imagery in the low-lying album closer "Jerusalem, New York, Berlin." Like much of the album, its caboose finds Koenig waxing existential about life and love. When you consider what each of those three cities means to Jewish history, the song takes on a deeper meaning.
2. Sharon Van Etten: "Seventeen"
"Seventeen" is an origin story in the Springsteen vein. In the video, a grown Sharon Van Etten walks with her younger self through old NYC stomping grounds—Union Pool, Baby's All Right, the Marcy Street JM subway stop. The lyrics paint a picture of a bygone New York City, one where up-and-coming rock musicians like Van Etten ran wild. "Downtown harks back / halfway up the street," she sings. "I used to be free / I used to be seventeen." Since then, she's achieved some of those dreams she was chasing around Manhattan and Brooklyn, but she has also since relocated to L.A. And that might be the biggest pill to swallow.
1. Purple Mountains: "Snow Is Falling In Manhattan"
There's no debate as to which 2019 song is the best and truest NYC ballad. It hits different at this point in the year, just three months after David Berman's death, but it maintains the dark, mystical beauty that simmered up the first time I heard it on a sweltering day in July. Hearing Berman's lyrical poetry is nothing new, but there's something so special about this particular description of New York. It works almost like an antithesis to Mitchell's "Chelsea Morning." Her NYC scene was a bright, light spring morning; his, a dark, cozy winter's night. "Snow is falling in Manhattan / In a slow diagonal fashion / On the Sabbath, as it happens," he sings. Then, later, the location becomes even more exact as the borough count rises to four: "Coming down in smithereens / On Staten Island, Bronx and Queens / It's blanketing the city streets." But he's safe inside, with a "fire crackling." And what a comforting vision that is, especially now.
Listen to our Best 2019 NYC Songs playlist on Spotify right here.