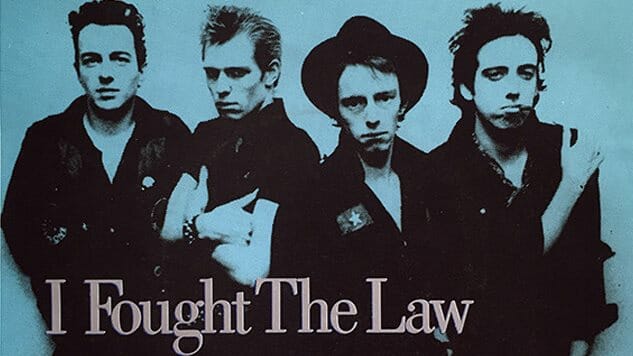 While surveying the ferociously fun punk covers landscape to compile a proper best-of list, there are a few things that become immediately apparent. First, the 1980s seem to be the decade that is most ripe for the original source material to be covered. If Martha Quinn announced a song's MTV video premiere—no matter the original genre—there's a good chance that a punk band has taken a sonic swing at it. Second, punk bands love covering The Beach Boys. Punk mainstays like the Ramones, Pennywise, the Descendents, the Queers, Shonen Knife, the Vandals and more have all rammed (some more than once) the sun-kissed sounds of the quintessential '60s rock band through an amped-up, down-stroked punk filter. Third, in some exceptional cases, the cover versions unquestionably eclipse the original, as with The Clash's "I Fought The Law," Social D's "Ring of Fire" and pretty much every Ramones cover.
With those things in mind, there are many punk covers that just didn't make this list due to there already being adequate representation from a similar pick. They may still be fun to sing along to and they do their part to make a long drive more bearable when they come up on a playlist, but there are only so many tongue-in-cheek covers of '80s new wave songs or snotty early punk bands that were trying to do nothing more than wink at their audiences by turning in a version of a well-known ditty that's unruly, but nothing special. (Here's looking at you, Sex Pistols). We also self-imposed a rule of only including one cover per band, just to keep this from being unequally overrun by prolific punk cover pros like the Ramones, Dropkick Murphys, MxPx and Me First and the Gimme Gimmes.
If full-length covers albums are your preferred jam, we've already got you covered (so to speak) with 10 of the Best Punk Cover Albums of All Time. But if you'd rather keep your rowdy and raucous reworkings to singles, please find the 30 best punk rock cover songs below.
30. The Donnas, "Dancing With Myself"
While The Donnas flirted with classic rock and heavy metal in their later albums, the Palo Alto foursome always built their sound and ethos on good old-fashioned punk music. To that extent, they've ceremoniously covered artists like Mötley Crüe, KISS, Judas Priest and Alice Cooper, but it's their strutting cover of Generation X's "Dancing with Myself" that most adequately captures The Donnas' musical moxie. Recorded for the 2004 movie Mean Girls, the song appears over the film's closing credits and kicks off the hit-or-miss soundtrack in style. "Dancing with Myself" features The Donnas lead singer Brett Anderson (aka Donna A) channeling Billy Idol's agitated snarl and swagger with aplomb, while the band follows suit with a straightforward-yet-energized performance. The Donnas have always seemed to be equal parts Runaways and Ramones and their cover of "Dancing With Myself" blends the best of both influences with their own tough-girl twist.
29. Mad Caddies, "S.O.S."
Throughout their six albums and various EPs, singles and compilations, Mad Caddies have continuously augmented their punk approach by fearlessly mixing in multiple other genres to create their distinct-yet-divergent sound (polka and sea shanties included). For example, their five-track EP The Holiday Has Been Cancelled contains elements of wah-wah horn lounge rock, ska-tinged hardcore, twangy alt-country cowpunk and an ABBA cover. Their take on the Swedish pop quartet's 1975 single "S.O.S." retains the original's minor-key intro and verses while bolstering the major key chorus blasts with additional horn and guitar work. You can certainly try to listen and do your best to not sing along, but resistance is futile when the Mad Caddies meet mid-'70s disco.
28. The Dollyrots, "Da Doo Ron Ron/I Wanna be Sedated"
The Dollyrots have recorded quite a few remarkable punk covers in their career with some of them like Joan Jett's "Bad Reputation" and Melanie's "Brand New Key" even appearing in film and television shows. However, their Crystals/Ramones mash-up of "Da Doo Ron Ron/I Wanna Be Sedated" serves the dual purpose of highlighting the band's best selling points (lead singer Kelly Ogden's charmingly plucky vocal delivery and Luis Cabezas' lock-step rhythm guitar playing) while also framing their sonic influences in a cleverly meta way. By seamlessly fusing the two songs together, The Dollyrots play off their melodic similarities and pay tribute to the Ramones influence on them and The Crystals' influence on the Ramones. It's an ingenious sonic smirk to the genre's lineage that's also just a really entertaining listen.
27. The Mighty Mighty Bosstones, "Ain't Talkin' 'Bout Love"
When The Mighty Mighty Bosstones released Where'd You Go? in 1991, the five-track EP included a trio of covers—Aerosmith's "Sweet Emotion," Metallica's "Enter Sandman" and Van Halen's "Ain't Talkin' 'Bout Love." "Sweet Emotion" and "Enter Sandman" are both fast-and-sloppy also-rans, but "Ain't Talkin' 'Bout Love" stands out as a really solid example of early Bosstones magic. Masterfully driven along by the band's ska-core boom and Dicky Barrett's instantly recognizable bark, their cover of "Ain't Talkin' 'Bout Love" is made exceptional by the quick snippet of The Specials' "Nite Klub" they throw into the cover's bridge. Years before the platinum-selling polish they showed on 1997's Let's Face It, The Mighty Mighty Bosstones showed a spunky pioneering spirit on tracks like "Ain't Talkin' 'Bout Love."
26. Me First and the Gimme Gimmes, "Leaving On A Jet Plane"
How do you pick the best punk cover from a band who's made an impressive two-decade career out of just that? Punk cover supergroup Me First and the Gimme Gimmes released their very first 7" single in 1995 and it contained a John Denver cover on each side: "Country Roads" on the A and "Leaving On A Jet Plane" on the B. While "Country Roads" is a fun pedal-to-the-metal barnburner, "Leaving On A Jet Plane" earns extra points for Spike Slawson's theatrical howl and Fat Mike's beautifully rumbling bass tone. After multiple cover albums and almost 20 artist-dedicated singles, Me First and the Gimme Gimmes have perfected the art of the punk cover and you really can't go wrong in picking any of their tracks. If you're looking for a good place to start with the band, they just released their first "greatestest hits" album Rake It In this past May. You can also check out their recent live session in the Paste Studio in New York.
25. The Ataris, "Boys of Summer"
When The Ataris released their fourth album So Long, Astoria in 2003, "In This Diary" was tagged as the album's lead single. However, radio stations gravitated so hard to the album's driving cover of Don Henley's "Boys of Summer" that the band decided to quickly release it as an official single. The surprise success of "Boys of Summer" resulted in The Ataris earning their highest chart rankings (No. 2 on the Billboard Modern Rock Charts and No. 20 on the Billboard Hot 100) and scoring their only gold record as well. For their cover, The Ataris managed to recapture Henley's wistfully reminiscent tone while revamping the song's sonic palette and cleverly swapping out the lyric's Grateful Dead reference for a more relevant punk-themed update: "Out on the road today I saw a Black Flag sticker on a Cadillac." Within the glut of early-'00s pop-punk covers, The Ataris' "Boys of Summer" remains one of the era's top-shelf standouts.
24. The Damned, "Help!"
While the Sex Pistols and The Clash usually dominate any discussion about late-'70s U.K. punk bands, The Damned actually hold the distinction of releasing the first U.K. punk single ("New Rose") and full length album (Damned Damned Damned), as well as being the first U.K. punk band to do a proper U.S. tour. The Damned released their "New Rose" 7" single five weeks before the Sex Pistols released "Anarchy in the U.K." and they included a breakneck cover of The Beatles "Help!" as the non-album B-side. Clocking in at under a minute and a half and intentionally irreverent, The Damned's version of "Help!" was clearly meant to take the piss out of The Beatles—who had only been broken up for six years at the time—in the same way that The Clash's song "1977" did ("No Elvis, Beatles, or the Rolling Stones in 1977"). What more appropriate way to mark the first U.K. punk single than by thumbing your nose at the biggest band in the world on your B-side?
23. Dropkick Murphys, "Tessie"
With its roots stretching as far back as a 1902 Broadway musical, Dropkick Murphys' interpolation of "Tessie" earns the distinction of being the oldest original on this punk covers list (although it's certainly not the oldest original in the Celtic punk band's catalog of covers that's rich with Irish folk traditionals). The storied tale of "Tessie" involves its use as a rallying anthem for the Boston Americans (later to become the Red Sox) during the 1903 World Series, which they went on to win in dramatic fashion by taking the last four games after being down three-to-one in a best-of-five series. Dropkick Murphys recorded their uproarious version of "Tessie" for their 2004 EP of the same name. Released during the late summer of that year's baseball season, the song went on to gain a second life as a Boston baseball anthem as the Red Sox went on to "reverse the curse" and win their first World Series in 86 years. After the Red Sox World Series win, Dropkick Murphys included "Tessie" as a bonus track to their Warrior's Code album released the following summer and added famed Boston sports broadcaster Joe Castiglione's "Can you believe it?" call of the final play as the song's intro.
22. The 5.6.7.8's, "Woo Hoo"
While The 5.6.7.8's kinetically bouncy cover of the 1950s rockabilly quasi-instrumental "Woo Hoo" was originally released on the Japanese trio's 1996 album Bomb the Twist, it gained a significant amount of popularity in the early 2000s thanks to its in inclusion in Quentin Tarantino's Kill Bill: Volume 1. Tarantino not only featured the song on the film's soundtrack, but he also included multiple scenes of the band performing a few different songs, including an extended sequence where almost the entirety of "Woo Hoo" ran over multiple shots of The 5.6.7.8's playing along. Furthering the song's serendipitous success, the band's cover of "Woo Hoo" also popped up in quite a few commercials around that time period as well. Who knew a Japanese garage punk girl group could cover an American rockabilly song so well that it could help sell Canadian beer.
21. The Offspring, "Smash It Up"
Putting aside the Kilmer-replaces-Keaton, Jones-hates-Carrey debacle that was 1995's Batman Forever, the film's soundtrack was actually pretty fantastic (even if only five of the soundtrack's 15 songs actually appeared in the film). U2's "Hold Me, Thrill Me, Kiss Me, Kill Me" scored a hit single and a memorable MTV video and Seal's "Kiss From A Rose" hit No. 1 on the Billboard Hot 100 and won three Grammy awards, but it was the soundtrack's trio of cover songs—Michael Hutchence covering Iggy Pop's "The Passenger", Massive Attack and Tracey Thorn covering Smokey Robinson's "The Hunter Gets Captured by the Game" and The Offspring covering The Damned's "Smash It Up"— that proved to be its most interesting component. While it's always a respectable move for a younger punk band to pay homage to an older one, it was especially meaningful during the punk upswell of the mid-'90s when bands like The Offspring, Rancid and Green Day were getting recognition and achieving success at a level that older punk bands like The Damned never did. Batman Forever may have its share of questionable moments (nipples on the batsuit?), but its soundtrack introduced a new generation to The Damned via The Offspring, so it's a win overall.
20. L7, "Hanging on the Telephone"
While 1995's The Jerky Boys isn't an especially memorable film, it's soundtrack remains one of the more interesting and enjoyable movie-themed entries of the decade. The rewardingly diverse tracklisting placed alt-rock radio acts (Collective Soul, Green Day, Helmet) alongside hip-hop collectives (Wu-Tang Clan, Beastie Boys, House of Pain, Coolio and 40 Thevz) and even sprinkled in some surprises like Tom Jones covering Lenny Kravitz's "Are You Gonna Go My Way?" and indie darlings Superchunk appearing on a major movie soundtrack. However, the album's most pleasant surprise is L7's roaring (and thematically on-the-nose) cover of "Hanging on the Telephone" that opens Parallel Lines. Although originally released by The Nerves in 1976, Blondie's cover became a hit two years later. While The Jerky Boys was unilaterally panned, the film's soundtrack is an incredibly entertaining listen and L7's cover of "Hanging on the Telephone" is almost worth the price of admission on its own.
19. Minor Threat, "Stepping Stone"
Minor Threat accomplished a lot in their all-too-short career, including spearheading hardcore punk, revolutionizing the DIY work ethic, popularizing the straight edge movement and capturing one of the most iconic) (and most copied) punk photos of all time for their self-titled EP cover. When they released In My Eyes at the tail end of 1981, they closed out the seven-and-a-half minute four-track EP with an aggressively furious cover of the 1960s pop single "Steppin' Stone" made popular by bands like The Monkees and Paul Revere & The Raiders. Originally called "(I'm Not Your) Steppin' Stone" for all of its '60s renditions, Ian MacKeye and company shaved down the title and ramped up the tempo for Minor Threat's assaulting cover. While it feels like a tongue-in-cheek goof to say that Minor Threat covered The Monkees, the song's lyrics actually contain the same themes of assertiveness and self-empowerment that can be found in many Minor Threat songs.
18. Goldfinger, "99 Red Balloons"
While Goldfinger's 1998 version of Spiral Staircase's "More Today Than Yesterday" from Adam Sandler's The Waterboy is certainly a fine and respectable undertaking, their rendition of Nena's "99 Red Balloons" from their 2000 album Stomping Ground edges out the competition for best Goldfinger cover thanks to lead singer John Feldmann's impressive use of the original's German lyrics in one of the verses. Goldfinger often mixed various ska elements into their punk-fueled catalog, and while that shows up here in the song's closing moments, their take on "99 Red Balloons" mostly roars along on only the purest open-throttled punk muscle. In fact, the song's escalating groove threatens to hit the sonic stratosphere by the time Feldy hits the Germanic climax, leaving the band no choice but to use its smoothed out ska skills to mirror Nena's contemplative ending.
17. Dead Kennedys, "Viva Las Vegas"
When Dead Kennedys released their debut album Fresh Fruit for Rotting Vegetables in 1980, songs like "Holiday in Cambodia," "California Über Alles" and "Kill the Poor" thrust the feisty foursome (and especially lead singer-songwriter Jello Biafra) into the limelight as a politically charged punk band. However, the album also contained a tongue-in-cheek rave-up of the schmaltzy Elvis classic "Viva Las Vegas" that showed the band's irreverent, goofy side, as well. Apart from a couple minor drug-referencing lyric changes, Biafra and company approach the cover in a pretty straightforward punk manner, allowing "Viva Las Vegas" to serve not only as double dueces to one of rock music's sacred icons, but it also functions as a fun, easy-access entry point to such a provocative and controversial band.
16. The Plugz, "La Bamba"
When the predominantly punk soundtrack to the 1984 movie Repo Man came out, fans of Black Flag, Suicidal Tendencies and Iggy Pop (who sang the film's title track) may have been surprised to see that three of the album's 11 songs were by a semi-obscure band called The Plugz. The Los Angeles-based group started out as a trio around 1977 and (along with The Zeroes) were pioneers in the Chicano punk scene. Their blistering cover of Ritchie Valens' "La Bamba" (the B-side to their "Achin'" 7" single in 1981) was a high-water mark for the group, itself a commentary on their Latino roots that was both celebratory and satirical, though the ratio between those two elements is up for debate. The Plugz frontman Tito Larriva has gone on to score (and appear in) multiple films and original Plugz drummer Charlie Quintana has played with Bob Dylan, Cracker, Izzy Stradlin and Social Distortion.
15. The Suicide Machines, "I Never Promised You A Rose Garden"
While the soundtrack to 1998's SLC Punk is almost entirely anchored by original tracks from prototypical punk bands like the Ramones, Fear, Dead Kennedys and Minor Threat, its pitch-perfect opening track is this impressively polished and aggressive cover of Lynn Anderson's 1970 country crossover classic "I Never Promised You A Rose Garden." Recorded specifically for SLC Punk (and appearing on the band's self-titled album the following year), The Suicide Machines vacillate between the syrupy sweetness of the original's countrypolitan strings and the danceable bombast of their dynamic brand of hardcore ska punk. While most punk covers from this period hovered around the cheesier songs of the 1980s, The Suicide Machines' decision to reach a little farther back for their tip-of-the-hat and it certainly paid off with this incredibly fun cover.
14. NOFX, "Go Your Own Way"
To close out their second album, 1989's S&M Airlines, NOFX invited Bad Religion frontman Greg Graffin to trade lines with Fat Mike on a rowdy romp through Fleetwood Mac's "Go Your Own Way" that features impressive instrumentation (that guitar solo!) and a slightly-less-than-serious approach to the vocals. The result ends up being two great tastes that taste great together as Graffin's menacing bark plays perfectly off of Fat Mike's snotty sneer and the singalong background harmonies are pretty spot-on, especially for a punk record that was recorded and mixed in just six days. S&M Airlines was NOFX's first album on Epitaph Records and their decision to have Bad Religion guitarist/Epitaph owner Brett Gurewitz return as producer for them seemed like a perfect choice for capturing the band's sound and attitude. Having the NOFX-Bad Religion connection on "Go Your Own Way" makes the song an incredibly perfect slice of '80s punk nostalgia.
13. X, "Soul Kitchen"
There's no denying that X's 1980 debut album Los Angeles is one of the best and most influential punk albums of all time, thanks in some small part to what they did with their searing cover of "Soul Kitchen" by The Doors. While The Doors aren't exactly typical punk cover fodder, the fact that Doors' keyboardist Ray Manzarek produced_ Los Angeles_ makes that choice a little more understandable. For X's part, "Soul Kitchen" is almost unrecognizable as a Doors original, as Exene Cervenka's unmistakable howl, John Doe's gruff background vocals, Billy Zoom's vigorous guitar work and D.J. Bonebrake's unrelenting drumming all help made "Soul Kitchen" sound like quintessential X material. This cover is a prime example of a band hitting its stride right out of the gate and it actually serves as a fantastic entry point for getting acquainted with X's catalog.
12. Rancid, "If The Kids Are United"
The blueprint of a punk band covering a punk song isn't a guaranteed recipe for success, no matter how well-intentioned. Sometimes, however, the formula contains just the right secret ingredient to turn that rule on its head. Such is the case with Rancid's cover of Sham 69's "If The Kids Are United" from the 1999 Hellcat Records compilation Give 'Em the Boot II. In Rancid's hands, the 1978 punk classic gets new life thanks to the mind-bending bass work of Matt Freeman. From his nimble-fingered intro to his electrifying runs during the song's chorus, Freeman's bass line foregoes the standard root-note punctuation for a compelling counter melody that supercharges the song into new sonic spaces. Rancid has always had a fantastic grasp of punk's most foundational musical elements and Freeman's jaw-dropping bass talents truly take the band's already-excellent combined output to the next level.
11. Riverboat Gamblers, "Let's Go Crazy"
When Prince's Purple Rain turned 25 in 2009, the occasion was widely celebrated in a variety of contexts due to the double media smash success of the 1984 film and album. One of the more clever tributes of 2009 was Purplish Rain, a tribute album compiled by Spin magazine that featured track-by-track Purple Rain covers in the album's original running order. While Sharon Jones' funk-fueled "Take Me With U" and Mariachi El Bronx's festive waltz through "I Would Die 4 U" expertly showcase Prince's far-reaching sonic imprint, Purplish Rain's explosive opening track—"Let's Go Crazy" by Riverboat Gamblers—shows that The (painfully missed) Purple One translates to punk rock just as comfortably as anything other genre. While the Riverboat Gamblers shave a little of the pop polish off of "Let's Go Crazy" by approaching it with a more raw abandon, the fact that they never quite capture the outright fury of Prince's original guitar work may be the most punk revelation about the whole cover.
10. Shonen Knife, "Top of the World"
No strangers to cover songs, the Japanese all-female pop punk trio often performs as The Osaka Ramones and even released a full-on Ramones cover album in 2011. But even before that, Shonen Knife began their history of important covers when alternative-flavored tribute album to The Carpenters, If I Were A Carpenter, came out in 1994. Their saccharine-and-sake take on "Top of the World" strikes the feel-good '70s nostalgia vibe inherent in a Carpenters song, but their bouncy charisma and subtle phrasing changes go along way in putting their own stamp on the AM radio staple. It appears that Shonen Knife's cover has some pop cultural legs as well, as the song appeared a year after its initial release as the closing theme to the 1995 film The Last Supper and has shown up again as recently as last year's Gilmore Girls: A Year in the Life reboot.
9. MxPx, "Take On Me"
Right before the deluge of '80s punk covers that oversaturated the late-'90s and early-'00s, Bremerton, Wash. pop punk trio MxPx beat most bands to the punch with their knockout cover of A-ha's "Take on Me" from their 1995 On the Cover EP. Still in their late teens at the time, MxPx showed some finesse in their tracklist choices for the all-covers affair, but it was "Take On Me" that unquestionably proved to be the album's standout track. Instead of just seeing how loud and fast they could play "Take On Me," MxPx really struck the dog-on-a-chain sweet spot of restraining the cranked guitars and accelerated tempo just enough to still let the song's melody and groove shine through. Although Reel Big Fish's (three years later) cover of "Take On Me" got a little more notoriety due to its involvement with the BASEketball film and soundtrack, MxPx's version has more raw charm to it by foregoing the tongue-in-cheek cheesiness for unfiltered punk spirit.
8. Joey Ramone, "What A Wonderful World"
On August 6, 1996, the Ramones played their final show at the Palace in Hollywood. Never one to be away from music for too long, Joey Ramone took the stage two short months later at an Arizona alt-rock festival (as "Joey Ramone and The Resistance") and played his excitable cover of Louis Armstrong's "What A Wonderful World" for the very first time. A studio version of Ramone's muscled-up take on the easygoing classic wouldn't become available until almost a year after his 2001 death, showing up as the opening track to his first solo album, 2002's Don't Worry About Me. Since its release, Ramone's version has become a pop culture touchpoint, showing up in a wide variety of films, television shows, and commercials. It's easy to see why the cover works so well in so many contexts: hearing such an iconic song filtered through such an iconic voice offers its own immediate accessibility, but having the extra gravitas of it being posthumously released adds an extra layer of celebratory remembrance to the whole experience.
7. Green Day, "Knowledge"
During Green Day's early pre-Dookie years, the band earned its punk stripes as an integral part of the wildly explosive scene at Berkley's 924 Gilman Street club. When the time came for them to record their second EP, Slappy, in 1990, Billie Joe Armstrong decided to pay homage to another Gilman Street mainstay by covering Operation Ivy's "Knowledge" as the closing track. While "Knowledge" is one of Operation Ivy's most well known songs, it has also become one of Green Day's most notable and enduring covers. Not only does the band still play it in concert to this day, but it's also been a longstanding tradition to invite a random audience member or two up on stage to play their instruments (often sending the temporary band member home with a guitar, as well). While the song itself is fine enough, what has made it most significant is the sentimentality of what it has signified for both bands—a tribute to one band that has turned into an on-stage ritual for the other.
6. The Slits, "I Heard It Through The Grapevine"
While the mythos of late-'70s U.K. punk bands is storied and rich, any discussion of it that doesn't include The Slits is missing an important piece of the puzzle. Fronted by the talented and flamboyant Ari Up (who was only 14 when the band started and 17 when they released their debut album), The Slits mixed reggae, dub and experimental elements into their irreverent punk ethos to create an eclectic and aggressive sound à la The Clash. In 1979, The Slits released "Typical Girls" as the lead single from their debut album Cut and used a stutter-and-slink cover of the Motown standard "I Heard It Through the Grapevine" for the single's non-album B-side. While the bass-led pulse of the original was one of its sonic hallmarks, The Slits invert the song's rhythmic elements via a thumping kick drum and a disco-flavored hi-hat. Ari Up even changes the lyrics to "I heard it through the bassline" a couple times for good measure. As heard in future live show recordings, The Slits further evolved the song from their studio-recorded B-side to include more jungle tom drumming and to highlight its danceable nature even more.
5. Social Distortion, "Ring of Fire"
Much like The Clash's "I Fought The Law," Social Distortion's fiery cover of Johnny Cash's "Ring of Fire" is emblematic of the perfect fusion between right band, right cover and right time. After signing to Epic Records on the strength of their second album Prison Bound, Social D frontman Mike Ness dialed up the rockabilly and country elements of their sound for their first major label release, 1990's Social Distortion. While the band had been covering Johnny Cash songs in concert as far back as 1985, Ness decided to commit his newest eruptive homage to The Man in Black to tape, helping to earn Social D their first gold-selling record and creating a signature song for the band that is still a euphoric cornerstone of their live shows. By swapping out Cash's mariachi horns and mix-metered groove for down-strummed guitars, growling amps and full-tilt tempo, Ness did to Cash what Cash would do to Trent Reznor years later—reinvent a song so well that the new version casts it into in an entirely different (and possibly more meaningful) light than the original.
4. Joan Jett, "Love Is All Around"
Although she's often associated more heavily with rock circles, Joan Jett unquestionably earned legit punk cred early on in her career. After singing and playing guitar in The Runaways throughout the latter half of the '70s and then producing the only studio album the Germs ever made in 1979, Jett went on to start a trailblazing solo career that is still going strong to this day. Throughout the years, she's chalked up an extremely successful track record of channeling other artists and their songs, but her decision to cover a television theme song in a non-ironic, straight ahead way was an incredibly bold move. Jett's version of "Love Is All Around" from The Mary Tyler Moore Show (which, by the way, is No. 10 in our list of Best TV Theme Songs) struts in a way that is pitch perfect in tempo, delivery and snarl, while the dual liberated feminist icon symbolism adds an additional layer to her quintessential sonic swagger. Fun fact: This is the second song on this list (after "I Fought The Law") originally written by Sonny Curtis, the singer-guitarist who fronted The Crickets after Buddy Holly's death.
3. Patti Smith, "My Generation"
Patti Smith is sometimes pegged as more poet than punk, but there's no doubt that her otherworldly creative output has always been informed by her early punk influences. When she released her adaptation of Them's "Gloria; as a single from her landmark debut album Horses, she used a scathing live cover of The Who's "My Generation" as the single's B-side. The chaotic rave-up was recorded during a 1976 Cleveland Agora show and it captured Smith and her band at their most frenzied and free. With punk still in its cultural infancy at the time—it had been less than a year and a half since the Ramones had made their CBGB's debut and the Sex Pistols' "Anarchy in The U.K." hadn't even been recorded, yet—Smith's rebellious confiscation of the previous era's youth anthem perfectly contextualized the attitude and energy of the burgeoning scene on the cusp of its fullest explosion.
2. The Ramones, "California Sun"
To say that the Ramones knew how to pick good cover songs is like saying that they knew how to write good "I Wanna/I Don't Wanna" songs, as their genre-defining catalog was filled to the brim with both. However, what's notable about their cover song choices—apart from the fact that they literally made each one sound like a Ramones original-is how many of them were of the sun-and-surf variety. One might expect a no-frills punk band comprised of four tough guys from Queens clad in black leather jackets, tight jeans, and low-slung instruments to not have such an affinity for the beach (Rockaway or otherwise), but their covers of The Beach Boys' "Surfin' Safari," Jan and Dean's "Surf City" and The Trashmen's "Surfin' Bird" say otherwise. While "California Sun" from their third album (1977's Leave Home) fits easily into this odd segment of their covers oeuvre, it also contains a certain spark that elevates it into being one of the band's more celebrated covers, as evidenced by its resurfacing in their 1979 film Rock 'n' Roll High School and on a wide variety of their compilations and live albums.
1. The Clash, "I Fought The Law"
While The Clash's explosive take on the Sonny Curtis/Bobby Fuller Four classic "I Fought The Law" may not have been the first punk rock cover song ever recorded, it is arguably the finest. So much so that anytime the term "punk cover" is uttered into the ether, Topper Headon's rumbling drum intro starts thundering somewhere in the distance. Released in 1979 (first on The Cost of Living EP in the U.K. and soon after on the U.S. version of their self-titled debut album), the song was responsible for breaking the band here in the States, due in large part to the way it encapsulates all of The Clash's signature elements-iconic vocal interplay between Joe Strummer and Mick Jones, the duo's dynamic push-pull guitar work, Paul Simonon's dancing bassline and Headon's unbridled drumming. The perfect amalgamation of song choice, band performance, and fortuitous timing, The Clash's "I Fought The Law" set the high-water mark for just how impactful the right cover song can be for a band (and even an entire genre).