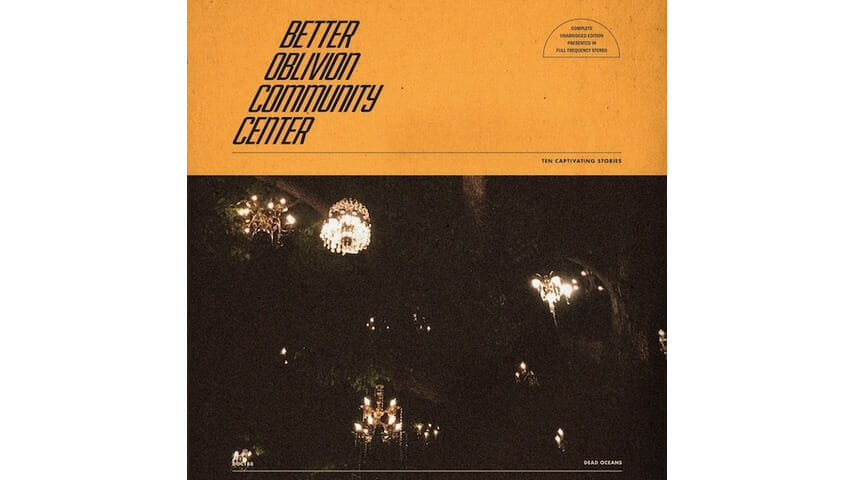 If you amassed all the tears that have been shed while listening to Conor Oberst and Phoebe Bridgers over the years, you'd probably have an ocean's worth—or at the very least, a Great Lake. After Bridgers opened for Oberst in 2016, he was immediately won over by her talent, and appeared on a track from her debut LP, Stranger in the Alps, a year later. The pair spent 2018 writing and recording together in Los Angeles, initially thinking they were going to put out a single or a 10", until they eventually realized they had an album's worth of material. Electing to surprise-drop a self-titled album, they formed a new band, Better Oblivion Community Center, which is the perfect kind of dubious, happy-sad conglomeration of words for a band and album name in 2019.
When you group Oberst and Bridgers together in your head, the pairing makes perfect sense, but this isn't the sad folk-pop album you might expect them to make. It's an emotionally diverse record with many sonic reference points—ranging from the emo ripper "Big Black Heart" and the electro-pop number "Exception to the Rule" to the acoustic tear-jerker "Chesapeake" and the folk-rock jam "Dylan Thomas." It's an album cloaked in sentimentality and nostalgia. Observational lines like "Why does everyone always end up in the kitchen" and "My hero plays to no one in a parking lot" evoke a touching universality while lines like "The man on the off ramp / Holding up a sign that's asking me for help," "You like beer and chocolate / I like setting off those bottle rockets" and "This town is a monolith / This town is a crowded movie" contribute to a rich tapestry of small town America that comes in and out of focus throughout the record.
With Bridgers and Oberst choosing to sing mostly in close harmony rather than trading verses, their satisfying vocal juxtaposition is the album's bread and butter. Oberst's unique, grizzled timbre meshes well with Bridgers' equally saintly and powerful voice, and songs like "Dylan Thomas" and "My City" have the kind of reassuring warmth and breezy pace for a backyard barbecue or a back porch listen at dusk. There are also moments of pure rock 'n' roll that shouldn't be overlooked like the overdriven guitar solos on "Dylan Thomas" and "Big Black Heart," which manage to live in harmony with keyboard-driven tracks like "Dominos" and acoustic-led songs like "Forest Lawn."
While melancholy, romantic longing frequently pervades Oberst's and Bridgers' songwriting, they also are masters of afterlife ruminations, which found their way into many of the record's nooks and crannies. "Forest Lawn" is named after a real-life cemetery in Los Angeles and contains a glaring refrain that takes grief to a literal new level ("Since you went underground / I've wanted to dig you out"). On the album closer "Dominos," the duo sings "I'm carpooling to kingdom come / Into the wild purgatory" while on "Chesapeake," Bridgers sings "Good men die like dogs" and on "Didn't Know What I Was in For," she sings about TV refugees exposed to "sarin gas." Better Oblivion Community Center is the kind of warm and fuzzy record that provides listeners with a soul-lifting ending no matter which path they choose—to collapse into the arms of its devastating lyrical woe or to jump onstage with Oberst and Bridgers and bask in its giddy musical benevolence.