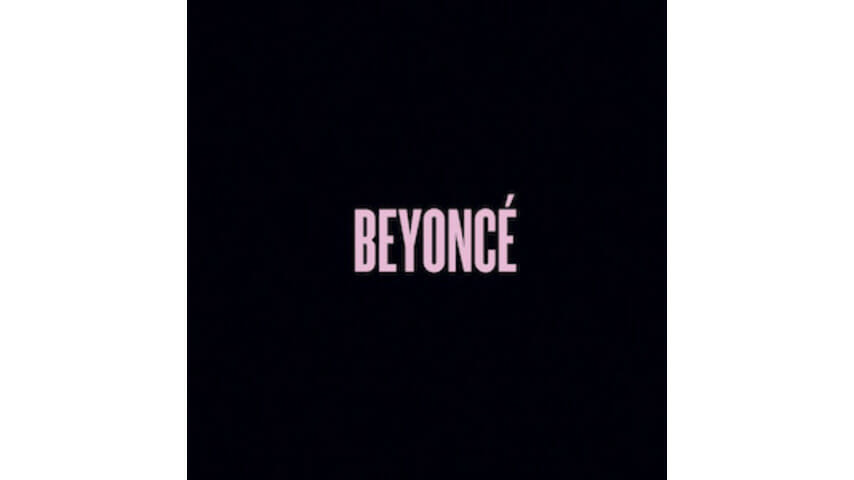 Regardless of what the music sounds like on Beyoncé's self-titled fifth LP, the album's intended significance is hard to overestimate. Considering the unorthodox release, which includes music videos for every song and lack of a standard pre-release marketing push, the album is historic, especially considering that, at least initially, it worked, and the sales are booming as they've never boomed previously. Of course, her last six months of touring the world have been marketing; they were just marketing the entity Beyoncé and helped create an atmosphere that was hungry for an album.
Then there are the feminist themes, a crucial co-headliner to the Beyoncé talking points. After all, what is the point of making a big splash if you don't intend to swim? The attention that Beyoncé's release has earned her—and let's not pretend every Beyoncé release doesn't get attention, but this turned heads that typically wouldn't turn—is for good reasons, to perpetuate the pushing of women's equality into every conversation and the need for reexamination of societal expectations and attitudes toward women, not limited to sexuality, motherhood, the workplace and appearance.
But in an album full of overt feminist statements, in a multitude of languages, the more subversive statements hold the most weight. Beyoncé's sexually explicit language—the paper-thin metaphor of "Rocket," the bare-bodied baking in "Jealous," most every other song on the record except the one about literal heaven—and her seemingly purposeful marrying of direct and personal subject matter with too-frequent clunker lines all reads as the product of sheer will. Beyoncé is at the level where no record label, no millionaire husband, and no oppressive cultural and social stigmas can stop her from doing what she wants, when she wants to. And she wants to let everyone know that, presumably to inspire a similar self-love in others and a general declaration of power in women.
It is admirable to see fame and talent used with such noble aspirations. Where Beyoncé hurts is in the lyrics. "Pretty Hurts" opens the album with didactic rhetoric without the grace of subtlety, with its repeated conclusion that the "soul needs surgery," hardly a poetic payoff that listeners deserve. And much as Kanye West received criticism for his condemnation of the pursuit of material wealth on "New Slaves," this opener, and other moments where she preaches a similar message, can be seen as hypocritical, particularly when considering her recent tour, which sees itself struggle to maintain momentum through repeated stops in the action, ostensibly to change costume and freshen up makeup and hair. In that case, pretty hurts the show, and the song can come up hollow—to borrow a common colloquialism, a sort of Beyoncésplaining. But, like on Yeezus, the message is important enough that it stands on its own without us calling out examples of where the performers do not practice what they preach.
Yeezus is actually a pretty good basis of comparison, as Beyonce demands the same treatment as her male music counterparts, and seems to mimic what Kanye does by throwing up just as silly, unfortunate lines with an infrequency that never really jeopardizes the album, but just makes one wish for better editing. The difference, though, is that Yeezus's words have layers and layers of analysis that they warrant, whereas Beyoncé's tend to put everything on the surface. "Drunk in Love" is highly evocative, with Beyoncé showing her attitude through sassy vocal inflections, but some lyrics are more half-baked at best, particularly the "Surfboard, surfboard" section. "Rocket" does use some figurative language and manages to be even less subtle than "Pretty Hurts" because of it, dragging on a minute or two too long, where lines are left to fend for themselves in a thunderdome, clear winners like "You're the shit, that's why you are my equivalent" placing the skull of "Cyclical trends, trying to fit in, home is where the heart is," on a wooden pike. Even some lines that have been praised, including a twenty-years-late Monica Lewinsky reference and a sleepwalking Drake popping in on "Mine" to drop some of his problematic phrasing, detract from the multitude of things that Beyonce does right. (On Drake: calling a woman a good girl will always sound like she is a cocker spaniel no matter how much it becomes a cultural meme, no matter how catchy the song it is featured in. Women, or people in general, can't be broken down to good girls or bad boys, and respecting each other's complexities is probably important to respecting each other as equals.)
Of course, focusing on the weakest element of the album ignores not just the aforementioned significance, but all the wonderfully adventurous and of-the-moment sonics that make up the production and arrangements on the album. It's ear candy the way a $200 million Hollywood film is pleasing to the eyes, and when you are crediting Timbaland, Pharrell Williams, Jay-Z, Justin Timberlake, Sia, J-Roc, Chairlift's Caroline Polachek, The-Dream, Drake, Miguel, Frank Ocean, Hit-Boy and OneRepublic's Ryan Tedder in either production or writing aspects, the album by all means should sound good. But it is a new producer and writer going by Boots that takes a bulk of the non-Bey credit, and deservingly so, as all the songs that sound like they work together, "Heaven," "Blue," and "Ghost"/"Haunted," are all the products of direct collaboration with the performer. One of the unheralded aspects of this album is his debut in the music world and the promise he displays, notably on the last third of the record.
And this closing portion of Beyoncé is probably the best of her career, with first single "XO," previously teased romp "Flawless," the unabashed, uncompromising tribute "Heaven," and "Blue," which concludes the album with a striking similarity to how Arcade Fire's Reflektor ends, mainly in the atmosphere of the song, though having her daughter guest as a ghostly voice at the album's finish is slightly unsettling. The appearance of her child seems mostly put there for herself, which is all well and good. It is her album—and her choice. But, just as there's a fine line between self-love and self-obsession, art often runs the risk of crossing over from personal to self-absorbed. The lack of universality to much of it keeps it from being the great album it wants to be, and some of the fascination seems to stem from 2013 celebrity culture obsession and speaks to the need to disappear from our own lives and become so wrapped up in the world of the rich and famous. Beyoncé does her part to make her world worthwhile, but it is our job to try and do the same. In the end, the success of the album can be measured by whether things actually change, because a million copies sold should be a million changed attitudes, and that would be something pretty special.