Beyonce, Jay Z and Future Go Off on DJ Khaled's New Single "Top Off"
Photos by Sergi Alexander/Getty, Michael Kovac/Getty, Christopher Polk/Getty, Prince Williams/Getty
Music
News
Beyonce & Jay Z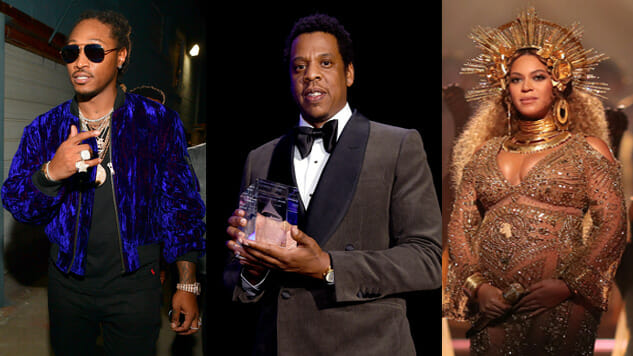 On Wednesday, everyone's favorite producer/motivational speaker DJ Khaled started teasing a new single for his next album through his Instagram account.
Anticipation for the track went through the roof when it was revealed to be a collaboration between Jay Z, Beyoncé and Future. This would be Jay, Future and Khaled's second time collaborating since 2016's "Got the Keys." The collaboration marks the second single Jay and Bey have done with Khaled since last year's top 10 hit "Shining." "Top Off" serves as the first single off the forthcoming album Father of Asahd, due out later this year.
Khaled can be a little miss or hit with singles. But with so much anticipation, the single had to be great, right? Again, Khaled promised an all-star single on Friday, and now "Top Off" is here. But how does it stack up against his previous anthems?
For starters, the production sounds like it might go somewhere with the funhouse keyboard at the beginning, but it devolves into typical trap-rap fare with dark, distorted synths and hard drums. It does try to be unique in adding the occasional random sound, a la Timbaland, but doesn't go beyond that. It still has the anthemic qualities of a Khaled record, but never quite reaches that apex.
If the production on a Khaled song doesn't go hard enough, then usually the lyrics make up for it. This is the case for "Top Off." Like most records with Jay Z or Beyonce featured, rap's power couple steal the show. Future does what he does best: create simple, repetitive hooks meant to stick in your head for a few days or weeks. As usual, Atlanta's favorite hook man/rapper emphasizes his autotuned vocals and (surprisingly, not as irritating as usual) sing-raps, "I took the top off the Maybach / I took the top off." Unlike most Khaled records, he doesn't repeatedly shout his motivational speech throughout the song. He did the same with last year's "Shining," so it's safe to assume Bey only agrees to be on Khaled records if the shouting is kept to a minimum.
Jay comes in stealing a little Future's style with a "skrrt" before speaking of rapper Meek Mill's imprisonment with, "Screaming free my n—-a Meek Mil' / N—-as can't Willie in this free world." Later on, he references his daughter Blue Ivy and the late Prince with, "Me and Blue having a sing-off / That's a raspberry beret, the kind you find in a secondhand store." As usual, Jay Z's wordplay and flow versatility are on full display, but it's his wife Bey who steals the show, rap-singing "I'm the only lady, you're still the realest n—-a in the room," before speaking on Mill's imprisonment and her status in pop music with, "Fuck it up and then leave then fuck it up and leave again." It's safe to say Mrs. Carter outdid Mr. Carter on this track.
Overall, the track is a little underwhelming considering the collaborators' musical status. Serving this up as the follow-up to the surprisingly refreshing "Shining" and the hard-hitting "Got the Keys" was disappointing and anti-climactic. It's nice for those upcoming spring house parties after a wacky winter, but not the summer anthem DJ Khaled was hoping for. But in a few days, it will surely become inescapable, as radio plays it incessantly.
Listen to the song below.