Hear "Hound Dog" the Way You Were Meant To, With Big Mama Thornton Live in 1969
The track that made Elvis Presley famous was originally recorded by this Black powerhouse belter from Alabama.
Photo by Gilles Petard/Getty
Music
Features
Big Mama Thornton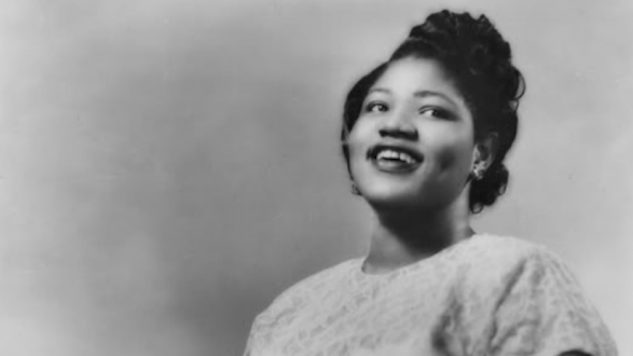 Big Mama Thornton should be a household name, but she's never quite gotten her due. Her achievements have often been overshadowed by the icons of a genre she helped to create: rock 'n' roll. But before there was Elvis Presley or Janis Joplin, there was a young Willie Mae "Big Mama" Thornton, growling and belting through blues ballads in an Alabama church. She'd go on to become a songwriter, a self-taught drummer, and harmonica player, and these talents would eventually take her to the top of the R&B charts in 1953. Her hit recording of "Hound Dog" claimed the #1 spot for seven weeks, and remained on the charts for another seven to follow.
Thornton's "Hound Dog" feels like the version we should all know best. Her mountainous vocals cut through to the core of the song's original lyrics: "You ain't nothing but a hound dog / Been snoopin' 'round my door / You can wag your tail / But I ain't gonna feed you no more." The latter verse would change in later artists' renditions to "Cryin' all the time / Well, you ain't never caught a rabbit and you ain't no friend of mine," making Thornton's uncensored version especially powerful and provocative. It teems with unapologetic sexuality. Here was a towering, near-six-foot-tall, 200-pound black woman, denying the advances of a man in a society that might've wrongly deemed her undesirable in the first place.
This strong personality would follow her, making itself heard years later at a Newport Folk Festival concert in Newport, R.I., recorded on this day in 1969. In the leading moments to her performance of "Hound Dog," Thornton declares, "This is the song I made Elvis Presley rich on." It's a shame the song would not do the same for her. Hers was a true blues life: She would die penniless at the age of 57, and share a headstone with two strangers among the poor of a Los Angeles County cemetery.
Listen below to her "Hound Dog," and remember this legend for the gifts she left behind.