Big Time Rush Are Still the Underdogs
We caught up with Kendall Schmidt, James Maslow, Carlos PenaVega and Logan Henderson about the quartet's return after a seven-year hiatus, whether or not a boy band resurgence is imminent and their comeback LP, Another Life.
Photo by Juan Algarin
Music
Features
Big Time Rush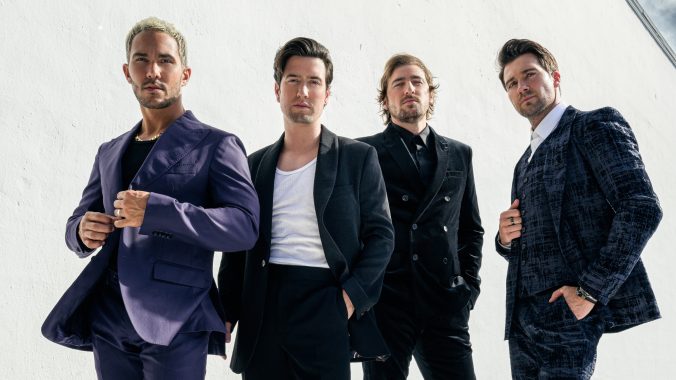 In 2007, TV producer Scott Fellows was riding the momentum of his hit shows Ned's Declassified School Survival Guide and Johnny Test. He'd found great fortune on Nickelodeon and Cartoon Network and pointed his focus immediately towards his next big comedy. Without a concrete title in tow, he took inspiration from The Monkees and wanted to put his own spin on the concept of "four guys form a rock band and perform across the world while also growing up and getting into mischief." Fellows' contemporary version, though, would zero in on four hockey players from Duluth, Minnesota getting plucked out of the Midwest by a hot-shot record producer and thrust into the bright lights of Los Angeles as the latest and greatest boy band. The audition process for the unnamed production would last two years until, ultimately, Kendall Schmidt, James Maslow, Carlos PenaVega and Logan Henderson were cast as the protagonists in Nickelodeon's forthcoming, explosive show: Big Time Rush. It was a can't-miss success.
If you're like me and were a pre-teen/teenager in the years between 2009 and 2013, then you were quite likely one of the many kids who tuned in every weekend to watch Big Time Rush. And you were definitely one of the 13.1 million viewers that tuned in to watch Big Time Movie on March 10th, 2012. It was the biggest Saturday of the year; for many of us, it was a seismic, landmark moment in our lives altogether. Big Time Rush inked their record deal with Nick in 2009, which meant they were on a roster that was a subsidiary of Columbia. Throughout the course of the show's time on air, the band achieved three certified gold singles ("Til I Forget About You," "Worldwide" and "Windows Down") and one platinum song ("Boyfriend," featuring Snoop Dogg and New Boyz). At the 2014 World Music Awards, they were given the trophy for World's Best Live Act, and it made them the first Nickelodeon artist to ever garner a World Music Award accolade at all.
It was a time when, after a decade of dormancy, boyband music was becoming culturally relevant again for a new generation. Bands like One Direction and 5 Seconds of Summer were racking up millions of sold concert tickets and billions of streams, the former of which, on their first-ever North American tour, actually opened for Big Time Rush. Three studio albums and four seasons of television later, Big Time Rush tried to continue touring after their show's conclusion in 2013, but they ultimately opted to go on an indefinite hiatus in March 2014 and pursue solo careers. Way back then, Schmidt went on record saying that, if the opportunity came up, the band would get back together. After stints in other groups and appearances on Dancing with the Stars and Celebrity Big Brother, it seemed like, as more and more years of distance was being tacked on, the likelihood of a Big Time Rush reunion was growing less and less likely—that is, until the band became active on Instagram again in April 2020 and extended well wishes to their fans during the genesis of COVID in the States.
Fast-forward to June, and Big Time Rush unveiled an acoustic cover of "Worldwide." Something was afoot—but what? A video of the band performing their holiday track "Beautiful Christmas" getting uploaded to YouTube by Maslow all but certified that a bonafide reunion was on the horizon. But, the origins of Big Time Rush's reassembly dates back further than cover songs and video postings. "We had a critical phone call in October 2019 that was like, 'Yeah, let's do it,'" Schmidt says. "That kicked it off. And, of course, it was a slow roll initially because we had to just even get the idea put together—how we were going to do it and the team we were going to work with. And then, of course, we got hamstrung right away with COVID." Putting out covers and songs for the fans was a means of gauging a response, be it from the same people who were teenagers 10 years ago and were still active and interested and excited to see the band get back together and release new music or from fans who'd discovered the tunes in the years since the show went off the air. The pandemic pushed everyone back, but Big Time Rush had never intended on taking things at such a gradual pace. In fact, it forced them to put extra care into what meant to come next for the foursome.
"We were excited, and we said 'Hey, let's figure it out together.' I don't think we had an exact timeline. Rather, we wanted to jump in and make new music and really do it as quickly as we could," Maslow notes. "Then COVID for us, and for everybody else in the world, put [us on] a major pause. The only silver lining from that is it gave us more time to really dial in the sound. We had music, but it certainly wasn't as good as the music we've put out since. So, allowing ourselves to have more time to write more music, spend more time together, understand each other—with how our voices are now. The whole dynamic was, I suppose, a slight blessing in disguise that we were able to take more time and refine it—because we're extremely proud of the sound we've come up with."
Big Time Rush's "official" reunion performances were set for December 2021, and they came bundled with their first new single in eight years, "Call It Like I See It." It had taken the band some time to get back into the groove as a quartet and, given that the pandemic was still going on, they had to conduct their first rehearsals together virtually. "The sessions were kind of funny. We didn't really have a good handle on what the sound of Big Time Rush would be eight to 10 years later," Henderson explains. "The first sessions were, I would say, a lot of fun—but it was a really big learning process. We had fun trying new things and exploring new sounds. And a lot of the sessions over Zoom didn't quite make the cut, but they did allow us time to explore and experiment."
After a few months, the guys were back to their old ways, workshopping songs that felt right to them. It was when they went to Maslow's house in Vegas that the reunion stopped feeling like a get-together and started to really, finally, feel like four friends making magic again. "It really just started out with enjoying each other's company and talking about music that had influenced us over the years and certain sounds that we were attracted to," Henderson adds. "'Call It Like I See It' was the first song that really was a meeting of the minds, so to speak." The guys were all living in different parts of the world and, as a result, were tasked with writing in pairs or individually, only to have a chance to present songs once they were all back together in the same space again. But that separation wasn't the kiss of death it might be for other groups. Instead, that sort of freewheeling uncertainty led to some of the most memorable moments from the sessions that would become the fourth Big Time Rush album, Another Life.
"Some of the best songs on this album happen that way," Maslow says. "And then, you get into the process of 'Alright, now we need to get the other guys on it. Where do they sound the best, where do their voices fit? How do we find room?' And that's a challenge, and it's one that we're relatively used to. But I will say that, when we're all together, it's a little bit easier—because everybody's writing together. They're naturally contributing in the way that they sing; we find parts more organically because they're in the room. It's 'Okay, Kendall sounds amazing here, Carlos sounds amazing here.' It's easier for us to write BTR music when we're all together and all in the same room. Three or four days of that, we might need a little break."
"If we're being transparent," Schmidt chimes in, "this is probably the most complicated part of the band, and it's for really good reasons. You have four singers, writers, artists who really want to contribute everything to a song. So, even since 2009, it's been complicated—but I think it's a testament to our strength together as a band. We work it out, somehow." And Henderson echoes that sentiment, as well, saying "whenever all four of us are together, there is some type of magic in the studio or on set or at a show. There is something that's very special whenever we're all together."
Another Life is a level up for the band. You can listen to songs like "Can't Get Enough" and "I Just Want To (Party All the Time)" (the latter of which features, yes, Rick James on vocals) and pinpoint the pop framework they've been working from for years and imagine that they are picking up where they left off in 2014. But there are some really ambitious moments on the album, like the title track and "Brand New," where the 30-year-old singers are showing clear demonstrations of maturity and adulthood. The bubblegum pop that becomes custom with teenage sensations is largely gone, substituted for more crystallized, anthemic and emotional songwriting that speaks greatly of just how far Schmidt, Maslow, PenaVega and Henderson have come as band members and as musicians. "Big Time Rush has always been a band that has fun and, of course, talks about love and loss," Henderson says. "But I think ['Another Life' and 'Brand New'] are ones that we tapped into a little bit differently—mood, lyric-wise and, also, track-wise. Those are special moments for the band, to have things that feel a little bit more open than how we had previously been back in the day."
A song like "Forget You Now," which is much heavier and louder than most of what Big Time Rush is known for, felt like such a shot in the dark that they almost left it off the record entirely. But it's a good thing it evaded the cutting-room floor, as it's likely the strongest track Another Life altogether. "'Forget You Now' is a song that we debated for a while," Schmidt says. "We were like, 'This is our rock moment.' And, as we were putting it together, we were like, 'I don't know. Does it fit?' But we really put ourselves out there and made something totally different. That session was wildly interesting, and we really, really enjoyed it. It was like, 'You know what, let's just take a risk and put something out that is totally different live.' A song lives on its own, but live is where it really comes to fruition and you see the reaction for 'Forget You Now' and it was incredible."
Big Time Rush's return comes at an interesting crossroads for boy bands. NSYNC just reunited and put out their first new single in 21 years; the Backstreet Boys are hosting a four-day music party in Cancun with Jason Derulo; New Kids on the Block are always on the road; 5 Seconds of Summer just concluded a massive world tour. All of the acts who are in the public eye right now have been around for a good while. At least in American spheres, new boy bands aren't cropping up like they used to. The last real resurgence for that part of music truly did come when Nickelodeon greenlit Big Time Rush 14 years ago. And, after the wave of Y2K pop fizzled out when Justin Timberlake went solo, that kind of moment in music wasn't supposed to happen again. But, while it may seem like there are hurdles in remaining a successful touring and recording boy band in 2023, Big Time Rush are on the other side of the argument and have a good lease on what the future holds.
"I feel like the road is wide open. I think that there were more roadblocks back then, when the TV show came back," PenaVega says. "Boy bands weren't really a thing. And, thankfully, we had this awesome TV show that got put in front of millions and millions of kids every single week. It, in my opinion, made it okay for boy bands to come back again. A friend of mine, his kid is 10 and he's just now getting into NSYNC and Backstreet Boys, which is so funny—because I'm like, man, I've been listening to them since I was 10 years old. And he goes, 'How do you feel about NSYNC doing shows again? Is that competition for you?' And I just laughed and said, 'Dude, first of all, there's no competition. They're NSYNC, the holy grail of boy bands.' But I said, 'No, I think it's really cool that, now, we have so many different boy bands out there. It's like, yes, we're all a boy band—or man band, whatever—but all the music, it's so different. I always feel like the albums that we've put out, there's not just one sound and one type of music on there. Big Time Rush has always been this melting pot of feeling and sound, and I think that makes us unique. Right now, there's plenty of room for everyone."
I think about how a group like BROCKHAMPTON was labeled a "boy band" and detested such a label (though Big Time Rush are adamant that the rap act secretly liked being called that, and I'm inclined to agree), and what it might mean when pop artists resist falling into a categorical community with Backstreet and NSYNC. I'm sure you can chalk it up to glaring individuality, or maybe even a lack of desire to feed into a musical trend that hasn't received consistent critical reverence in years. But, Big Time Rush have embraced their sonic destiny and continue to lean into it in ways that are authentic and warranted while, also, not getting too deeply invested in what commercial or critical circles deem them to be.
"Every other boy band who's out there is, in fact, 10 to 20 years older than us," Maslow insists. " So, I thought we might have to be a 'man band' at this point but, no, we still get to be a boy band. Let's embrace that." "I think you can call it what you want, as well," Henderson responds. "I think that we've never really cared about any type of category. We always think that our music sets us apart. I think, actually, [Another Life] was such a great example of [us] doing what we wanted and doing what feels right. There are some things that feel very classic boy band, but there are some tracks on there that I think—I dare to say—that rock fans will listen to and get with it. So, we just want to make music that's authentic to ourselves. And same with the live shows. Whatever you want to call it, we are here to have a good time and make our own way."
On their recent Can't Get Enough Tour, Big Time Rush were filling out big, impressive venues across North America—notably the MGM Grand Garden Arena in Vegas, Merriweather Post Pavilion in Maryland and the PNC Bank Arts Center in New Jersey. At over 600,000 tickets sold, the string of shows proved—once and for all—that the band's comeback was greater than just a sentimental reunion. And yet, they haven't been getting any radio play around Another Life. It seems odd that not one track has found considerable success, given that pop music is as versatile as ever. Whether or not that's because folks aren't turning the dial towards boy bands in 2023 or more so a measure of label cred and suspect industry politics, I can't say for certain and won't dare to speculate. But, I'd like to believe that tides are cyclical, that it could be 1998 again and boy bands could rule the airwaves once more. In the age of streaming, it's easier to get folks to listen to a song if you aren't relying on scoring a radio hit. But, on the other hand, the streaming era has made millions of artists available via a search bar, and it means coming up with exciting ways to continue convincing listeners to buy into what your music and your band is about. No longer having backing support from a television conglomerate, Big Time Rush are betting on themselves to cut through the noise.
"Being authentic to what we enjoy, we've always been that band and we've always been that act, but I think the difference between then and now is that, then, we had huge partners and wouldn't have had the success if we didn't," Maslow says. "It's not a negative thing, we're very grateful for them. They were huge catalysts, TV show and all of that. However, now, it is truly and organically just us. In this day and age, people see through inorganic content so easily. And we are truly doing things that we love. We enjoy making music we think is great, and I think the fanbase is respecting and responding to that and it is spreading."
And radio play isn't high up on the band's laundry list of goals right now. Maslow points out a damningly accurate truth: Bands getting good radio play aren't selling copious amounts of tickets at good-sized venues. "I gotta say that, radio, I think it's going to come," he continues. "We're continuing to put out music. We're not stopping. I'd still rather be a band that can sell tickets than a band who is just on the radio." "And I would say that, actually, some of my favorite artists and bands are not radio-played artists," Henderson adds. "That's the beautiful thing with streaming and, because there's so much new content and new music out, I don't think we ever thought that radio was the cherry on top or the pinnacle. I think—as long as we keep on making things that we're proud of and pushing the limits with our sound and with the group in general—if it fits and if it's right, radio is definitely something that we can look forward to. But I think, 10 years in between our last records, it was important for us to do this on our own and see what we could do without any other label partners, to really see what Big Time Rush is without anyone else getting in the way of those decisions."
Big Time Rush have sold over a million albums in their career—and their debut BTR is certified platinum in the US—but they still carry a chip on their shoulder. After being a frontrunner in the boy band resurgence of the early 2010s, their hiatus and eventual return meant that, realistically, they had to completely retool their presence in modern music and, essentially, break big for the second time in their career—and that all starts, for them, with the listeners. "I think the band would be nowhere without the support of the dedicated fanbase that we've been lucky to have for so many years," Schmidt says. "Honestly, I still think we're underdogs. We're not looking to achieve anything besides our own goals together as a band. We have things that we want to do and things we want to accomplish and, you know, however it's received is however it's received—but our dedicated fanbase keeps the whole thing going, and we try to always give as much to them as we can, dedicate the band to them."
And this recent tour (and the one the summer prior) shows just how in-tune with their audience the band continues to be. You'd think that, in this case, the gigs would be mostly populated by us oldheads who are still living it big time, but Maslow is quick to note that the demographic was unexpectedly more balanced. "I think we were nicely surprised—especially on the first big tour, the Forever Tour, where we thought, 'Yeah, this is going to be predominantly old fans who are excited for us to come back.' And that just wasn't the case," he adds. "It was at least 50/50 every night. If not, there were more new fans than just old fans, which was exciting for us." It got to a point where, at every gig, the band would take a poll with the audiences, assessing how many members of the crowd were longtime riders and how many were new fans at their first show. "It was unbelievable how many new people had shown up," Henderson echoes.
Big Time Rush have put a lot of thought and energy into these shows, too—be it off-the-wall choreography, stage effects or upscaled outfits. They spent a great deal of time mapping everything out so they could guarantee that every stop would be an unforgettable night for not just the fans, but for the band themselves. "We went back and forth with completely different stage settings, thinking about the show as a whole and then, of course, what the new music is going to look like," Maslow says. "We specifically tried to use some features from lasers, which I was a big fan of. We use them on new songs, taking a lot of the new production elements we'd never put on a tour before and we dedicated them, in large, to some of the new music—to make sure that it had the impact we wanted."
PenaVega emphasizes how quickly Big Time Rush went from a project that took up a few months out of the year to a full-time endeavor that required the four performers to be all-in. "We have such an incredible team behind us who are literally, night and day, trying to figure out 'Okay, this song worked, this song didn't work. Okay, you guys want this screen, so how do we get this screen?'" he says. "I can say, truthfully, it's a lot more hands-on and intense than I thought it was going to be going back into it. I was like, 'Okay, maybe we'll do Big Time Rush for three or four months out of the year. Okay, fine.' But, not, it's become a 12-month thing where it's this big ball of energy that just keeps on going. And we've had a lot of fun. And there's so many different elements to this business that we each get to show our strengths. And I think, for me, that's been the most fun. It's like, 'Okay, cool. He's really good at this, he can take lead on this. He's really good at this, he can take lead on that.' And then we all come together and we have this awesome tour two summers in a row that we did that were completely different."
If you were on TikTok at all when Big Time Rush started doing shows together again, you might have seen, depending on the algorithm of your For You Page, clips of folks dressing up as Gustavo Rocque (Stephen Kramer Glickman)—the band's hot-tempered manager who was, notoriously, always dripped out to the max—at shows. I ask the guys how it feels to be on stage and look out at the crowd and see a dozen Gustavos running around. "That's less exciting than you might imagine," Maslow says, laughing. "The weird part is, whenever it's actually Gustavo in the audience watching, that's more terrifying," Henderson adds. But the hard time they give Glickman is all in good fun and out of nothing but love. At the band's headlining gig at The Forum in Los Angeles, they invited him to come on stage and introduce them.
"We thought, 'The crowd loves it, it's a fun piece of our history,'" Schmidt says. "And, honestly, I think we're super lucky to have such an interesting story. There's no shortage of behind-the-scenes craziness from over the years and it's an honor. I think all of us are constantly grappling with how crazy this band is, but it's a labor of love, for sure." "It does keep you grounded," Henderson adds. "We can all laugh and smile at it, but it does keep you grounded." There's a brief pause of silence. "[Glickman's] still hitting us up about stuff on a weekly basis," Schmidt concludes, as the whole band bursts into laughter.
---
Matt Mitchell reports as Paste's music editor from their home in Columbus, Ohio.