Watch Bikini Kill Reunite for Their First Performance Since 1997
Photos by Nicholas Hunt/Getty, Dimitrios Kambouris/Getty
Music
News
Bikini Kill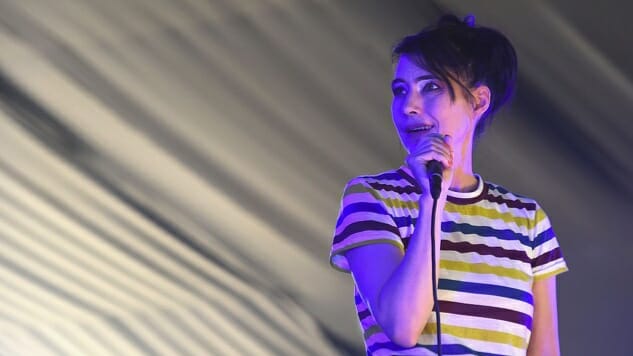 If you think the term "Riot Grrl" seems limiting or outdated, try being in the all-powerful presence of its genesis, even if only for the duration of a punk song (or a few brief minutes).
The Kitchen, New York City. It was a three-night event promoting Jenn Pelly's new book 33 1/3 about The Raincoats' self-titled 1979 album, and three members of the original Bikini Kill quartet were in attendance: singer and guitarist Kathleen Hanna, bassist Kathi Wilcox and drummer Tobi Vail. Miraculously, they reunited for a performance of "For Tammy Rae" off of their 1993 debut Pussy Whipped. You can watch a clip of their performance in the player below.
Not to brag but I just opened for Bikini Kill and The Raincoats at The Kitchen

— jenn pelly (@jennpelly) November 5, 2017
Post-Bikini Kill'ing, Hanna went on to form electro outfit Le Tigre and alt-punk group The Julie Ruin; (which Wilcox was also in), and was the subject of the film The Punk Singer. On "For Tammy Rae," she sings, "Let's pretend we own the world today." Maybe that's particularly haunting because it's no longer the '90s and sometimes, it feels like things haven't gotten much better.
At least Bikini Kill reissued their 1993 split LP with Huggy Bear, Yeah Yeah Yeah Yeah, in 2014, and their demo tape Revolution Girl Style Now in 2015. Check out our review of the latter for a proper history lesson, lest you're doomed to repeat the labors of DIY punk minus the internet, and check out the original "For Tammy Rae" below. It's worth a brief minute.