Hear Black Lips' Dark and Raucous New Track "Squatting in Heaven"
Photo by Lance Laurence
Music
News
Black Lips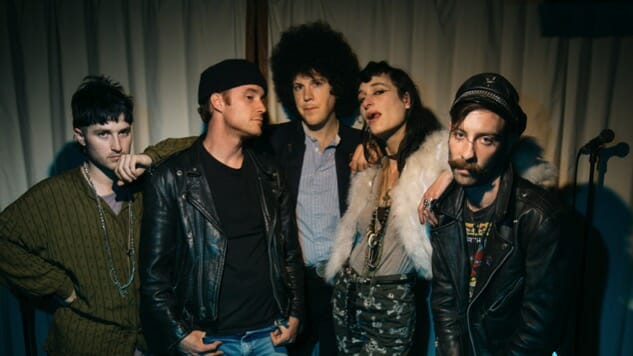 Black Lips are generally loud, grimy and ferocious when they play music. But even by their gleefully sleazy standards, their new single "Squatting in Heaven" feels particularly explosive.
There's no real relief from the maelstrom of guitar that encircles the entire track. On "Squatting in Heaven," Joe Bradley's drums obstinately pound away in the background along with the indiscernible vocals. They're so far away from the microphone that they may as well be out in a trash-filled alleyway behind the studio. If this is heaven, then what exactly does hell sound like?
Black Lips' Sean Lennon-produced new record Satan's graffiti or God's art? is out May 5 on Vice Records. Check out the new song below, along with upcoming tour dates and Paste Cloud cuts from the band's 2011 Daytrotter Session.
Black Lips Tour Dates:
May
02 – Chapel Hill, N.C. @ Cat's Cradle
03 – Philadelphia, Pa. @ Union Transfer
05 – New York, N.Y. @ Webster Hall
06 – Washington, D.C. @ Black Cat
08 – Boston, Mass. @ Brighton Music Hall
09 – Montreal, Quebec @ Le National
10 – Toronto, Ontario @ Horseshoe Tavern
11 – Toronto, Ontario @ Horseshoe Tavern
12 – Detroit, Mich. @ El Club
13 – Chicago, Ill. @ Empty Bottle
14 – Chicago, Ill. @ Empty Bottle
15 – St Louis, Mo. @ Blueberry Hill
17 – Dallas, Texas @ Trees
20 – Mexico City, Mexico @ Festival Martin
22 – New Orleans, La. @ One Eyed Jacks
23 – Birmingham, Ala. @ Saturn