Blaue Blume Blend the Natural and Synthetic in New Single "Lovable"
Photo by Neal McQueen
Music
News
Blaue Blume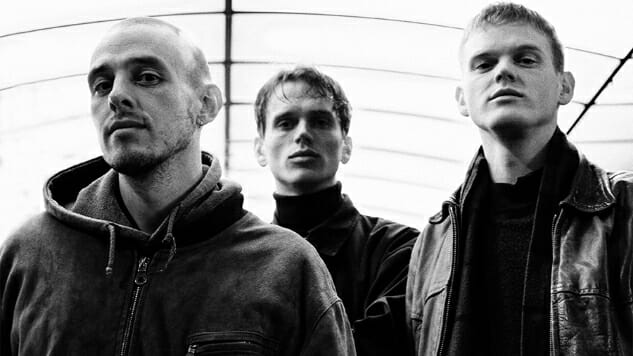 Blaue Blume's sound is one of carefully constructed delicacy—one that's as gripping as it is untouchable. The Danish group's latest single, "Lovable," is another of these sonic marvels, blending dynamic synth lines with singer Jonas Holst Schmidt's graceful vocal performance.
"Lovable" opens with a beautiful arpeggiated synth line that continues to bounce with urgency through the song. Though he's surrounded by synthetic noises, Schmidt's voice anchors "Lovable" to his emotional, human expression. As the ambient sounds grow around him, he sings in a soaring falsetto, "Only lovable to people when I tell them lies / All I have I hold back and never cry." In the second half, "Lovable" opens into a wonderful walking beat that drives the song into its finale.
The song's accompanying music video, created by audiovisual artist Maya SB, further displays this blending of natures. It juxtaposes familiar slow-motion scenes of sheep and nature with horrid animated coils that float in space. As the spidery limbs spread across the screen, Schmidt is shown standing with the grazing sheep. The coils wrap past him as he turns to face the camera—an uncanny bridge between the familiar and not.
Schmidt explains the song as a meditation on understanding between individuals:
Maybe it has something to do with seeing yourself from the outside and realizing that you have been misunderstood, that the image you had of the way you walked, the way you smiled at others, talked to them, the way you laughed or the way you cried didn't coincide with how you were seen through other people's eyes.
"Lovable" is the second single released from Blaue Blume's forthcoming record, Bell of Wool, due for a November release. The song can be streamed on Bandcamp and you can watch its music video below.