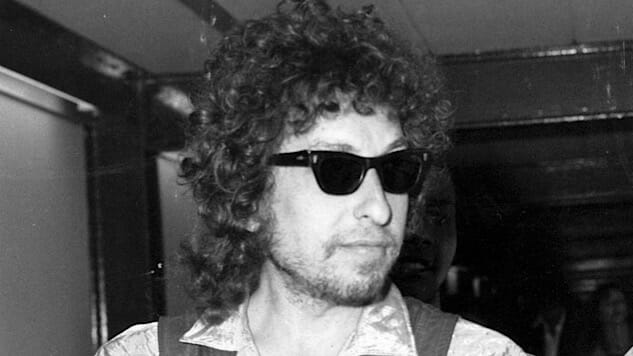 Yesterday, music fans across the world celebrated Bob Dylan's 70th birthday. Somehow, "Happy Birthday" just doesn't seem good enough to pay tribute to the legend on his big day, so we compiled 14 of our favorite tracks that name-check Mr. Zimmerman as a way of sending some belated well-wishes to the birthday boy.
Check out the tracks below.
1. Syd Barrett: "Bob Dylan Blues"
Got the Bob Dylan blues / And the Bob Dylan shoes / And my clothes and my hair's a mess.
Not to be confused with ""Bob Dylan's Blues. On this early track, the Pink Floyd frontman sings the praises of his musical hero.
---
2. Beastie Boys: "3 Minute Rule"
A lot of parents like to think that I'm a villain / I'm just chillin' like Bob Dylan
We're not exactly sure how one chills like Bob Dylan, but we're pretty sure it somehow involves Victoria's Secret models.
---
3. Minutemen: "Bob Dylan Wrote Propaganda Songs"
Bob Dylan wrote propaganda songs / Bob Dylan wrote propaganda songs
Short, sweet and to the point.
---
4. Jenny Lewis with The Watson Twins: "The Charging Sky"
So my mom, she brushes her hair / And my dad starts growing Bob Dylan's beard
It's not the first reference to Mr. Dylan's facial follicles in pop culture, but Lewis' voice makes it one of the prettiest.
---
5. Jesus & Mary Chain: "Fizzy"
Elvis lives and Bob Dylan is dead / And OJ's wife's crawling back from the dead
The alt-rock titans conjure images of Americana by referencing two of the nation's biggest musicians along with its most infamous sports hero-turned-suspected-murderer. We're even willing to overlook the fact that they rhymed "dead" with "dead."
---
6. Stephen Malkmus: "Jo Jo's Jacket"
Bob Dylan sang in / "it's alright mama I'm only bleeding" / Everything from toy guns that spark to flesh-colored Christs that glow in the dark
Actor Yul Brenner also gets a shout-out in this tune from the Pavement singer.
---
7. David Bowie: "Song for Bob Dylan"
Oh hear this Robert Zimmerman / I wrote a song for you / About a strange young man called Dylan / With a voice like sand and glue
Bowie's tribute to the prolific songwriter centers around two Dylans — young Robert Zimmerman and the artist he would eventually become.
---
8. The Who: "The Seeker"
I asked Bobby Dylan/ I asked The Beatles / I asked Timothy Leary / But he couldn't help me either
Here, ol' Bob is part of the '60s iconography that just can't seem to help Roger Daltrey and company figure out the meaning of life.
---
9. Belle & Sebastian: "Like Dylan in the Movies"
Don't look back / Like Dylan in the movies / On your own
A song about watching out for creeps in the park that also can be applied to watching out for Bob Dylan on your lawn.
---
10. Loudon Wainwright III: "Talking New Bob Dylan"
Hey, Bob Dylan / I wrote you a song / Today is your birthday if I'm not wrong
This tribute from one troubadour to another was written 20 years ago in honor of Dylan's 50th birthday, but it still holds up today.
---
11. T. Rex: "Ballrooms of Mars"
Bob Dylan knows / And I bet Alan Freed did / There are things in night that are better not to behold
In which Marc Bolan asserts that Mr. Zimmerman has experience with unseemly nighttime activities, and we're inclined to believe him.
---
12. Wilco: "Bob Dylan's 49th Beard"
And things got weird / And I started growing / Bob Dylan's beard
This gorgeous little ditty teaches us that when the going gets tough, the tough stop shaving.
---
13. Neil Young: "Bandit"
You're invisible, you've got too many secrets / Bob Dylan said that / Or somethin' like that
A gripping character study in which one folk-rock icon sorta quotes another.
---
14. John Lennon: "God"
I don't believe in Zimmerman / I don't believe in Beatles / I just believe in me
God may be "a concept by which we measure our pain" according to Lennon, but Bob Dylan is a songwriter against whom we measure anyone who's followed, and he gets some prime real estate in this song, kicking off its most famous line.