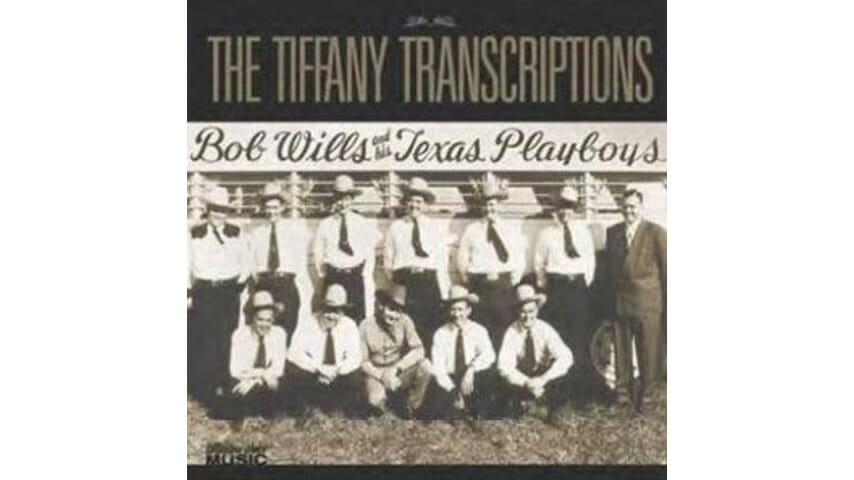 Part Western, all swing
Bob Wills was a decent fiddle player and a consummate evaluator of talent, and the band he assembled in 1946 and 1947 was among the greatest in music history. The Tiffany Transcriptions, a daunting 10-CD box set, captures that band at its peak, and remains the essential touchstone for Western-swing music.
The 150 songs in this set find Wills and the Texas Playboys in a relaxed, easy-going mood. Intended as the musical anchor for syndicated radio shows throughout the Southwest (hence Tiffany; the name of Wills' syndication venture), the songs were typically recorded just after the completion of long tours, when the band was at its road-tested best. This music offers the clearest picture of how the Wills band would have sounded as it barnstormed across the country.
On the down side, Wills' omnipresent falsetto ejaculations ("Aaaaah-hah!") are intrusively annoying, the band occasionally flubs a tune, and there's enough sentimental cowpoke schmaltz here to gag a Longhorn steer. But the interplay among the fiddles and electric and steel guitars is frequently breathtaking. And, in seminal electric guitarist Junior Barnard, Wills may have unleashed the true granddaddy of rock 'n' roll. Barnard's solos on "You Just Take Her," "Barnard Blues" and "Fat Boy Rag" are jaw-droppingly down and dirty, exhibiting the kind of grit and rockabilly swagger that wouldn't come to fruition for another 10 years. The expected hits are all here ("Take Me Back to Tulsa," "Faded Love," "San Antonio Rose"), but even more revelatory is the breadth of the band's repertoire. The Tiffany Transcriptions features pop ditties from the '20s and '30s, country blues, big-band swing tunes from Ellington and Basie, traditional American folk songs and, of course, the cowboy anthems that stamped Wills' identity. It's far from uniformly "Western," but all of it swings like crazy. The set is an essential historical document of a unique American art form. And for those of you who may be less pedantically inclined, it's still a whole lot of fun.