Bonny Doon Announce New Album, Let There Be Music, with New Single
Photo by Trevor Naud
Music
News
Bonny Doon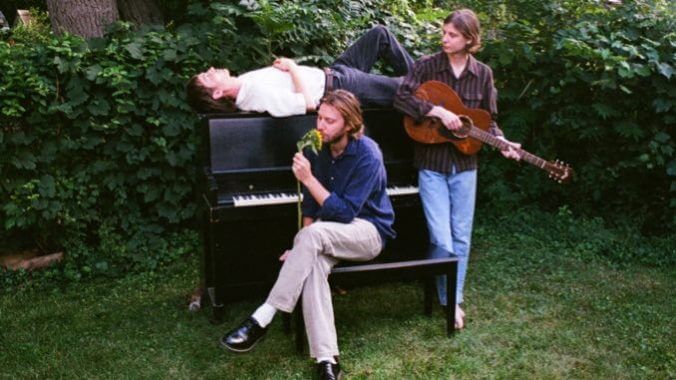 Detroit indie-rockers Bonny Doon have a new album on the way. Let There Be Music will drop on June 16th on Anti- Records, and the first single, "Naturally," is available today.
The first release since the band's pair of albums in 2017 and 2018 comes after guitar/vocalists Bill Lennox and Bobby Colombo joined Waxahatchee to play on her album Saint Cloud and join her on tour. Then the band was sidelined because of health—drummer Jake Kmiecik suffered complications from his Crohn's disease and Colombo dealt with a brain injury and Lyme disease.
It's great to have the trio back making music again, and lead single "Naturally" shows that they've only improved as they've taken time for healing. The chill vibe is elevated by tasty understated guitar and keys. "There's a lot to talk about," Lennox sings, "and we'll let it happen naturally."
"Naturally is a song where the musical development really mirrored the lyrical content, specifically the idea of leaning into a situation and letting it develop organically, in this case that of a relationship," Lennox said in a release. "The song began as a slow ballad and worked better as a more uptempo thing, and a certain sentiment only made sense when translated to French. It speaks to those kind of unexpected surprises we encounter when we surrender to the flow of things."
Watch the video for "Naturally" and check out the track list and tour dates (which include the Paste Party in Austin) below.
Let There Be Music Track list:
1. San Francisco
2. Naturally
3. Crooked Creek
4. Let There Be Music
5. Maybe Today
6. You Can't Stay The Same
7. Roxanne
8. On My Mind
9. Fine Afternoon
10. Famous Piano
Tour Dates:
3/11 – Detroit, MI – Outer Limits Lounge
3/14-17 – Austin, TX @ SXSW
5/9 – Vista, CA – Booze Bros Brewing Co.
5/10 – Los Angeles, CA – Gold Diggers
5/11 – Los Angeles, CA – Gold Diggers
5/12 – Ojai, CA – Ojai Women's Club