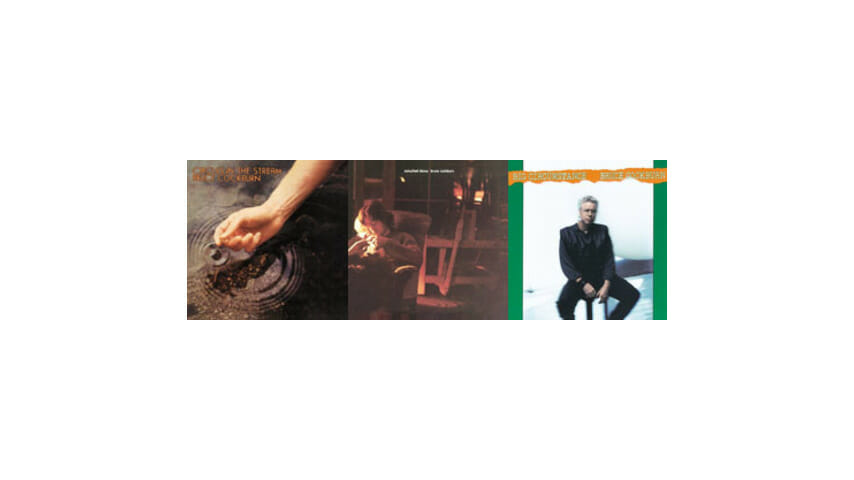 Trio of reissues reveals breadth of Cockburn's talent
Sunwheel Dance – 3 stars
Circles in the Stream – 4.5 stars
Big Circumstance – 2.5 stars
Another year, another batch of reissues from the formidable Bruce Cockburn back catalog. Rounder Records again opts for the scattershot approach, dispensing the albums willy-nilly from across Cockburn's nearly 40-year career.
Sunwheel Dance (1971) is Cockburn's ?rst consistently good album. After two spotty earlier releases, he found the voice that would carry him through the 1970s—spiritually searching, politically astute, quietly exploring Christianity and his newfound role within it while studiously avoiding dogma and cliché. This is the folky side of Cockburn, with occasional sidetrips through traditional English balladry, country, blues and jazz.
Circles in the Stream (1977) is stunning, a great live album that simultaneously sums up the meditative folk phase of Cockburn's career and offers revised, frequently improved versions of his best songs. Cockburn's virtuoso guitar work is featured throughout, three new songs are unveiled that are available nowhere else in the Cockburn catalog, and Cockburn's interaction with the audience is warm and delightful. Circles in the Stream still sounds beautiful and timeless.
In contrast, Big Circumstance (1989) bears the stamp of Cockburn's '80s ?xation with political diatribes. The dogma and sloganeering that was refreshingly absent from his contemplative albums has, unfortunately, moved well to the fore here. Gone are the dated keyboards that marred earlier '80s albums; instead, Cockburn returns to a more organic, guitar-oriented sound. But it's at best a mixed triumph. Strong songs like "If a Tree Falls" and the mournful "Don't Feel Your Touch" are overshadowed by the sledgehammer chorus of "Where the Death Squad Lives" and the tedious travelogue of "Tibetan Side of Town." In short, not one of his finer musical moments.