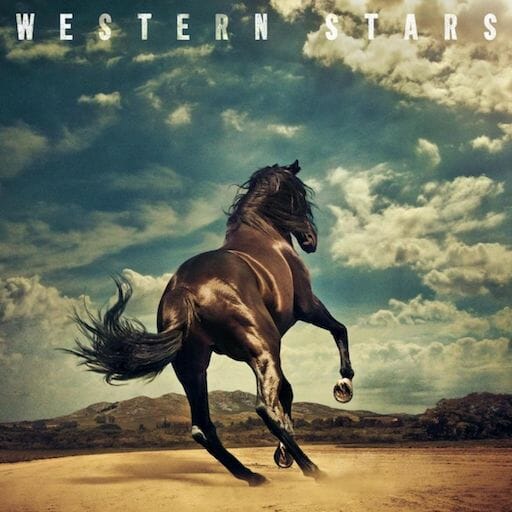 The knock on Bruce Springsteen since the peak of his '80s success has been that he's a rich guy masquerading as a working-class stiff. It's a silly criticism because it discounts the value and the power of imagination that has fueled him since the beginning. Springsteen wasn't born wealthy, but he is a born storyteller, and he's managed to hold on to whatever it is that makes him a dreamer. So while Springsteen has never been a state trooper, or a firefighter charging into the South Tower on 9/11, or a washed-up wrestler, he can sing persuasively about them because he has enough intuition and empathy to see the world through their eyes.
That's exactly what he does with a host of different characters on Western Stars, his first studio album since High Hopes in 2014, a grab bag of reimagined songs from earlier albums, covers and unreleased tunes he had recorded during the preceding decade. By contrast, Western Stars is a self-contained, thematic collection of songs.
Though Springsteen's latest is said to be indebted to the sound of southern California pop records from the late '60s and early '70s, the more prominent California influence seems to be film scores from Hollywood epics. Western Stars is full of sweeping symphonic passages that evoke the endless skies and open spaces of the American West. The orchestral arrangement on "Tucson Train" tells as much of the story as the lyrics: horns and strings intertwine in bright, hopeful updrafts that sway above a blend of piano, click-clack drums and subtle but resonant electric guitar licks, amplifying the redemption that Springsteen's narrator hopes will arrive on the 5:15 with the lover he had lost long before.
Redemption often figures in Springsteen's music, but the broader theme on Western Stars is the West as a place and concept, long a source of fascination for Springsteen, especially on non-E Street Band albums like this one. The Ghost of Tom Joad and Devils & Dust are full of songs about people making their way through vast, lonesome landscapes, often inside their own heads, and there's plenty of that on Western Stars, too. Manifest destiny—the idea that American settlers were fated to spread across the continent—takes a different form here, through restless men who seek not dominion but escape as they try to outrun their choices or, sometimes, their very natures. The subject of "Chasin' Wild Horses" works himself to exhaustion to quiet his mind, and Springsteen voices him in hushed, resigned tones, backed by a steel guitar that gives way to the kind of vivid, swelling orchestration that ought to accompany an overhead pull-away camera shot as the protagonist rides on horseback through some rugged wilderness.
There are more specific locales on Western Stars, too. It's a movie set on the title track, where Springsteen sings from the perspective of an aging actor holding on in the twilight of his career. Steel guitar moans over a softly chugging acoustic part and muted shards of piano as the actor muses on the fleeting nature of all things. A matter-of-fact, conversational air on the verse blooms into a mournful melody on the chorus, and strings create a sense of tension on an instrumental break before horns come swirling up like the Santa Ana winds Springsteen references later in the song.
Cinematic orchestral parts aren't the only uncharacteristic touch on Western Stars. Springsteen pushes himself vocally, too, letting his voice ring out with a craggy, but controlled, vibrato as he practically belts out the chorus on "Sunset" and "There Goes My Miracle," two tracks with vocal arrangements by Patti Scialfa, Springsteen's wife. It ain't Tony Bennett, but it's impressive for a guy who throughout his career has tended more toward emotive (and, let's be honest, highly effective) bellowing when he projects.
That Springsteen remains willing to try new things on his 19th album, on the cusp of turning 70, is another testament to his imagination. Few musicians at his age, or his level of success, work as hard to challenge themselves while staying so connected to the musical vision they've been pursuing all along. For that matter, however, few musicians have such a distinctive vision, period. Springsteen's creative drive has produced some of the most enduring albums of the past 45 years. Between 1975-84, he made Born to Run, Darkness on the Edge of Town, The River, Nebraska and Born in the U.S.A.—five outright classics. Though Western Stars doesn't rise quite to that level—it's an impossibly high standard—Springsteen's latest entry in such a storied catalog more than holds its own.