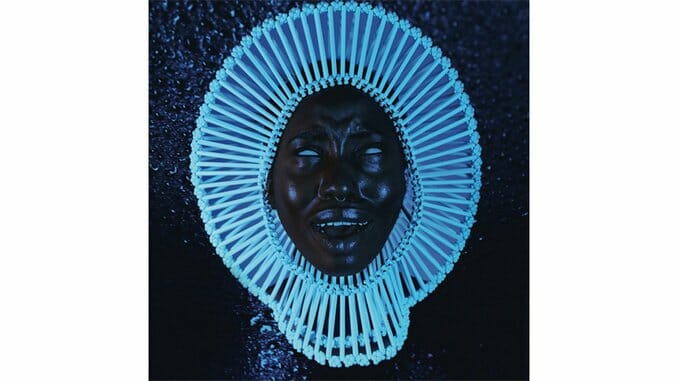 Childish Gambino is the moniker of rapper/actor/screenwriter/comedian Donald Glover. If you've never listened to Glover's music, you've likely seen him on Community, or watched an episode he wrote of 30 Rock or engaged with his latest creation, FX's Atlanta. None of those ring a bell? Then you'll surely you'll know Glover after he plays a young Lando Calrissian in the upcoming Star Wars Han Solo film.
Glover is a jack-of-all-trades and his Childish Gambino project is a highly influential one among millennials. His previous album, Because The Internet, was a galvanizing hip-hop release, which saw Glover waxing on life within the confines of the internet, and it raised Glover's profile immensely. The guy got nearly two million Twitter followers on the strength of 18 total tweets, all of which are now hidden. Accompanying Because The Internet, was a screenplay and Glover even had hundreds of fans rewriting the ending of his script. His fanbase is a rabid one, often on par with cultish hip-hop acts like Odd Future and Lupe Fiasco. And it's not outlandish to say that his following is justified. There were some quality cuts on Because The Internet, like the mega-hit "3005," "IV. Sweatpants" and more. "IV. Sweatpants" even had a Being John Malkovich-esque accompanying music video, directed by the esteemed Hiro Murai that was among the best of 2013.
But critical praise of Glover's sophomore LP from respected media outlets was lukewarm at best and did not fall in line with the burgeoning number of fans that Glover continued to amass. Some reviews questioned his authenticity as a rapper, while others felt the album lacked focus. Regardless, Because The Internet was a commercial success, topping the Billboard Rap Charts and selling 525,000 copies. And thus the Childish Gambino paradigm is born: Fans adore him, but critics don't. It beckons the case of Glover's newest album, "Awaken My Love!"— an exploration into '70s funk and soul—that could hardly be considered a rap album. In fact, "Awaken My Love!" is so far sonically removed from Glover's previous musical offerings that it might as well add another title to his Wikipedia entry besides, "rapper."
Glover seems to have become a hip-hop renaissance man of sorts. He's clearly been studying the works of George Clinton, evidenced by album opener "Me And Your Momma." A melodramatic blaxploitation film soundtrack-like piece, it features a wild guitar out of Sly Stone's cabinet and Glover pushing his voice to the edge, all while a choir punctuates his most soulful output, yet. "Have Some Love" is even more Funkadelic-inspired and Clinton himself claims a writing credit on "Riot."
But many of the songs on "Awaken.." could be construed as an homage, rather than original material, despite their beautiful arrangements and a clear understanding of the cast within which '70s funk and soul was molded. None fit this concept quite like the expansive "Boogieman," which feels like Bootsy Collins could easily be on the bass next to Glover. The album's best track is the fully-formed single, "Redbone," where Pam Grier might as well be coming through the door, as a glockenspiel flickers over Glover contorting his voice to sound like a '70s diva. "Baby Boy" is a silky Rhodes-driven groove in the spirit of Rick James, that evokes a smoke-filled room and disrobed fur coats hanging over the couch.
Now that Glover has leveled up again in terms of his fame, his motives are scrutinized just as much as his music. Did the critical reception to Because The Internet twist the arm of the actor-turned-rapper? Did that influence Glover's decision to move towards a different sound? Is "Awaken.." a re-invention or just a one-off project?
Musical pulse-checker Questlove seems to be sold on the greatness of Glover's new incarnation, because he looks at Childish Gambino's musical output for exactly that—his music. One thing is for certain, Glover is an artist who often pushes himself into new mediums and now new styles of music. While a further development of the concepts on Because The Internet could have seen an interesting continuation on the hip-hop arc of Childish Gambino, Glover instead introduced a new element, and chances are that his fans are now being exposed to a type of music that they wouldnt've otherwise engaged with. For this, Glover should be lauded as an envoy of music's past, here to deliver the gospel of the funk and soul greats to the kids, instead of more millennial hip-hop malarkey. And if that falls in line with exploring his own artistic endeavors, then not only "Awaken My Love!," but Childish Gambino and Donald Glover's entire career, is a worthy and successful one.