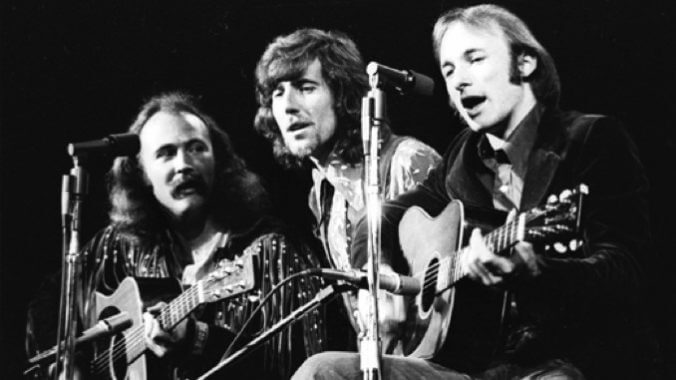 This article was initially published on Sept. 27, 2016.
It stands to reason that a band made up of three (or sometimes four) conflicting egos, the end result would lead to a somewhat contentious configuration. That's been the case throughout Crosby, Stills, Nash, and occasionally Young's 47-year-long career, and it's impinged on their ability to create even more music that they've already recorded. In fact, Graham Nash recently told this writer that as far as he was concerned, that band was finished.
"I just need a break from our music right now. I need to concentrate on me. Right now we just need a break from one another," he said after the release of his recent solo album.
If that's the case, then fans can still take comfort in the music CSN/CSNY has released over the decades. The relationships between the various members might not have always been harmonious, but no one can say that their combined voices were not. Here are the best songs by Crosby, Stills, Nash (and sometimes Young).
13. "Country Girl"
Neil Young's contribution to Déjà Vu, the foursome's collective debut, was typical of his earlier efforts like After the Goldrush and Harvest—albums that found him operating mainly in country-rock mode. Chances are, Young could have carried the song effectively on his own, but the soaring harmonies of his compatriots help make this track, a medley consisting of "Whiskey Boot Hill," "Down, Down, Down" and "Country Girl (I Think You're Pretty)," among their best.
12. "Just a Song Before I Go"
Written while waiting for friend prior to embarking on a tour, "Just a Song Before I Go" was supposedly written on a dare and completed in just 20 minutes. Earlier this year, Nash told Late Show host Stephen Colbert that someone bet him $500 that he couldn't write a song before he departed. Nash won the bet, kept the money and made off with one of the most wistful songs in the CSN catalogue.
11. "Delta"
"Delta," Crosby's sole writing contribution to Daylight Again —one of the most memorable albums of CSNY's later career—again gave voice to the sensuous aural imagery that's always been his stock and trade. Both haunting and harrowing, it finds flashes of Crosby's genius remaining unimpaired by the drug haze that overtook him in the early '80s.
10. "Sea of Madness"
Famously performed at Woodstock, Young's "Sea of Madness" was never officially released by CSNY. It only appeared in live form on the soundtrack to the movie Woodstock and on Neil Young's Archives Volume One. A studio version was supposedly recorded, but this concert take still sounds definitive from the group.
9. "Got It Made"
A rare Stills/Young collaboration, the song appeared on the long-belated CSNY second album American Dream. The disc has its share of excellent songs, but is sadly hampered by its slick production. Nevertheless, "Got It Made" has an instantly catchy chorus that helps it stand out from the rest of the set, even on first listen.
8. "Long Time Gone"
One of Crosby's most emphatic contributions to the CSN canon, this track from their eponymous debut affirmed his ongoing insurgence in the form of outraged rebuke to those in authority who denied the winds of change breezing within a younger generation fed up with the norm. Written in the wake of Robert Kennedy's assassination in June 1968, the song became a more militant echo of Dylan's "Blowing in the Wind," which was released about five years earlier. "Speak out against the madness," he urges with palpable conviction. Crosby initially insisted on playing rhythm guitar on the track, but Stills, who was responsible for the majority of the first album's instrumentation, convinced him to let him and drummer Dallas Taylor take charge.
7. Teach Your Children"
Nash seemed not just the most grounded of the group, but also the most stoic. "Teach Your Children," embellished with a pedal steel guitar line courtesy of Jerry Garcia, offers a simple lesson about parental responsibility. It remains a stalwart of the band's set list and eventually became an indelible standard as far as the musical mainstream was concerned, making its way into presidential politics (Jimmy Carter's Vice President Walter Mondale adapted it as a campaign song), television and film. The downcast demeanour that referred to "their father's hell" was reversed in the second verse as "their children's hell," suggesting that despite the cheery melody, life can indeed be hellish when you're trying to work through its challenges.
6. "Our House"
Another Nash composition culled from Déjà Vu, "Our House" was famously inspired by his torrid fling and cohabitation with Joni Mitchell. The "two cats in the yard" reference has become an occasionally mocked cliché, but there's still something to be said about the cozy sentiments and patchouli pastiche. No performance by either Nash or his colleagues would be complete without it.
5. "Wasted On The Way"
An apt summation of the band's tenuous relationship, the song describes the difficulties of managing friendships that often become enduring. Taken from the comeback album of sorts, Daylight Again, it became CSN's first Top Ten hit in a decade and featured harmony vocals from the Eagles' Timothy B. Schmit. Nash's telling lyrics ring especially true as he reflects on what he and his bandmates have been through: "So much water moving underneath the bridge / Let the water come and carry us away."
4. "Southern Cross"
Another track taken from Daylight Again, the song reflects the narrator's desire to take comfort from sailing on the sea in the wake of a failed love affair with lines like, "I have my ship / And all her flags are a flyin' / She is all that I have left / And music is her name." The sea was always a sturdy muse for each of the members, particularly Crosby (who, ironically, didn't participate in the album's initial sessions due to his infamous drug habit). A beautiful song, "Southern Cross" captures the imagery of the ocean in a magical way.
3. "Woodstock"
They were there, but the one who wrote one of CSNY's most popular tunes was not. That would be Joni Mitchell, of course, who opted to forego the festival in order to appear on The Dick Cavett Show, instead. She watched the coverage from her New York hotel room, recorded it for her Ladies of the Canyon album and then saw reap wider exposure when it was covered by CSNY, as well as England's Matthews Southern Comfort. Here again, it gave the Woodstock generation an enduring anthem.
2. "49 Bye-Byes"
Another classic from the group's eponymous debut, "49 Bye- Byes" is also one of the few CSN songs that's elusive in terms of content. No one seems quite sure of what the 49 bye byes refer to, although part of the song grafts in Stills' Buffalo Springfield song "Questions" with a change in its tempo.
1. "Suite Judy Blue Eyes"
Famously written for Stills' ex, Judy Collins, "Suite Judy Blue Eyes" is easily among the most famous songs in the CSN canon. In facr, it's the song that introduced their first album and their music as a whole. Written and played almost single-handedly by Stills, its segue way from the harmony-drenched first stanzas to the celebratory refrain is still a marvel to hear, given the way the track ebbs and flows before finding new life in that final fade. It remains one of the best examples of their harmonies put into practice, and despite everything that succeeding this song, it's also the track on which this supergroup can rest its reputation.