Cut Worms Announce Debut Album Hollow Ground, Share Stop-Motion "Don't Want To Say Good-bye" Video
Photo by Joyce Jude Lee
Music
News
Cut Worms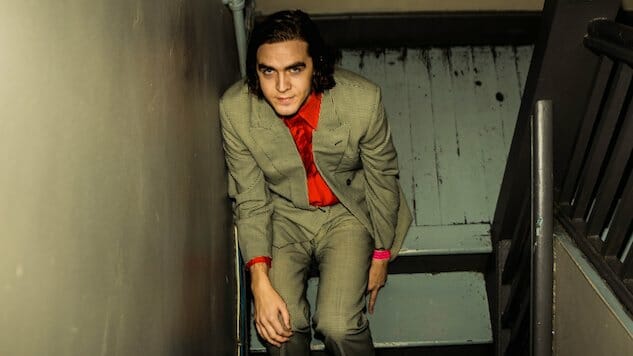 Cut Worms have announced the details of their debut album, Hollow Ground, out on May 4 via Jagjaguwar.
Cut Worms is the solo project of New York-based singer-songwriter Max Clarke, who has already supported the likes of Nick Lowe, Foxygen and The Lemon Twigs.
Hollow Ground was written in Clarke's Brooklyn home, where he still demos songs, and the record was recorded in the L.A. home studio of Foxygen's Jonathan Rado, and in New York with Jason Finkel at Gary's Electric. Clarke plays guitar, keyboards, bass and lap steel, and he contributed most of the album's instrumentation.
In addition to the album announcement, Clarke has unveiled a new lyric video for "Don't Want To Say Good-bye," featuring stop-motion paintings set in a bar in the Wild West. The song is a perfect representation of what Clarke does so well: charming '60s-style pop ballads that masterfully weave in idiosyncratic storytelling without negating the simplicity of the songs and the lighthearted nature of their naive romantic pleas.
His debut album will feature reworked versions of "Like Going Down Sideways" and "Don't Want To Say Good-Bye," both taken from his debut EP, Alien Sunset, and his previously released single, "Till Tomorrow Goes Away."
A press release describes the lyrical themes of the album as follows:
Sometimes, on Hollow Ground, we find characters impossibly lustful, sometimes brooding, while in other parts they fumble along, hopeful and painfully self-aware. If the music can be said to have any sort of through-line, it revolves around Clarke's obvious delight in singing his heart out through varying degrees of agony. His songwriting both evokes and explores the raw realm of youth, its weightlessness and possibilities, but channels it through the lens of someone more restrained, who's been through it all before. Someone who's old enough to know better but still gets drawn back in to the romanticism of teenage feelings—and knows how to take the listener along, too.
Cut Worms have announced a U.S. tour with King Tuff, and Clarke will also be making appearances at this year's SXSW and Pickathon festivals.
Watch the video for "Don't Want To Say Good-bye" below and check out their upcoming tour dates further down. Preorder Hollow Ground here.
Cut Worms Tour Dates:
March
06 – Amsterdam, Netherlands @ Tolhuistuin
07 – Paris, France @ Olympic Cafe
08 – Brussels, Belgium @ AB Salon
14 – Austin, Texas @ Cheer Up Charlie's (AdHoc Unofficial SXSW Showcase)
15 – Spicewood, Texas @ Luck Reunion Festival
15 – Austin, Texas @ Barracuda
May
03 – San Diego, Calif. @ The Casbah *
04 – Phoenix, Ariz. @ Valley Bar *
05 – Santa Fe, N.M. @ Meow Wolf *
07 – Houston, Texas @ Rockefeller Hall *
08 – Austin, Texas @ Barracuda *
09 – Dallas, Texas @ Club Dada *
11 – New Orleans, La. @ One Eyed Jack's *
12 – Atlanta, Ga. @ The Earl *
13 – Nashville, Tenn. @ The Basement East *
14 – Lexington, Ky. @ The Burl *
15 – Cleveland, Ohio @ Beachland Tavern
16 – Washington, D.C. @ Rock N Roll Hotel *
18 – Brooklyn, N.Y. @ Music Hall Of Williamsburg *
19 – Philadelphia, Pa. @ First Unitarian Church *
20 – Allston, Ma. @ Brighton Music Hall *
21 – Montreal, Quebec @ L'escografie
22 – Burlington, Vt. @ Higher Ground *
23 – Toronto, Ontario @ Horseshoe Tavern
24 – Detroit, Mich. @ El Club *
25 – Chicago, Ill. @ Lincoln Hall *
26 – St. Paul, Minn. @ Turf Club *
29 – Denver, Colo. @ Globe Hall *
30 – Salt Lake City, Utah @ Urban Lounge *
June
01 – Seattle, Wash. @ Crocodile Lounge *
02 – Vancouver, B.C. @ Fortune Sound Club *
03 – Portland, Ore. @ Star Theater *
05 – San Francisco, Calif. @ The Independent *
07 – Los Angeles, Calif. @ Teragram Ballroom *
09 – Sonoma, Calif. @ Huichica Music Festival
August
03-05 – Happy Valley, Ore. @ Pickathon Festival
(* – supporting King Tuff)