Daughter of Swords Shares New Single, "Prairie Winter Wasteland," Produced by Jeff Tweedy of Wilco
Images via Kendall Bailey Atwater, Nonesuch Recordings / Bella Union
Music
News
Daughter of Swords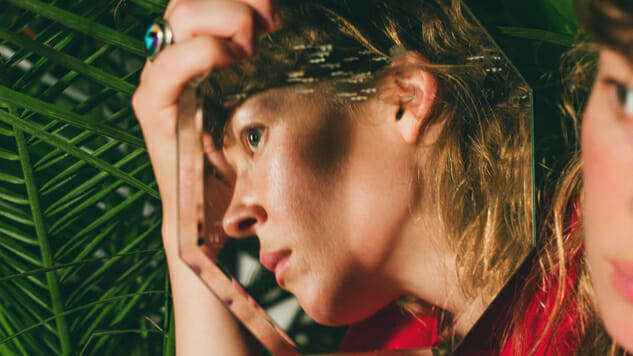 Daughter of Swords, the moniker for Alexandra Sauser-Monnig of Mountain Man, shares her new single, "Prairie Winter Wasteland," which was produced by Jeff Tweedy of Wilco. Daughter of Swords will also be embarking on a tour in February, complete with a full band.
"Prairie Winter Wasteland," produced in Wilco's Chicago studio The Loft, is a rumination on Sauser-Monnig's hometown of St. Paul, Minnesota.
In a statement, Sauser-Monnig says the song "is a reflection on the way our emotional experiences of place are shaped in powerful and mystical ways by the people we've known there."
The minimalist yet emotional track feels like a shot of nostalgia, evoking soft thoughts of still memories.
"The way a certain quality of sunlight, or the call of a particular bird can conjure such specific associations, and can break your heart or lift you up," says Sauser-Monnig. "In the midst of sweltering North Carolina summer, I took a mental journey through the stark, abstract beauty of Minnesotan winter, and wrote this song that feels very much about the ways my grandmother who passed away several years ago is still present for me in the frozen blue sky and the dark bare branches of oaks and the snow blowing across frozen lakes of the upper Midwest."
This isn't the first time Sauser-Monnig and Tweedy's musical paths have crossed: In December, Mountain Man released Mountain Man Sings Wilco, a cover of Wilco's "You and I" presented as part of the band's cover single series.
Check out "Prairie Winter Wasteland" below, followed by Daughter of Swords' 2019 Paste session and February tour dates.
Daughter of Swords Tour Dates:
February
08 – Richmond, Va. @ The Camel
09 – Charlottesville, Va. @ The Southern
10 – Brooklyn, N.Y. @ Rough Trade
11 – Allston, Mass. @ Great Scott
13 – Washington, D.C. @ DC9 Nightclub
14 – Durham, N.C. @ Pinhook
15 – Asheville, N.C. @ The Mothlight
16 – Nashville, Tenn. @ Ryman Auditorium