David Letterman's 25 Greatest Music Moments
From The Pixies to Warren Zevon, and precisely 23 in between.
Music
Features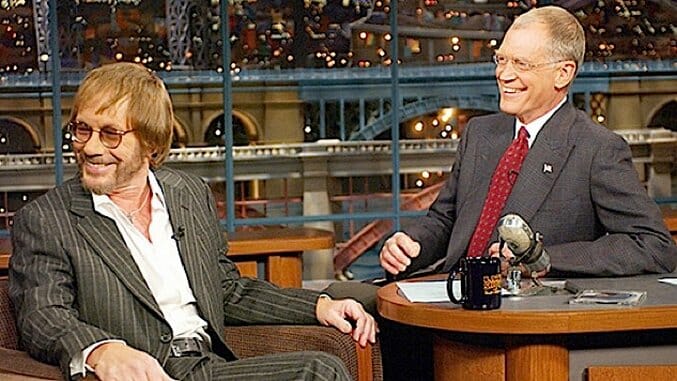 The news on Tuesday that David Letterman will return to television next year—or, at least, to Netflix—with a six-episode talk show has us reminiscing about all the great musical acts that graced his NBS and CBS stages over the years. There's no word yet from Netflix about whether Letterman will host musical guests on his new show, but we're holding out hope. Until then, here's a look back at our rankings, originally published on May 20, 2015 (the day of his final show on CBS), of the greatest performances during Letterman's first 35 years on television.
25. Pixies, "Trompe le Monde"
There were few buzzier acts in 1992 than the Pixies, and this incredible performance of "Trompe le Monde" (the title track from their 1991 album) on Letterman shows exactly why. Not only does Paul Shaffer join the band for a ridiculous organ solo (which is exactly as weird as it sounds), but no one else in the band plays their regular instruments. David Lovering's awkward maraca shaking is, well, awkward enough, but Shaffer's unexpectedly intense organ playing is equally, and possibly painfully, memorable. —Amy McCarthy
24. Father John Misty, "Bored in the USA"
Father John Misty's first Letterman appearance, performing "Only Son of the Ladiesman," is worthy of its own spot on this list, but when it came time for him to return to the show and debut the "Bored in the USA" single ahead of I Love You, Honeybear's release, Josh Tillman somehow topped himself. This time, he brings a string section with him, climbs atop a piano and shrugs his way through some of his strongest lyrics to date. Part of what makes this "Bored in the USA" performance so incredible is that the studio audience clearly has no idea what to make of it—particularly once that laugh track kicks in. —Bonnie Stiernberg
23. Counting Crows, "Round Here"
While this episode of Letterman was overshadowed by Madonna dropping the f-bomb no fewer than 14 times on network television, Counting Crows actually gave an inspired performance of "Round Here" from their 1993 debut August and Everything After on the show. Dave invited back the band multiple times throughout his career, but this initial appearance encapsulates a band on the cusp of a breakthrough. In the quiet beginning of the song, singer Adam Duritz stands awkwardly in the middle of the band with his hands in the pockets of his ripped jeans. As the song builds and the band finds its zone, Duritz unleashes a fury of emotion, boldly taking mass audiences into his anxiety-ridden reality. —Hilary Saunders
22. Pulp, "Common People"
Some of the best bands of all time came from England, but by 1995 we were stuck with either the cartoonish ogres of Oasis and their acolytes or the digressive art-school whimsy of Blur. So when Pulp made their American debut on the Late Show in 1995 with the brilliant "Common People," they basically salvaged the reputation of an entire country. In a culture fixated on class, in a medium that at its best has always been very aware of class, Pulp somehow crafted the greatest British rock song about the subject. And then Jarvis Cocker sensually gesticulated his way through the song on CBS one night in 1995 and made the entire American nation full of nerdy, repressed boys and girls fall endlessly in love with him. —Garrett Martin
21. Janelle Monae, "Dance Apocalyptic"
The Archandroid of R&B and funk had already dazzled Letterman when she made her first appearance on the show in 2010, thanks to her skyscraping vocals and her band's sharp, energetic playing. For her return visit three years later, Janelle Monae went that one step further, losing herself in the pulse of her then-current single "Dance Apocalyptic," off 2013's The Electric Lady and letting her firecracker-like energy explode all over the Ed Sullivan Theater and, for a brief moment, all over Dave's desk. —Robert Ham
20. Sleater-Kinney, "Jumpers"
"Jumpers," from Sleater-Kinney's earth-moving 2005 record The Woods, is a dark tale about a lonely kid who leaps to her death from the Golden Gate Bridge. ("Four seconds was the longest wait…") But it took on a more upbeat meaning when the band showed up on Letterman to play the track. The sheer joy of watching Corin Tucker and Carrie Brownstein jump up and down while they rip through the bull-dozing bridge of the song is worth the price of admission. Never mind that it's one of the best songs Sleater-Kinney ever wrote. —Matthew Oshinsky
19. Bob Dylan, "Jokerman"
With such an extensive body of work, there are plenty of Dylan tracks that have somehow managed to fly under the radar, even as the man himself has grown into a national musical treasure. This 1984 performance of "Jokerman," from Infidels, is a ridiculously infectious, rhythmic, and almost punk performance that easily surpasses the studio version. —Amy McCarthy
18. Johnny Cash, "Don't Take Your Guns to Town"
Johnny Cash was well into his career as country music's most famous outlaw when Letterman took over the desk, but he still managed to eke out one of Letterman's most iconic performances with "Don't Take Your Guns to Town." The 1958 track was Cash's fifth No. 1 on the country charts, and also signaled the beginning of his crossover success. A grey-haired Cash performed the somber track, a story of a young cowboy with something to prove who is killed in a gun fight, on Letterman well after its original release. Cash would go on to perform on Letterman multiple times, but this performance still remains his best, and one of the best of all time. —Amy McCarthy
17. A Tribe Called Quest, "Check the Rhime"
Other late night shows have been more welcoming to hip-hop acts, but when Letterman welcomed that sound into his studio, the artists in question tended to respond by throwing down in a huge way. There's no greater example than this visit from A Tribe Called Quest. The trio from Queens, backed up with audible giddiness by Paul Shaffer and Co., were riding the critical and commercial high of 1991's The Low End Theory, letting that and a whole mess of adrenalin feed into this smoking hot run through of "Check the Rhime." —Robert Ham
16. Tom Waits, "Tango Til They're Sore"
Everything about this performance of this Rain Dogs track is perfect, from the way Waits tosses his own confetti skyward at the start of the song and lets it fall atop his hair to the bubbles that dance past the keys of his piano to his unparalleled vocals. Bonus: He gets some couch time, too, sitting down for an entertaining interview with Letterman. —Bonnie Stiernberg
15. Rage Against the Machine, "Guerilla Radio"
No New York City rainstorm could deter the masses outside on 53rd Street from moshing to Rage Against the Machine's "Guerilla Radio" in 1999. In fact, the jumping and pushing and crowdsurfing began even before Zach de la Rocha began rapping. Letterman has never been shy about hosting musical guests (or any guests, for that matter) who stand by their social and political beliefs. So when de la Rocha edits himself and holds the mic out to the audience, they don't even bleep the crowd audibly screaming, "fuck it, cut the cord." It's a triumphant performance for the political rockers, and one that concluded with the host deadpanning that he hoped, "weren't neglecting their schoolwork." —Hilary Saunders
14. St. Paul & The Broken Bones, "Call Me"
One of Letterman's singular charms is his geeky enthusiasm when he likes an act. For a guy who's launched everyone from Hootie and the Blowfish to Future Islands on air, he's always given zero fucks about anything other than his personal taste. Such was the case when Letterman fan-boy-fawned over up-and-comers St. Paul & The Broken Bones. The host banters with frontman Paul Janeway and Co. for a good two minutes before the Birmingham-based group even starts playing, during which time he reveals the show's previous attempts to book the band, and begs them to "beat [the song] to death" like the first time he heard the soulful "Call Me." With just over five months left in his television career at the time, Letterman seemed to delight in the perks of his victory lap, beseeching the band to do it for him. —Amanda Schurr
13. Future Islands, "Seasons (Waiting on You)"
When they made their network TV debut performing the impassioned "Seasons (Waiting on You)", Future Islands instantly went from being a distant destination to the here and the now. Led by the unmatched emotion of lead vocalist Samuel T. Herring, the band's synth-pop performance carried an incredible charisma not normally seen from fellow under-the-radar bands stepping onto a late-night talk show stage. Herring's bellows bordered on near-growls as his elastic neck and tireless legs co-choreographed some exceptionally unique dance moves. Each raised-eyebrow expression for every "People change…" was accompanied by Herring's outreached hand which he would quickly pull back into his chest, clearly seizing the moment for his band. —Trevor Courneen
12. TV on the Radio, "Wolf Like Me"
TV on the Radio on the TV turned out to be even better than TV on the Radio on the radio when the band performed "Wolf Like Me" in 2006. The raucous song kicked off with the harmonized howls of distorted guitars and Tunde Adebimpe's ferocious vocals that sounded like a beast being unleashed. For the three-and-a-half-minute duration of the song, TV on the Radio thoroughly rocked the Late Show stage, standing in the spotlight of an undoubtedly full moon. It was this performance that helped bring the art-rock band from Brooklyn to the mainstream, further emphasizing Letterman's reputation for helping modern indie bands (at least ones he likes) get their starts. —Trevor Courneen
11. Beastie Boys, "Ch-Check It Out"
The Beastie Boys' performance of "Ch-Check It Out" ended in the Ed Sullivan Theater, but didn't start there. Mike D, Ad-Rock and MCA sauntered in off the streets of Manhattan (it was probably too far to film them from Brooklyn to Midtown) alongside curious bystanders and excited fans. The outside segment was filmed with a fisheye lens, mimicking their official music video for the song, and when the trio entered the studio, the in-house audience erupted with glee. But for the Beasties, challenging late-night's spatial capacities wasn't enough after their 6-year hiatus. They had to end the song right by Dave's desk. —Hilary Saunders
10. Run The Jewels, "Early"
Run the Jewels wrote one of the most politically charged hip-hop albums of 2014, Run the Jewels II. "Early" is a track that seems to address Ferguson but was penned before those events ever took place. This is partially why it's such a crucial song, one that we should all be glad exists. Killer Mike and El-P refuse to let pertinent problems like police brutality to continue to be swept under the rug. Not only was the duo's delivery on point during their Letterman performance, but the combination of haunting beats, Boots's soulful refrain, and the back-up singers' Día de Muertos attire resulted in an eerily compelling show. All of this was made all the more emotional by Killer Mike's command to his audiences at home: "If you ever lost someone, if people are still here, man, that you love, put your RTJs in the air tonight." —Tess Duncan
9. Green Day, "Basket Case"
For those of us who have sat through countless high school and graduation montages set to Green Day's "Good Riddance," it can be hard to remember that in 1994, with the release of Dookie, they became emblems of youthful defiance. When they appeared on Letterman to play their hit single "Basket Case," they represented a sort of second wave of punk. What set Billie Joe Armstrong apart from his peers, and what landed him a spot on network television, was his command of melody. His lyrics were sexual and jumbled and antagonistic, and his voice and style were almost confrontational, but it didn't matter if you were 15 years old or 65—"Basket Case" was still readily accessible. Letterman's near-condescension in the introduction gives way to a surprised admiration when the song ends. He quickly recovers his patronizing tone—this is Letterman, after all—but there's no mistaking the fact that almost against his instincts, he was impressed. —Shane Ryan
8. R.E.M., "So. Central Rain"
R.E.M. were just a bunch of earnest nerds from Athens when they first dropped by Late Night in 1983, long before they became an era-defining rock band or the surest sign of the generation gap between Generation X'ers and their oblivious teenagers. "So. Central Rain" was actually the second song the band played on Letterman, but it's noted by some superb conversation between Dave, Peter Buck and Mike Mills. Buck and Mills made sure to name-drop Athens contemporaries like Herschel Walker and Pylon (and maybe provided the Method Actors with their only network television exposure ever), and then muffed a few notes on the still-unnamed song. This is an early glimpse of a future biggest band in the world, a beautiful and sad portal into the past when everybody was young or not even alive, yet, and when indie rock hadn't become indie rock, yet. —Garrett Martin
7. Foo Fighters, "Everlong"
Letterman's longstanding relationship with Dave Grohl and Foo Fighters made for a mutual admiration society since the band first appeared on Late Night back in 1995. They were personally asked by Letterman to play their seminal hit "Everlong" for his first show back from having quintuple heart bypass surgery in early 2000, dropping everything—"I think we canceled a tour," Grohl said—to do so. Says Letterman, "Here they are, ladies and gentlemen—my favorite band playing my favorite song—Foo Fighters!" Grohl responds in kind mid-song with a welcome back to Letterman and shout out to Paul Shaffer (who often used the song as a commercial break outro). —Amanda Schurr
6. Paul McCartney, "Get Back"
The last time Paul McCartney played at the Ed Sullivan Theater, it was Feb. 9, 1964, and the Beatles were making their American television debut. So when he returned in 2009, the former Beatle stepped up his game—figuratively and literally—to perform on top of the marquee of the historic venue. A crew of videographers and assistants helped McCartney climb out of the window and on the makeshift stage before he launched into a rollicking version of the Beatles' "Get Back." The crowds for the free show spanned at least two city blocks—a fitting return for the legendary singer and triumphant feat for Letterman and the intersection of television and pop culture. —Hilary Saunders
5. Darlene Love, "Christmas (Baby Please Come Home)"
Darlene Love performed this Christmas classic for Dave since 1986—first on Late Night on NBC, then on CBS's Late Show—so it's impossible to choose a single performance of hers for the purposes of this list. (In fact, last year we compiled every one we could find.) It's simply not Christmas until this late-night tradition, with its choir, horns, fake snow and all, airs, so we have to assume that now that it's over, the holiday is canceled this year. —Bonnie Stiernberg
4. James Brown, "Sex Machine / There Was a Time / I Got the Feeling"
By 1982, James Brown was well past his commercial prime, but still three years away from his return to the charts with his last Top 10 single, "Living in America." But for these 13 minutes, when he and the World's Most Dangerous Band took over American living rooms, he proved without a doubt why he was still a fearsome showman. Running through a three of his well-known hits—"Sex Machine / There Was a Time / I Got the Feeling"—Brown does it all: shows off his fancy footwork, plays the piano, riles up the crowd, and breaks a well-earned sweat. —Robert Ham
3. Sonny & Cher, "I Got You, Babe"
Supposedly this wasn't planned. When a very inebriated Sonny Bono and his former musical/romantic partner Cher went on Letterman back in 1987, they weren't expecting to get shoved unceremoniously into the spotlight once more to sing their signature pop classic "I Got You, Babe." Prearranged or not, the moment when they both gave in and gave a delightful performance of the song made for some great television. —Robert Ham
2. Bruce Springsteen, "Glory Days"
On Dave's final NBC broadcast in 1993, he explained that there was one person he'd wanted on the show for years who'd never appeared. Seconds later, the Boss appeared, strolling out—unshaven, carrying his trademark Telecaster—and launching into a fiery, 7-minute version of "Glory Days." Springsteen leaps up on top of the piano at one point, as he and the band take the chorus a few extra measures, closing Letterman's first chapter with a sweaty rock and roll finale. "If I'd had known that, I would've gotten on the piano years ago," Letterman quips after the performance, before flashing a grin and looking into Camera One, "Hey, I am Mr. Rock and Roll, aren't I?" On this night he sure was. —Mark Lore
1. Warren Zevon, "Roland the Headless Thompson Gunner"
In a way, Warren Zevon was a remnant of David Letterman's early days—someone whose art embodied the wild, leftover energy of the '70s in his art, along with the hard cynicism. Those same qualities became Letterman's calling card at the start, and it's no wonder the two got along so well when Zevon first appeared on his program in 1982. In his final appearance on The Late Show 30 years later in October 2002, Warren Zevon called the host "the best friend my music's ever had." The two friends spent the entire hour together—Zevon was the only guest, and they both knew this would be his last chance, because Zevon was sick with the cancer that would kill him less than a year later. Even in these grim circumstances, the singer didn't lose the wry humor that runs through his songs. "I may have made a tactical error in not going to a physician for 20 years," he told Letterman. As his last song, he played "Roland the Headless Thompson Gunner" at Dave's request. It was a powerful, driving performance, and a defiant farewell from one of the 20th century's most underrated songwriters. —Shane Ryan