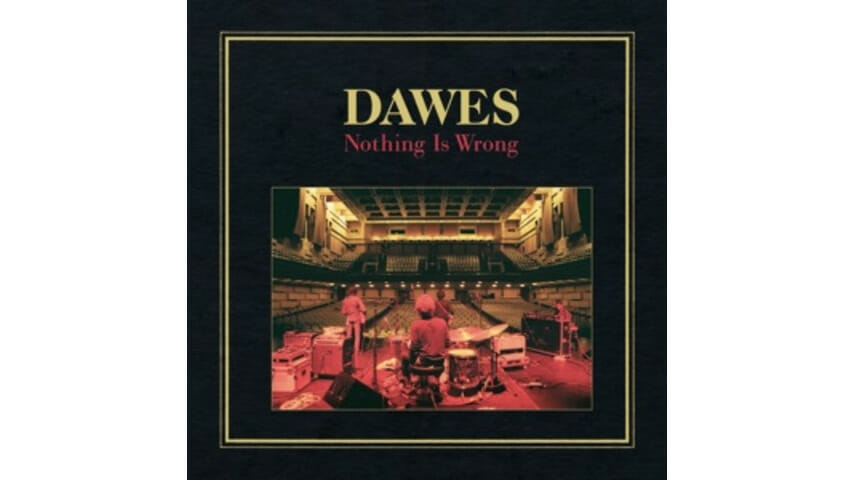 The men of Dawes have certainly grown up since their debut album was released just two short years ago. After letting North Hills out into the world, the band hit the road for near-continuous touring. Forced to write in the short amount of free time they were afforded, the songs on Nothing is Wrong are marked by the distinct qualities of a band in motion.
"These days my friends don't seem to know me / Without my suitcase in my hand," Taylor Goldsmith sings in the opening track, "Time Spent in Los Angeles." But despite the constant uncertainty and bouts of solitude that often comes with life on the road, Goldsmith seems to find freedom in his travels. "Maybe cause I come from such an empty-hearted town / Or maybe cause some love of mine had really let me down," he says on "If I Wanted Someone." "But the only time I am lonely is when others are around / I just never end up knowing what to say."
"My Way Back Home" is a song full of people and places. Goldsmith lists of "a ballerina in Phoenix" and "the pines up north" almost as if he's looking at a scrapbook of memories from the band's journeys. "If I can place it all together / Make out the nature of the call," he explains. "I start to feel the love and the silence / That was always at the root of it all." The song concerns itself with a way of life that blurs together like the passing landscape seen through the window of a car as it makes its way down the highway. Throughout the track, Goldsmith consistently promises that no matter how far he gets from where he came from, when the time comes, he'll remember how to get back home.
Musically, on the other hand, there is absolutely no worry that Dawes has lost its way. The songwriting, musicianship and emotion are just as impressive on Nothing is Wrong as they were on the band's debut, if not more so. The influence of the North Hills and Laurel Canyon music scenes are still present as well, right down to Jackson Browne's supporting vocals on "Fire Away."
However, Goldsmith's songwriting and the band's reverence for their musical forefathers aren't the only shining aspects of the new record. After two years of fine-tuning their live sound, all of the members of Dawes have become master musicians not only individually, but as a collective. Robbie Robertson saw this in the boys and subsequently recruited them to serve as his backing band for some recent performances.
Alex Casnoff's work on the keys shines on just about every song; Wylie Gelber maybe one of the most tasteful bassists ever, and Griffin Goldsmith's percussion is rock steady and incredibly impressive, especially considering his young age. But it is the sum of all these parts that makes Nothing is Wrong something truly special. While many bands often succumb to the fabled "sophomore slump" after an impressive debut (such as North Hills), Dawes appears to have never even heard the phrase.