How Deeper's New Album Helped Them Heal
Chicago indie rockers honor their late bandmate and discuss their new album
Photo by Jacob Pesci
Music
Features
Deeper
Deeper were and are a band of brothers. They're not related by blood, but the young Chicago group lights up most when they bring up the goofy or heartfelt moments they've shared together. The four-piece band, made up of singer and guitarist Nic Gohl, guitarist Mike Clawson, bassist Drew McBride and drummer Shiraz Bhatti, arose from Chicago's rich DIY scene, and like many from those communities, they found refuge in each other. Deeper released their self-titled debut album in 2018, and it melded frantic, abstract lyrics with nimble guitar work that bordered on indie rock and post-punk—in turn, making them a staple band in the city's altruistic music scene. The album allowed them to tour nationally and internationally with some of today's most beloved indie bands.
Poised to take their melodic fire power to the next level, Deeper set their sights on album number two. Their first album was a process of discovering their strengths, and according to Gohl, they simply tried to record as much music as they could. Without an intentional vision guiding their debut release and with long periods of touring now under their belt, their follow-up provided an opportunity to make something even more special. It all sounds rosy until it wasn't. In the middle of recording their second album, Clawson quit the band as his relationship with his bandmates began to crumble. Saddened by his departure, the remaining three members were left trying to hold everything together, and they finished the album with McBride moving to guitar and good friend Kevin Fairbairn joining the group. Proud of their recently completed second LP, the starkly-titled Auto-Pain, the band embarked on a European tour late last year and later received the tragic news that Clawson died by suicide.
Determined not to let his death dissolve the project that they all poured so much emotion and hard work into, they decided to carry on. Deeper wanted to take this horrific ending as an opportunity to honor Clawson and speak openly about the very real dangers of neglecting one's mental health. Auto-Pain does ultimately push their spring-loaded sound even further, adding buoyant synths into the mix and even stickier riffs than before, but more than that, it depicts shades of despair that aren't always easy to articulate. Clawson's death puts their stream of consciousness lyrics of inner turmoil into an entirely new context, and though the songs were written before his passing, listeners may hear them through this especially poignant lens.
Paste talked to Deeper while they were holed up in their Chicago practice space to engage in a candid conversation about suicide, mental health, their favorite memories of Clawson and the meaning behind their new album Auto-Pain.
Note: No explicit details of self-harm or suicide are discussed below.
Paste: Your friend and former guitarist, Mike Clawson, took his own life last year. Was he open about his struggles with depression?
Gohl: He was a pretty closed off person in general. He had really close friends and those were the only people that he really ever talked to about that kind of stuff. It was always like a poker game trying to actually figure out what was going on.
He left the band during the recording of this new album. Did he explain his departure?
Gohl: We were kind of having issues, just in general. Like any long friendship, things start to fall apart, especially when you put the stresses of traveling and playing music together. He left the band shortly after we got back from SXSW. Me, Drew and Shiraz finished the rest of the record and ended up having Kevin join the band. We didn't actually ever get a chance to talk to Mike after all that.
What was Mike like for those that never got to meet him?
Gohl: He was a plethora of knowledge. Anything as far as music or film goes, he pretty much could pull any answer out of thin air, which was pretty incredible. I remember when I first met him when we were 15. He was friends with an older brother of a close friend of mine. I remember he had all these cool pedals, and he was the first person who started teaching me about how to use a delay pedal and stuff like that. When you're 15 years old and everybody else around you listens to Phish, he's a breath of fresh air. He just knew when something was going to be good. It was really fun being by him during those times where you would get to learn about a band firsthand. I remember when Tame Impala first came to the U.S., me and him saw them play at Subterranean, a small venue in Chicago.
Nic, you grew up with Mike, and he was a big inspiration for you musically. Can you talk about that?
Gohl: He was a few grades older than me and we both came up skateboarding and stuff like that. We grew up in the suburbs together and when I was a senior in high school, Mike was living in downtown Chicago. I would go down there every weekend, take the train and hang out with him and get to experience DIY shows and do shit that I'd never done before. Everything that I attribute to my happiness was really fueled by just being around Mike and going off the cuff with whatever he was doing, which is kind of a nice thing when you're a bit younger and don't really know what you want.
Three quarters of independent musicians suffer from mental health issues, but less than 40 percent seek help. In your experience, what is the dynamic between mental health issues and the music industry?
McBride: Well, I think it's harder to speak to what proportion of the music scene is struggling. Often times those are really personal things that you are able to obscure or hide in social situations. But the 40 percent statistic, I believe that. Playing music, you're hanging out with a lot of people that don't have very much, if any, disposable income and the way that our healthcare system is structured, it becomes a luxury to get mental health care.
Gohl: I think most people with problems with depression or mental wellness don't really seek out help, especially in our generation and older. I don't think we're taught to reach out. I guess we are now gradually destigmatizing it. But growing up, if I were to tell my mom I was depressed, she would flip shit, you know, like, "What's wrong with you?" I feel like we're not taught how to treat that kind of illness. We're taught how to treat a head cold or a scratch on the arm, but when it comes to your mental health, people are afraid to talk about it in an open and productive way.
Bhatti: I also feel like we're not educated about how to read the signs. A lot of times, we don't know what's going on and we don't know how to get over it—like us as friends with Mike for example. Over time, we saw him stay inside more, talk to us less and not reach for his goals as hard as he used to. He just didn't know what was happening within himself.
Your new album, Auto-Pain, is coming out in March. Can you explain the evolution of this record?
Bhatti: The first idea for the record was to have different textures mixed in, and the theme would be different sounds coming in and out throughout the record, just little snippets that are recorded differently and all meshed together. That helped us build more of a timeline for the record and a path towards what we really wanted to do.
McBride: We'd be like, "Oh, this would be a cool interlude to go between two songs," and then we would work on it a bit longer and be like, "Let's have a chorus here and a bridge there" and all of a sudden, we're like,"Oh, shit. We can't use this as an interlude because we have another whole song here." It was a good problem to have. It's funny, each of us have voice memos on our iPhone. It's a joke between musicians. You have like a 100 different memos and it's like, "cool idea one" or "sick riff two." You end up going back to the inventory of songs and then you're like, "Let's see how sick riff 34 lines up with cool bass line 20."
Auto-Pain functions as a guide to feeling better. Do you feel like you have those answers?
McBride: Making the record, I would say, was the feeling better part for us. To have someone close to you that's becoming more distant and trying to grapple with that…Regardless of what medium of art, or even non-art, just getting your thoughts down or painting or writing ends up being therapeutic in itself.
Gohl: In the early stages, you slowly get angrier and angrier and at the end, you finally release. And that kind release is what we mean by healing. Some people heal in different ways. What we had been going through during the making of this record, it felt like it was exploding for a while and then finally we felt comfortable where we were at. Especially after Mike left, the three of us were trying to figure out where we were and what we were doing. Finishing the record between the three of us was really therapeutic and it made us feel way closer to each other and closer to the project in general.
Did you read any of these lyrics in a new context after Mike passed?
Gohl:: It feels weird, but definitely. I know a few of the songs he didn't like playing because he knew they were pretty pointed, which is totally fair. But I felt like we were so close that it was like my way of talking to him about it. It wasn't so easy when we were just alone. Lyrics, a lot of the time, at least for me, I just kind of do them off the top of my head. So they become underlying thoughts that I maybe didn't realize I had. We had been playing with the new lineup for a while after Mike had left the band. I found out about his passing when I was actually still gone from our last European tour. I was in France. I was in line for The Louvre. It was really weird coming back to Chicago. It was really strange at the first few shows we played. Even though we hadn't been playing with him for a while, it was really weird to sing those songs, especially the ones that we all worked on together. That was more the hard part, playing those older songs, the stuff we spent hours practicing and going over and over again trying to figure out how to make them work. I feel like we learned how to play guitar together.
McBride: Now that Mike has passed, this is effectively how we can keep his memory alive. We played a show in New York and someone that was also close with Mike teared up from our set and was just like, "You guys are doing him justice by the way that you're playing these songs. It feels like he's back here when you hear the lines being played." I thought that was pretty touching.
You mentioned that the title Auto-Pain was taken from Brave New World. What about that book inspired you?
Gohl: I always liked science fiction growing up and that was one of the first books that I read that had that vibe.
McBride: It's the only book he's ever read!
Gohl: Yeah, Drew is the more well-read one. I just liked the idea of soma. It's the reason why you feel everything way too much so you're trying to hamper those emotions. I also just really like the words together as well. Auto-Pain, I thought, was kind of sick.
McBride: Soma is not feeling anything. In some ways, by feeling everything, it's a different kind of numbness. That's how I feel what living today is like. You're just constantly, especially on the internet with social media, being barraged with feelings and opinions. In some ways, it's for the better, but in a lot of ways, you become desensitized to so much that you actually don't end up sympathizing with anything as much as you probably did before the internet.
Do you each have a particular song or lyric that means the most to you?
McBride: The thing that comes to mind for me, and maybe it's just because of the way that Nic, Shiraz and I wrote the latter part of the record, is the song "Willing." The line that we keep repeating is "It's the willingness to ignore." That song was very pointed about Mike because he was no longer in the band. This was the first song we wrote after he left the band. It was definitely a talk about his willingness to ignore the self-care that you need to get by. That's the line that resonated with me the most.
Gohl: We didn't really know if we could still write Deeper songs without Mike. I feel like it made us more sure of where we're at as musicians.
Bhatti: I'm gonna say "Willing" as well. We wrote that song a week or so after Mike left the band and we were all feeling lots of different emotions. It's actually one of our only songs where the main idea really came with one practice, which never happens for us. Usually, it takes us at least a month to get most of the song right. We threw a lot of our emotions into it and through singing the mantra, we hoped that it would get into Mike's head.
McBride: But he never got to hear it.
Nic, how do you balance the use of personal experiences and abstract metaphors in your lyrics? How do you decide how to get your message across?
Gohl: It's just stream of consciousness. I don't really think about it. There's only a few songs that I feel like I've really sat down and wrote the lyrics to. A lot of the songs, it was going back to the voice memo and we would just jam a line for a while and I would just basically shout into the mic and record on my phone and then listen back and be like, "OK, that sounds cool. I should do that." And then from it being stream of consciousness, it just ended up being something that mattered to me innately. The funny thing was, I was in an earlier band with Mike and Shiraz, and I was newly in love with my girlfriend who I'm still dating. I only wrote love songs for a really long time, and Mike sat me down and he's like, "Dude, you really need to lay off this a little bit. Just be more abstract with your lyric choice, so people don't know exactly what you're talking about." And from there on, I just always tried to make it as abstract as possible just so he wouldn't get pissed off at me. He's like, "I want to play these songs and feel cool and not feel like I'm singing to your girlfriend like a mariachi band." I definitely started doing that more out of being embarrassed, but abstract lines are always more fun to sing.
Auto-Pain is out on March 27 via Fire Talk Records. Preorder the album here.
The National Suicide Prevention Lifeline provides 24/7, free and confidential support for people in distress. Call 1-800-273-8255 or visit them online here.
Auto-Pain Album Artwork: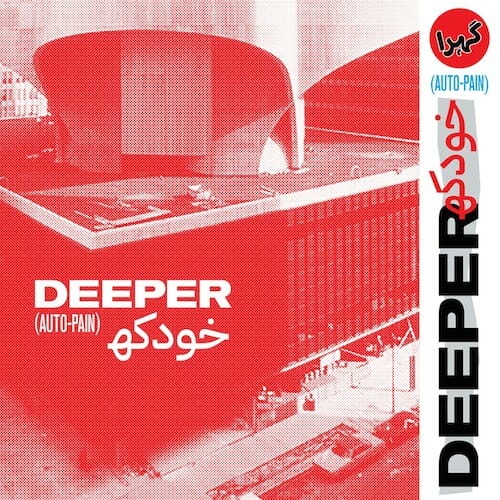 Deeper Tour Dates:
February
10 – Brussels, Belgium @ Ancienne Belgique *
11 – Paris, France @ La Maroquinerie *
12 – Tourcoing, France @ La Grand Mix *
14 – Groningen, Netherlands @ Vera *
15 – Den Haag, Netherlands @ Paard van Troje *
17 – Bristol, U.K. @ Thekia *
18 – Manchester, U.K. @ Gorilla *
19 – Dublin, Ireland @ Whelan's *
21 – Birmingham, U.K. @ Hare And Hounds *
22 – Glasgow, U.K. @ King Tut's Wah Wah Hut *
24 – Nottingham, U.K. @ Rescue Rooms *
25 – Brighton, U.K. @ CHALK *
26 – London, U.K. @ Electric Brixton *
27 – Salford, U.K. @ BBC6 Session
March
04 – Brooklyn, N.Y. @ Rough Trade NYC #
06 – Savannah, Ga. @ Savannah Stopover #
07 – Orlando, Fla. @ Will's Pub #
08 – Tampa, Fla. @ Hooch & Hive #
09 – Miami, Fla. @ Gramps #
13 – San Antonio, Texas @ Paper Tiger #
14 – Houston, Texas @ Satellite Bar #
15-20 – Austin, Texas @ SXSW
22 – Hot Springs, Ark. – Valley of the Vapors #
23 – Nashville, Tenn. @ DRKMTTR #
24 – Atlanta, Ga. @ 529 #
26 – Richmond, Va. @ Poor Richards #
April
02 – Chicago, Ill. @ Lincoln Hall (Album Release)
17 – Rotterdam, Netherlands @ Motel Mozaique
18 – Utrecht, Netherlands @ Slathe
20 – Cologne, Germany @ Hangende Garten
21 – Hamburg, Germany @ Hafenklang
22 – Berling, Belgium @ Schokoladen
23 – Prague, Czech Republic @ Rock Cafe
24 – Zurich, Switzerland @ Gonzo
25 – Luxembourg @ Out Of The Crowds %
(* w/ Twin Peaks)
(# w/ Corridor)
(% w/ Holy Fuck)