Derek Trucks, Charles Lloyd and the Language of Improvisation
Where is the boundary between rock and jazz when virtuosos are involved?
Music
Features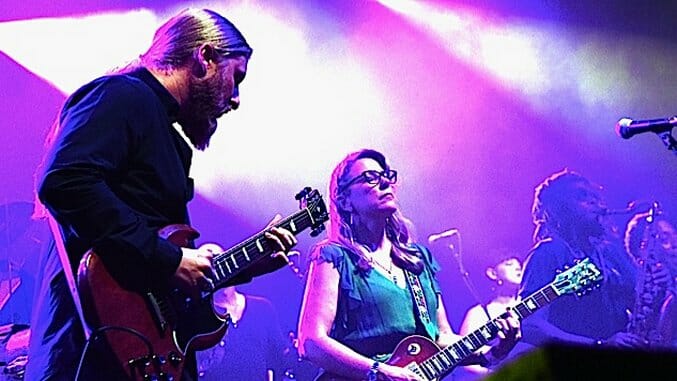 Two of my favorite albums of 2017 are the Tedeschi-Trucks Band's Live From the Fox Oakland and Charles Lloyd's Passin' Through. Both guitarist Derek Trucks and saxophonist Lloyd have a history of straddling the boundary between rock and jazz, and both of their albums are built around improvisation. And yet it's easy to identify the former as a rock record and the latter as a jazz project. Why is that?
It's because rock improvisation is not the same as jazz improvisation. When you listen to Trucks scattering notes over the chugging beat of Eric Clapton's "Keep on Growing" on the new album, you can't help but be impressed by the way he multiplies the melody notes and twists them into new, exhilarating shapes. But he never departs from the changes and never gets too far from the vocal line.
By contrast, when Lloyd solos on the title track from his new album, everything is up for grabs. The tune, the chords, the beat, the sounds—it's all shifting all the time. The lead improvising instrument can suddenly shift from Lloyd's saxophone to Jason Moran's piano to Reuben Rogers's upright bass to Eric Harland's drum kit and back again. And yet there is just enough information in the form of melodic scraps from the theme and new riffs to tie the whole thing together and make the thrilling spontaneity tell a story.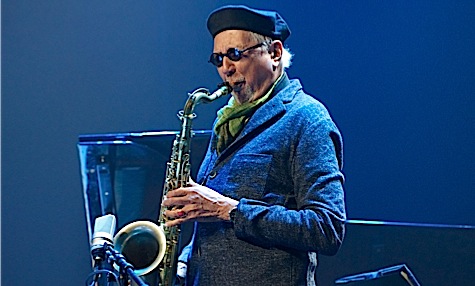 Charles Lloyd (Blue Note Records)
If we think of the five variables available to an improviser—melody, harmony, rhythm, phrasing and timbre—rock soloists are more likely to keep the chord changes and the groove fairly steady while varying the tune, texture and syntax, while jazz improvisers are more likely to mess with all five. And rock instrumentalists are less likely to venture very far from the song's original melody and changes, while modern jazz players are willing to leave the original template so far behind that it becomes a faint memory.
This is not to say that one is better than the other. While it's true that jazz improvisation often requires more technical skills, those chops don't necessarily translate into a more satisfying listening experience. In some ways, it's more difficult to come up with something original within the tight parameters of rock improvising than in the wide-open spaces of jazz soloing. On the other hand, it can be just as daunting a challenge to forge an emotional connection amid the virtuosic demands of jazz.
Trucks and Lloyd prove how each approach can be done right. Trucks joined his uncle Butch's group, the Allman Brothers Band, at age 20 in 1999, and his slide-guitar work soon earned comparisons to the group's original guitarist, the late Duane Allman. In 2010, Derek and his wife, the singer-songwriter Susan Tedeschi, merged their two bands into one large horn ensemble, modeled on the big show bands that B.B. King and Aretha Franklin once carried. The new live album from the Tedeschi-Trucks Band demonstrates how exciting that format can still be.
The rock 'n' soul songs co-written by Trucks and Tedeschi ("Don't Know What It Means," "Just as Strange," "Anyhow" and "I Want More") remind one of those uptempo numbers that Bonnie Raitt and Bonnie Bramlett used to belt out before turning them over to their soloists. Tedeschi has that kind of voice, and she can establish the scenario of romantic dissatisfaction before allowing her husband to explore the ramifications of that frustration in wordless music.
That's what makes Trucks's improvising so effective: The listener always has the sense that his solos are merely an extension of the vocals, carrying the emotion forward into notes that come faster, fly higher and dive deeper than any human voice ever could. Of course, he has the muscle memory to play that quick, that high and that low, but it's the way he allows the song's mood to guide the melodic invention—and vice versa—that makes him such an eminent rock improviser.
Lloyd grew up in Memphis, where he played with B.B. King and Howlin' Wolf before joining the jazz bands of Chico Hamilton and Cannonball Adderley in the early '60s. In 1965, Lloyd formed his classic quartet with pianist Keith Jarrett, drummer Jack DeJohnette and bassist Cecil McBee. This group's ability to tie its dazzling improvisation to memorable hooks allowed them to connect with rock audiences, and they became regular performers at the Fillmore West. Their 1966 album Forest Flower: Live at Monterey is reputedly one of the first jazz albums to sell a million copies, and inspired Miles Davis to move in the rock direction.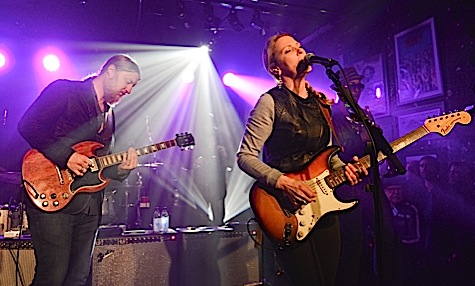 Derek Trucks and Susan Tedeschi (Getty)
Lloyd's current quartet is so good that it rivals his mid-'60s lineup. When they resurrect the title track from Lloyd's 1966 album Dream Weaver, the new quartet spins the Middle Eastern motifs, jazz harmonies and unforgettable theme into 17 minutes of inspired extemporization. Moran's piano arpeggios and linear detours create a galaxy of possible options, and Lloyd seems willing to follow any of them. The pacing quickens, then slows; the chord changes stretch nearly to the breaking point, then snap back into place; the main theme vanishes and then suddenly reappears.
It's that tension between a theme and its variations that makes Lloyd the perfect jazz improviser. He's willing to let the melody go underground for long stretches, because he knows it's still in the heads of his collaborators, if not in the heads of his more casual listeners. He knows that everything he's playing is informed by that theme, so when he brings it back in to reassure his audience, it will fit perfectly.
One thing that Trucks and Lloyd share is a refusal to be ghettoized. Trucks is an ardent jazz fan; he has recorded songs by John Coltrane, Wayne Shorter and Rahsaan Roland Kirk (and Miles Davis's "Ali" on the new album) and has recorded with McCoy Tyner and Jack DeJohnette. Lloyd spent much of the '70s collaborating with the Beach Boys, using them on his album Waves and performing on their 15 Big Ones. In recent years, Lloyd has recorded jazz arrangements of songs composed by Brian Wilson, Bob Dylan and Billy Preston.
It's this openness to influences from the other side of the street that has made Trucks and Lloyd such effective improvisers. Trucks's jazz listening has made him a more adventurous soloist than most of his peers, and Lloyd's pop listening has made him a more emotional, melodic player than most of his.