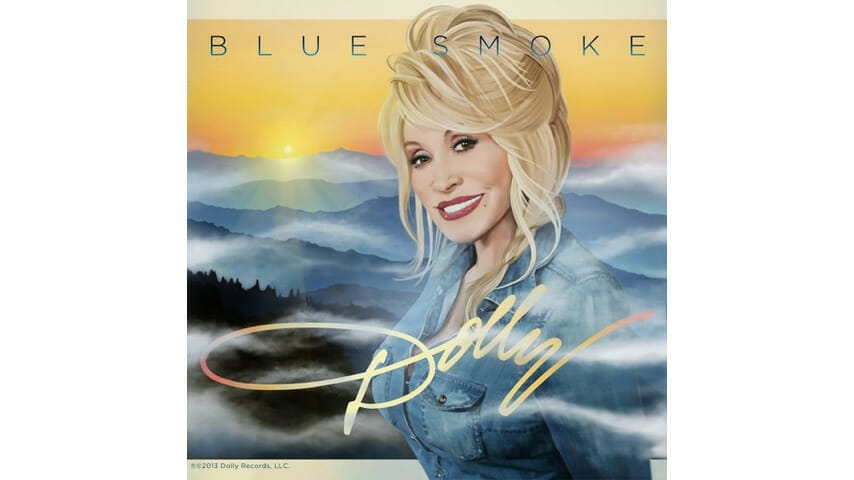 Before Dolly Parton was country music's Mae West, she was a crystal-voiced songwriter who captured Appalachia's tiniest moments like fireflies in a jar. On Blue Smoke, which straddles her amusement-park sexuality and austere mountain sense, Parton's voice most captivates on her "Love Is Like A Butterfly"-invoking "Miss You-Miss Me" and the noir-ish, dobro-drenched "If I Had Wings."
There are the grimace-inducing moments of quasi-calculation (the top-heavy adult contemporary Kenny Rogers duet "You Can't Make Old Friends") and bawdy landmines of sexual charge ("Lover du Jour," a quasi-cautionary throwdown), but mostly it is savvy recasting that defines Blue Smoke. For the iconic Parton, it is how she comes home that matters.
Reinventing the old-timey "Banks of the Ohio," half-talking through the narrative of the man who killed his lover, Parton both presents a pristine autoharp-strewn article of Appalachia and is somehow modern in how she recasts the narrative. Grammy-winning Carl Jackson almost holds her in place with his warm and solid harmony.
The ability to humanize and invigorate the old or overdone comes from Parton's inhabiting the music from the inside out. When embracing Bob Dylan's "Don't Think Twice," there's strength without rancor; now a sweeping fiddle-stitched hope amongst the leaving ballad kicks into higher gear, where it finds a brightness, too.
Even more stunning is her reinvention of Bon Jovi's "Lay Your Hands On Me." Banjo circling hard, the Blue Ridge girl—now 68—interjects the sexual throwdown as hard gospel, giving it over to salvation, surrender and whatever lies beyond.
She's always seeking new reads on rock songs—REO Speedwagon's "Time for Me To Fly," even "Stairway To Heaven"—but "Lay Your Hands" may be her most far-flung and successful. But it's also her synthesis of country-pop with traditional roots music that has given her the broad-based appeal that ratifies her membership in the single moniker club of Madonna, Cher and, well, Miley.
She closes the album with a fairly mainstream "Try." While Parton's more commercial efforts can feel pandering, this sort of empowerment slow build lifts her whispery soprano, gospel choir pooling beneath her, in a way that makes listeners believe they can…which is the point, isn't it?
Her tandem harmony on "From Here To the Moon and Back" with Willie Nelson is as tender and intimate as you could want; it reminds you that for all the gloss and hairspray, there is more: artistry is Parton's truest gift. Finding a strong balance between art and slick, Parton continues walking a line of what people expect and her heart. She just gets better with age.