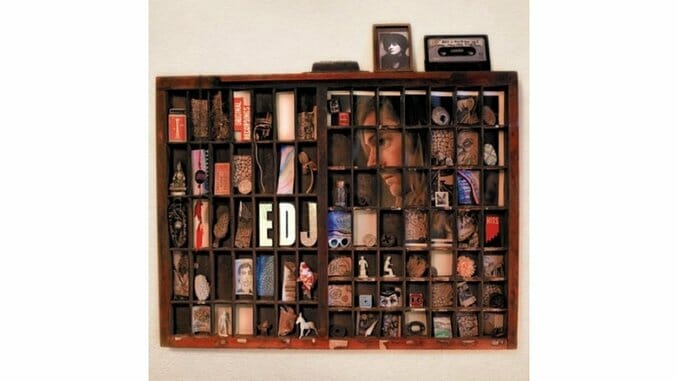 Back in November, Chicago-rooted folksters Fruit Bats announced that they were calling it quits. The curtain call came as a shock to fans of the band's strummy folk-pop, who had grown used to a steady stream of releases—five full-lengths—in the group's 13-year career. But even though he made it clear that Fruit Bats was finished, frontman Eric D. Johnson noted that he was actively working on his own material. Enter EDJ, the singer/songwriter's first release sans a band, which, in addition to Fruit Bats, have included Vetiver, The Shins, and Califone.
For fans of Johnson's intimate, breezy style of songwriting, EDJ swoops in right where Fruit Bats left off. Layers of "ooo"s and "aaah"s? Check. Keyboard-driven melodies? Check. Well-placed lap steel? Check. But where Fruit Bats records could skew repetitive, EDJ is more eclectic in its offerings. In a press release, Johnson said that the album was a blend of "melancholy grooves and existential make-out songs," which is a pretty solid generalization.
EDJ kicks off with "For the Boy Who Moved Away," a catchy listen with a groovy piano-led melody and layered vocals. Like Fruit Bats favorite "When U Love Somebody," the track shines thanks to Johnson's ability to pinpoint a subtle, stuck-in-your-head melody—in this case a nice keyboard riff—and commit to it. Mid-song, Johnson takes a chance by dropping in a spoken-word section, a decision that doesn't really add anything to the overall vibe, but does show that he's willing to mix things up. Later, "Odd Love" mirrors a Real Estate track with hazy, nostalgia-inducing guitars and reverb-laden vocals, while "A West County Girl" embraces twang via handclaps, toe-tappin' strums and dusty percussion.
"The Mountains on Fire (In the Rearview)" is an interesting choice to close the album. A spacey, instrumental head trip, it's fleshed out by swirling, woozy synths that melt into subtle drums. It's a nice way to drift away after a relatively robust collection of tracks that feature guests including Vetiver's Andy Cabic on synths and Califone's Tim Rutili on guitar and casio. But although EDJ isn't a carbon copy of a Fruit Bats album, it could still benefit from a bit more differentiation. Johnson seems to be aware of this, though. The album's best moments come from his willingness to push the envelope—which is promising for what's to come.