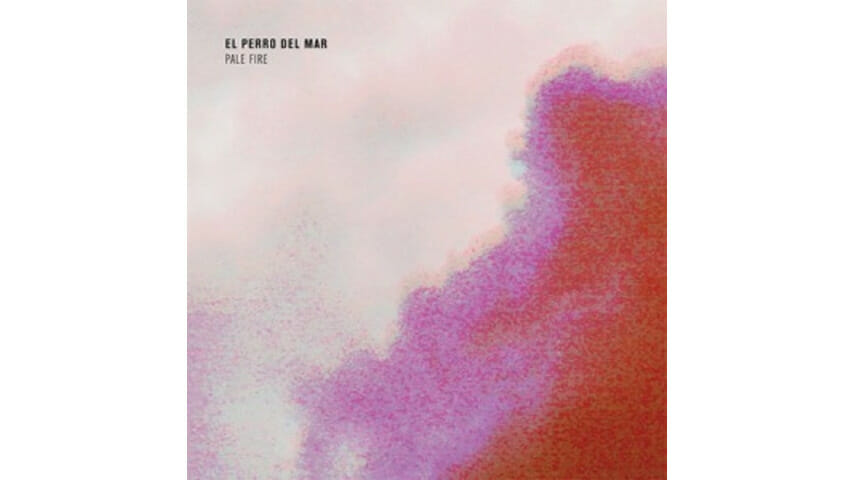 In Nabokov's Pale Fire, the title refers not just to the 999-line poem at the center of the novel, but also to the poet's peculiar habit of burning each prior draft of his completed verse in the "pale fire" of an incinerator. With her fourth stateside release, El Perro Del Mar (née Sarah Assbring) continues to flourish in a comparable cycle, once again emerging in full form from the ashes of a previous incarnation.
Majestic and assured, Pale Fire completes El Perro Del Mar's metamorphosis from bedroom chanteuse to full-fledged diva; rhythm has always been dominant in Assbring's DNA, dating back to the Swede's eponymous debut, where she tinseled a melancholic, Victoria Williams' quaver atop the handclaps and tambourine hits of bathroom-mirror Motown. Assbring got happy on her follow-up, From The Valley To The Stars, and then found herself remixed on 2009's Love Is Not Pop, a collaboration where Studio space-groover Rasmus Hägg took a seat at the soundboard.
Hägg remains in the mix on Pale Fire, co-authoring several of the set's strongest tracks, but this go round the primary sonic touch belongs to Swedish deep house maestro Bobby Bell. Correction: the primary acoustic fingerprint of El Perro Del Mar once again belongs to Sarah Assbring. Hägg soundscaped Love Is Not Pop in fjords of woozy synth and an effortless cosmic glide, shifting El Perro Del Mar from a frontwoman's showcase to a producer's medium. Though highly listenable, Love Is Not Pop lost Assbring's unique sensibility somewhere in the Lindstrøm; in the intervening years, however, the talented multi-instrumentalist has clearly learned to twiddle a knob or two to suit her own ends.
Lead single "Walk On By" serves as statement of purpose: cribbing a title that reverberates from Bacharach to Hot Buttered Soul, liberally quoting Paris Is Burning and Massive Attack's "Unfinished Sympathy," "Walk On By" resuscitates a chord progression phlebotomized by Ace of Base and then flat-out kills it. Assbring's performance is a revelation: strutting, statuesque, as self-contained and self-realized as Sade.
Where the hell did that come from?
Previous variations of El Perro Del Mar have consistently wrung dynamic tension from offbeat incongruities: juxtaposing painfully lonesome shoobie-doo-wops and be-bop-a-loo-la's over her debut's girl group bounce, and then cooing hymns of secular love and joy over stately church organ in From The Valley To The Stars. Lacking Annie's teeth or Robyn's eye for minute detail, El Perro Del Mar's lyrics alone aren't enough to distinguish her amid a crowded dance floor; on Pale Fire, however, Assbring finally appears to be singing along with—rather than in spite of—her backing tracks.
In this new becoming, the psychic unease of post-dubstep provides an ideal complement, underscoring the insularity, anxiety, and perseverance central to Assbring's project. Pale Fire's title track foregrounds her voice over skittering clicks, agitated hi-hat, and desperate echo, while propulsive standouts "Hold Off The Dawn" and "I Carry The Fire" swerve to elastic, strobe-lit beats reminiscent of Movements-era Booka Shade. "To The Beat Of A Dying World" finds Assbring in Fever Ray mode, the spooked catch in her voice seamlessly doubled over stalking percussion and stabs of noise.
Boldness, of course, brings attendant risk: following a track dubbed "Walk On By" with the iconic title "Love In Vain" flashes some major cheek, but where the former does right by Black Moses, Assbring's waffling "Love In Vain" barely registers a glimmer. To dwell on the filler in Scandinavian electro-pop, however, is to miss the essential flavor. Bell and Assbring bathe the runaway passions of "Love Confusion" in an indulgence of Jan Hammer synths, and closer "Dark Night" provides an appropriate dubstep bookend, only with the opening isolation of "Pale Fire" replaced by rallying call and response and that newfound runway swagger.
Songs of how she once "lived with her eyes on the ground," songs of outrunning the past, songs of stepping confidently into an indeterminate future: Pale Fire turns both the nightstand and nightclub mirrors outward, providing the view for El Perro Del Mar's most crucial reinvention. Much as fellow Swede Lykke Li abandoned her Youth Novels quirk with Wounded Rhymes, in Pale Fire El Perro Del Mar distances herself from the confines of her solitary beginnings, opening up an entire world of possibility.