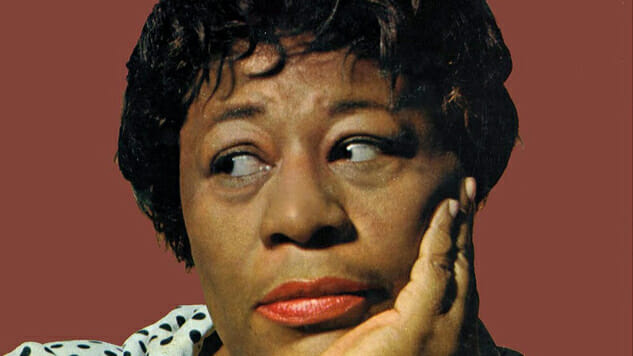 Ella Fitzgerald defies the often-held misconceptions that singers aren't as virtuosic as their instrumentalist counterparts. Known especially for her immaculate intonation, range and formidable scat solos, Fitzgerald got her big break at age 17 after winning an amateur contest at the Apollo Theater in Harlem. Lucky for her, bandleader Benny Goodman was in the audience for that show. Goodman set her up with a few gigs fronting his orchestra and the orchestra of his friend, Chick Webb. From there her career ballooned, and by the late-'50s and early-'60s, she was the major female jazz singer, who, along with recording solo works, collaborated with other legends of the time like Louis Armstrong, Frank Sinatra, Carlos Jobim, Joe Pass, Count Basie and Duke Ellington.
Fitzgerald passed away of diabetes in 1996, but her amazing career spanned most of her 79 years. She is widely studied and revered as one of the finest singers in pop and jazz (and Jazz at Lincoln Center's upcoming weekend-long celebration of her life is out to prove it), and here are 14 of best tracks to prove it.
14. "Into Each Life Some Rain Must Fall"
This recording features Fitzgerald with the Ink Spots, a popular group of the '30s and '40s. On these early takes, you can hear how young and fresh her voice is, and also what natural style and ability to collaborate she always had. The songs she recorded with them, this one and "I'm Making Believe," both topped the charts at No. 1.
13. "A-Tisket, A-Tasket"
In this song, Fitzgerald sings with Chick Webb and His Orchestra. Her time with the orchestra in the late-'30 and early-'40 was one of her first real music gigs, and this song in particular launched both Fitzgerald and Webb into the national spotlight. Fitzgerald's knowing delivery of the playful lyrics and the tight horn arrangement that makes you want to get up and dance. After Webb died in 1942, Ella took the group over and called it "Ella Fitzgerald and Her Famous Orchestra," but eventually left the group to pursue her own career.
12. "Dream A Little Dream of Me"
This song was originally recorded by Ozzie Nelson in 1931 and was covered many times throughout the '30s, '40s and '50s. Ella and Louis' interpretation of the song seems to really inhabit its meaning, and her coquettish delivery melds perfectly Louis' sultry croon and trumpet playing.
11. "Cheek to Cheek"
This version of "Cheek to Cheek," a song written by Irving Berlin in 1935, is another collaboration between the Louis and Ella. Recorded on their duet album, Ella and Louis, it really showcases how complementary their voices were to one another's. Louis' rasp is the yin to Ella's smooth and easy yang. Plus, it grooves like crazy and lends a look into obvious rapport, as Louis says, "Swing it, Ella!"
10. "Bewitched"
Fitzgerald was known for her commitment to the Great American Songbook, in other words, the standards in jazz, most of which were derived from musical theater. Many of Ella's albums are tributes to the great songwriters of the day, and this song "Bewitched" is from 1956's Ella Sings The Rodgers & Hart Songbook. Ella breathes new life into the song from the 1940 musical Pal Joey by starting in on the wandering and rarely-sung introduction, and adding in a few lesser-known verses.
9. "But Not for Me"
Even before the album tribute to Rodgers and Hart, Ella recorded 1950 album, Ella Sings Gershwin. "But Not for Me" is from that album—a sad, lonesome song from the Gershwin's 1930 musical Girl Crazy. The pared down arrangement featuring just Ella and a piano feels appropriately mournful and is quiet enough to hear her breath and lilting vibrato. Few other recordings feel this intimate.
8. "East of the Sun (West of the Moon)"
Recorded with a tasteful-yet-exciting arrangement from Frank De Vol orchestra and legendary trumpeter Harry "Sweets" Edison, this slow, swinging version of "East of the Sun (West of the Moon)" is pure perfection. From her 1958 recording, Sings Sweet Songs for Swingers, Fitzgerald's delivery is so relaxed and controlled that the song floats. In the second "A" section of the song, after the instrumental interlude from the orchestra, Fitzgerald begins to improvise with her phrasing and the notes of the melody. By the end of the song, the outro swells with a sublime finale.
7. "Lady is the Tramp"
Legend has it that Fitzgerald and beloved crooner Frank Sinatra loved to work together, but for several reasons they never recorded a studio album together. This track is one of the few recordings of them together, a raucous live performance recorded as part of A Man and His Music + Sinatra and Friends, a DVD collection of the seven hour-long specials Sinatra did between 1965 to 1981.
6. "Darn That Dream"
This swelling, intricate version of the standard "Darn that Dream" has similar qualities to "East of the Sun"—a driving swing and cool horn arrangement from Nelson Riddle and his orchestra that simmers underneath Fitzgerald's controlled delivery. Recorded around 1962 when she was about 45, this track is a snapshot of Fitzgerald at her peak, when she was most well known as The First Lady of Song.
5. "Easy Living"
This track is from a duet album with jazz guitarist Joe Pass that was recorded later in Fitzgerald's career. She was about 69 at the time of the recording, which you can hear in the slight warble of her voice. However, her delivery seems more mature than ever. In her performance of "Easy Livin'," there's all sorts of wisdom, and the track is alive with an adventurous spirit. Her singing isn't quite as pristine as it was in her youth, but she leaps to new heights in her phrasing and range, especially in the final refrain, and earns the new title The Queen of Jazz. Plus, Pass's sensitive, responsive accompaniment takes this track to a whole other level.
4. "Mack The Knife"
The Queen of Jazz did a few versions of this massively popular tune originally recorded by Bobby Darin. Before she begins to sing this incredible live version of this track, she says to the crowd, "Thank you. We'd like to do something for you now. We haven't heard a girl sing it. And since it's so popular we'd like to do it for you. I hope I remember all the words." The crowd goes wild when they realize it's "Mack the Knife." Although known for forgetting the lyrics as a performer, FItzgerald just continues to sing in this version, making up her own clever lyrics that engage the crowd.
3. "Misty"
Fitzgerald takes this melodramatic, rangy love song and makes it sound downright simple to sing. Her voice was made for this cascading melody, and her creative reworking of the melody lines accentuate the song's lush harmonies. Of all the renditions of this classic song, Fitzgerald's is the best, by far.
2. "How High the Moon"
This track really showcases Fitzgerald's scat skills. She sings it up-tempo, and after the original verse, she dives into her own fun lyrics and vocal solo. It's the epitome of what she's known for—an encyclopedic knowledge of melodies that was born out of imitating the best instrumentalists of the day. She breaks into Charlie Parker's intricate bebop melody "Ornithology" for one impressive chorus of her scat solo, showing her breadth of knowledge of the canon and spotlighting jazz's unique tradition of writing new melodies over recycled chord progressions.
1. "Airmail Special"
Like "How High the Moon," this track starts with the most burnin' scat solo, showcasing Fitzgerald's rambunctious virtuosity. But this takes her scat abilities even further, as this song, recorded live at in 1957 at Newport Jazz Fest, is chocked full of some cleverly inserted excerpts from other songs like "Davy Crocket," "Jingle Bells," "The Christmas Song," "Amore," and many more. Her ability to hop from different melodies and instrumental imitations with such precise timing, intonation and delivery is staggering. "Airmail Special" crystallizes why Fitzgerald wears the crown as The Queen of Jazz.