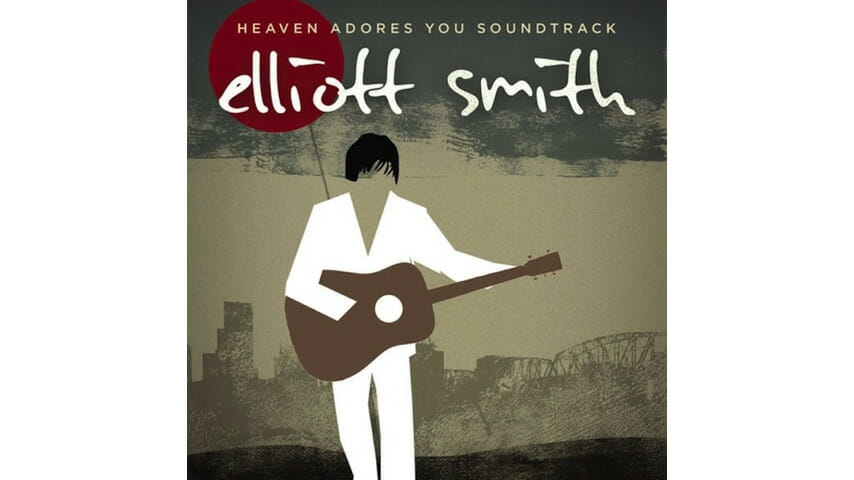 Though the Elliott Smith documentary Heaven Adores You was released last year, the accompanying soundtrack is only just now coming out. Unlike the soundtrack released in conjunction with the Kurt Cobain doc Montage of Heck, where you really needed to see the film in order to place the rough recordings in context, the Heaven Adores You soundtrack is less random and scattershot, more readily accessible as a standalone release.
Heaven Adores You is Smith's third posthumous record. From a Basement on a Hill (2004) featured recordings Smith was working on at the time of his death in 2003; New Moon (2007) was a compilation spanning Smith's career, featuring rarities and previously unreleased recordings. Heaven Adores You takes more of the latter approach, going in roughly chronological order, with three quarters of the tracks previously unreleased.
The instrumentals are perhaps the most interesting; as unfinished tracks, you're left to imagine the words Smith might have added to his work. The opening track, "Untitled Guitar Finger Picking," is a minute and a half piece performed by a 14-year-old Smith, who's already remarkably adept in his playing, and in a nice touch, the sad tune ends on a more upbeat major chord. "Untitled Melancholy Song," recorded a decade later in 1993, is growly rock 'n' roll that might start off melancholy, but soon rises in defiance; you'd love to know what kind of sardonic lyric Smith might have created to match it.
But the album is set up to be a summation of Smith's career, not solely a rarities set. Thus, it includes a previously unreleased version of "Christian Brothers" recorded with Heatmiser, the band Smith was in before going solo. He later recorded a solo version of the song for his 1995 album Elliott Smith, and if that's the version you're used to, it's a bit of a shock to hear the more full-bodied rock treatment of Heatmiser's version. But it also gives you a sense of why Smith wanted to strike out on his own; as a solo artist, his songs had more delicacy.
The record's two live numbers also capture the sudden transition Smith experienced when his career crossed over to the mainstream from the indie realm. "Say Yes" is a laidback performance from the indie fest Yoyo a Go Go, held in July 1997 in Olympia, Washington (where Smith's record label, Kill Rock Stars, was based), opening with him shyly fielding song requests from the audience. Fast forward eight months, and he's facing an audience squealing like teeny boppers as he makes his debut national TV appearance on Late Night with Conan O'Brien, singing the Academy Award-nominated song "Miss Misery," the track with which Smith will always be most associated.
Smith's life changed forever after his Oscar moment. Most of the remaining songs on the album are drawn from the late 1990s, when he was working on Figure 8 (2000), and saw him moving in some new musical directions; the bright bounce of "L.A.," which reflects the sunny environment of his new home in Los Angeles, is a catchy pop song. But inner turmoil still lurked; an early, previously unreleased version of "The Last Hour" is even more mournful than the version that appeared on From a Basement on a Hill.
And the album comes to a close on a poignant note with another early track, the previously unreleased "I Love My Room," circa 1984-85. Smith was in his mid-teens when he wrote the track, and he accompanies himself on piano, crafting a number that reflects a late period Beatles influence (or maybe solo Syd Barrett), dreamy and lyrical, with a vocal delivery reminiscent of John Lennon. His room is his sanctuary, but not because the outside world is too terrifying; it's simply that his room is where he has the most fun. It's a little glimpse of light before everything became too dark for Smith to handle.