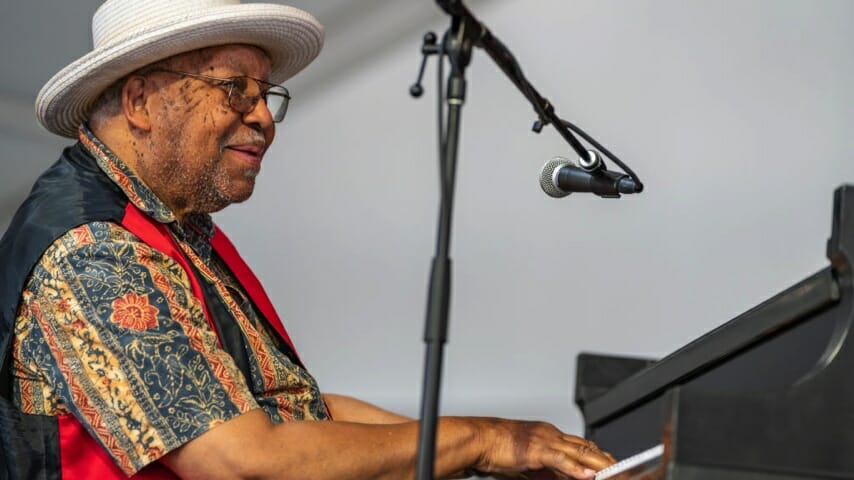 Most folks know of Ellis Marsalis as the patriarch of perhaps the most famous family in jazz. And he deserves all the credit in the world for creating a home environment that produced four notable jazz musicians: trumpeter Wynton Marsalis, saxophonist Branford Marsalis, trombonist Delfeayo Marsalis and drummer/vibraphonist Jason Marsalis. But Ellis, who died of covid-19 on Wednesday, April 1, at age 85, was a lot more than that.
For one thing, he was a terrific pianist in his own right. That was obvious when I heard him at the New Orleans Jazz & Heritage Festival in 1990. Wearing a bright pink shirt, thick glasses and a wide-brim, white-straw hat in the subtropical sun, the 55-year-old Ellis led a quintet featuring two former students: his son Jason on drums and Jeremy Davenport on trumpet.
They began with a piano-trio treatment of Duke Ellington's "Just Squeeze Me (Don't Tease Me)," with Ellis adding witty, rhythmic flourishes to the jaunty blues, and keeping the melody afloat even while playing a two-handed chordal solo. He followed that with a quintet version of "So Near, So Far," negotiating the chord substitutions as nimbly as Herbie Hancock had on the famous Miles Davis recording. He later played knotty, modernist tunes by his fellow New Orleanians James Back and Alvin Batiste. Ellis could do it all.
The festival has two venues for jazz: Economy Hall, which focuses on the city's traditional sound, and the Jazz Tent, which showcased post-bop and contemporary jazz. Ellis always played in the latter space, for as much as he admired the city's brass bands and trad groups, that wasn't what he did. He was a disciple of Thelonious Monk and Bud Powell, and he possessed the same harmonic sophistication and rhythmic dexterity as that duo's other apostles: Bill Evans, John Lewis, Hank Jones and Wynton Kelly. Ellis devoted an album to Monk and named his second oldest son after Kelly.
True, Ellis never achieved the same level of fame as those other pianists, but that was a matter of priorities, not a matter of talent. After graduating from Dillard University in his hometown of New Orleans in 1955, he left town to try his hand at the jazz life. He recorded with Cannonball and Nat Adderley as well as drummer Ed Blackwell, but in 1959 he married Dolores Ferdinand and decided to settle down in Louisiana. Wynton was born in 1961, followed by five more brothers. Ellis sacrificed fame and income to stay home and raise a family. He made a similar sacrifice by playing the jazz of the '50s and '60s rather than the tourist-friendly sound of the '20s and '30s.
"There was no jazz scene in New Orleans after World War II," he told me in 1985, "except for the traditional guys who worked down on Bourbon Street. For the most part, those guys could play, but it was just entertainment music. But the link to the creative side of New Orleans jazz was never broken, and never will be broken. It's just that it doesn't always manifest itself; it doesn't jump up and beat you over the head."
As we talked, Ellis was characteristically gruff, but hints of his sly wit kept poking through. He had the same round face as his best known son, but the father's was decorated with a graying moustache and modest afro.
"You've got to want something to keep you going," he added, "or else you'll just do enough to pay the rent. I've always got to believe there's a pot of gold at the end of the rainbow, whether it's there or not. I've managed to make it work for me on practical terms. I have a family support system here, and the ambience of this town is the way I was raised."
Eventually, he found his niche as one of the godfathers of jazz education in town. He taught at the pioneering New Orleans Center for Creative Arts from its opening in 1973 till 1986. Among his students were Harry Connick Jr., Terence Blanchard, Donald Harrison and Wendell Pierce. He went on to teach at the Virginia Commonwealth University in Richmond and then at the University of New Orleans. And from 1985 through 2018, Ellis released at least 20 albums under his own name.
"All of my students," he said in 1985, "are required to study classical music. Not only do they learn their instrument but also how the scale system connects note to note. If they're interested in jazz, I give them the opportunity to study the literature of Charlie Parker, Dizzy Gillespie, Thelonious Monk and Miles Davis. Basically, I teach the same thing I play."
After our chat, Ellis reassembled his band on stage at Storyville, a handsome New Orleans nightclub boasting a wall of French windows and eight ceiling fans turning lazily overhead. Branford Marsalis joined the group on Tadd Dameron's "Good Bait" and Ellington's "In a Mellotone." The familial camaraderie of Ellis, Branford and Jason was a reflection of the albums the father would make with his four sons, most notably Fathers and Sons, A Jazz Celebration and Music Redeems.
It's quite an achievement to see four of your children follow you into the same profession. It's a far rarer accomplishment to do it in such a way that everyone is still happy to collaborate years later. Ellis pulled it off by never pressuring his kids but giving them plenty of examples of the work at its best.
"You don't make anybody do anything," he said emphatically at Storyville. "Forget that. What you do is develop a support system, but that's all you can do. How do they learn about football? You take them to the games and answer their questions. It's like that. I was never sure if they were going to be musicians or not, but that's what they wanted to do. At one point, we disagreed about Monk. But they learned."
Those who wish to can donate to the Ellis Marsalis Center for Music. The Center provides instruction in music and the arts, academic support, and even basic food security for hundreds of kids from New Orleans' 9th Ward, as well as providing a world-class performance and recording space for local musicians.