Esther Rose Makes the Old Sound New Again on You Made It This Far
We swear this album was released in 2019
Music
Reviews
Esther Rose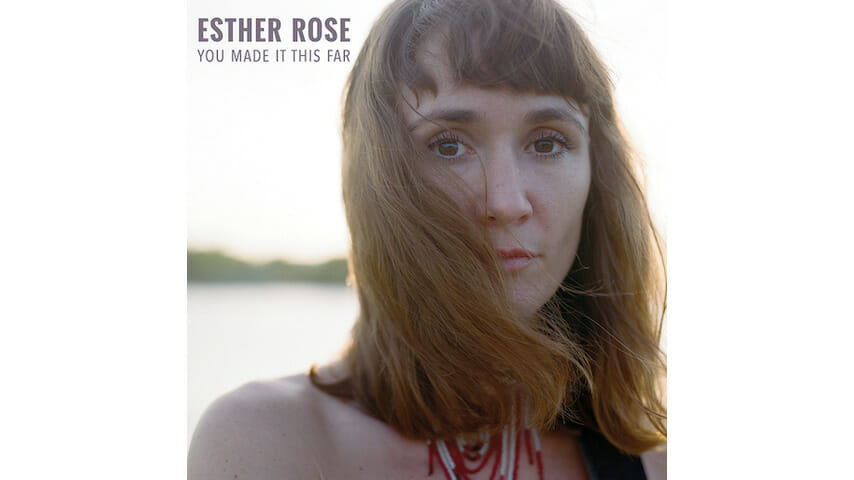 New Orleans-based Esther Rose writes music that feels like you've known it forever. You'll swear you heard the songs from her sophomore album, You Made It This Far, at your local Texas-themed dive bar, or maybe on those dusty old records in your parents' vinyl collection from way back when.
But then a line like "Against Me!, Julie Ruin, Minor Threat / I light up my last cigarette" pops out of nowhere, reminding you this isn't some long lost record. This is very much a reimagining of the country music of yesteryear through the eyes of a millennial songwriter. In much the same way Leon Bridges put a modern spin on Sam Cooke on 2015's Coming Home, Esther Rose repurposes Loretta Lynn and Tammy Wynette for a younger audience, one who may not know much about this genre in the first place.
Album opener "Always Changing" begins inconspicuously enough with simple acoustic guitar strums, and for the first minute-and-a-half, it could be a new Soccer Mommy single. Rose adds a bit of twang, which is later layered on top of a slide guitar. But nothing about the song indicates the sort of record You Made It This Far truly is: "Always Changing" sounds at home among more folksy and acoustic acts on Father/Daughter Records' roster. But once that fiddle hits on "Handyman," it's obvious this a completely different record from most anything else released in 2019. The song immediately transports you to another place and time, probably somewhere in the South or Midwest at least 40 years ago.
It would've been easy for Esther Rose to simply recreate a specific sound on You Made It This Far, but she may have come off like a cover artist, or—even worse—a tribute act. Instead, she finds a way (usually through her lyrics) to make it sound fresh without every straying too far from that old fashioned country vibe. She's endlessly clever throughout, seamlessly mixing musical nostalgia with the pressures of being a young-ish adult in 2019: "I walked up a mountain to look at my phone / And I think a mountain lion may have followed me home," she sings on "Rio En Medio."
Elsewhere, she writes songs that would fit in any decade, the sort of timeless, universal verses about love and heartbreak that span generations. They're beautifully written, too, like the final line on the album's closing track, "Don't Blame It on the Moon": "I hope I'm worth all this heartache / Outside the bar at 2 a.m. again / I thought I saw the writing on the wall but it was lying / Why does flying feel like falling down / If you can't tell the sky from the ground?"
You Made It This Far is nothing short of a triumph. Rose doesn't even remotely attempt to reinvent the wheel, but she modifies it ever so slightly, making this one of the most pleasant listens you'll hear this year. There are probably hundreds—if not thousands—of artists singing songs like these in dive bars across the country. But only Esther Rose is making them sound new again.