10 Artists Who Left or Got Fired Just Before Their Band Became Famous
Photo by Kevin Mazur/Getty
Music
Lists
Famous Bands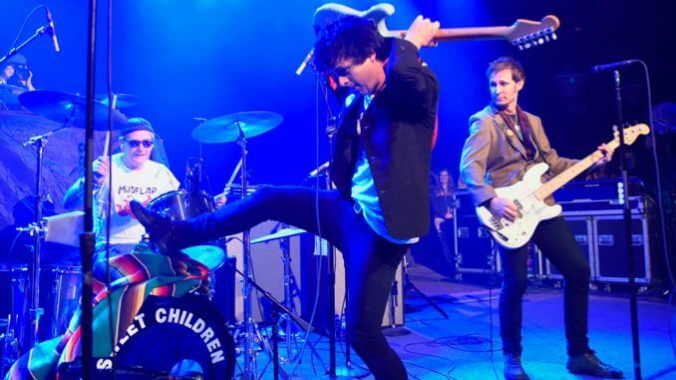 Imagine you're playing in a band with your friends and having fun, but after a while you think to yourself, "Is this really going anywhere? Should I go back to school, learn a trade?" And you decide to move on and grow up. One year later, your friends are playing arenas while you're folding laundry and crying.
Even worse, what if you were fired from that band?! That's the case for some of these 10 musicians who either left or were fired right before their band became famous. This has become known as "Pete Best-ing it" after the well-known Beatle who left just months before the band broke. Another obvious one we won't be covering here is Dave Mustaine, who got booted from Metallica—but that worked out all right for him. We're gonna dig a little deeper on these stories, but many of them do have happy endings for both sides.
Scott Raynor: Blink-182
It's hard to imagine anyone other than Travis Barker behind the drum kit in Blink-182, but on their first two albums, drummer Scott Raynor held the sticks. Raynor was drinking heavily and before the band entered the studio to record the 5x-Platinum-selling Enema of the State, Mark Hoppus and Tom Delonge gave him the boot. Raynor said they told him he had to go to rehab, which he agreed to do, but then they decided to kick him out before he even could try. There are also reports that Raynor left because he couldn't picture himself being 30 in a punk band, but Hoppus and Delonge have always blamed the drinking, and many fans believe that's what the song "Man Overboard'' is about. Blink then asked the Aquabats drummer Travis Barker to join the band.
Nick Thomas and Chris Salih: Twenty One Pilots
Twenty One Pilots is well-known as a two-piece band, but they once had a bass player and a completely different drummer. Tyler Joseph originally started the band with bassist Nick Thomas and drummer Chris Salih. After grinding it out and building a strong local following, Chris left the band due to financial stress. His car needed repairs, he had student loans and his dad said it was time to get a full-time job. A month later, Nick Thomas left the band as well to focus on school. Chris connected Tyler with drummer Josh Dun, and one year later they signed to Fueled by Ramen. Then boom—they went on to win Grammy's with their Platinum-selling albums and made a really popular song for a very unpopular movie. Salih and Thomas both remained close with the band, staying involved in the production and Thomas, who played in emo band The Spill Canvas, even managed their merch for awhile.
John Kiffmeyer: Green Day
In 1990 Green Day had just finished their first tour when drummer John Kiffmeyer (pictured at top) decided to quit the band to attend college. He actually didn't tell the band he was leaving, though, and Billie Joe found out through a mutual friend. Kiffmeyer tried to still play in the band when he was home on break from school, but that of course did not work out for Green Day's long-term plans. Kiffmeyer did help produce the band's 1991 album Kerplunk, but two years later the band signed to Reprise Records and released Dookie which went on to sell 10 million copies. There appear to be no hard feelings on either side as they reunited for a set in 2015 ahead of Green Day's induction into the Rock and Roll Hall of Fame.
Jason Everman: Nirvana and Soundgarden
Jason Everman was actually fired from two iconic grunge bands before they blew up. He started off playing guitar in Nirvana in 1989—he's even on the cover of their debut album Bleach, but didn't play on any of the tracks. Cobain said that the reason he is credited for the album is because he paid for the recording, but after their first tour Everman was fired for being a "moody metalhead." He then went on to play bass for Soundgarden, but was fired after one tour, allegedly the same reason. A year later, Soundgarden released the massively successful album Badmotofinger. Everman found success in other ways, though. He joined the Army, serving tours in Iraq and Afghanistan as an Army Ranger and Green Beret. In 2017, he even started a new band with other military veterans called Silence and Night.
Jason Cropper: Weezer
While recording The Blue Album, Weezer's original guitarist Jason Cropper found out his girlfriend was pregnant. The news obviously had a big impact on him and it started disrupting the recording process, causing him to behave erratically, which increased the already growing tension between him and bassist Matt Sharp. The rest of the members of Weezer were very concerned about Cropper's dedication to the band and how starting a family could be a distraction. Frontman Rivers Cuomo had a strict "no girlfriends in the studio" rule, and when Cropper's girlfriend showed up unannounced to their studio in NY, that was the final straw. Cropper was fired and an irate Rivers re-recorded all of Cropper's parts in one take. The album went on to sell 3 million copies that year. Cropper did receive writing credit on the intro for "My Name is Jonas" though. Eventually Cropper and Rivers reconciled in 2006. Cropper even attended Cuomo's wedding and the two have done some livestream events together.
Matt Pelisier: My Chemical Romance
My Chemical Romance was founded by Gerard Way and drummer Matt Pelisier. Pelisier drummed on the band's first album I Brought You My Bullets, You Brought Me Your Love, a cult favorite for fans, but according to louder.com, the band's producer and label thought Matt's drumming was "fucking terrible." Gerard didn't want to get rid of Pellesier though, so they went on to record Three Cheers for Sweet Revenge, but apparently the drumming didn't get any better. Pellesier was let go a month after the record's release, which went on to be a multi-platinum selling album. There are rumors Pellesier was also fired because he lit their tour van on fire, but the subpar drumming seems more believable. Since Pellesier drummed on Three Cheers, it's likely he's at least getting a payout, but he filed a lawsuit against the band for royalties on the first album, so who knows? According to Twitter, Pelissier is currently a producer, engineer and "all-around sweet dude" living in New Jersey.
Jack Irons: Red hot Chili Peppers
Drummer Jack Irons actually quit the Red Hot Chili Peppers twice. In 1983, Irons left the Peppers to focus on his other band What Is This?, which also featured another co-founding Chili Pepper, Hilel Slovack. Irons and Slovak both returned to the Peppers a few years later, but in 1988, Slovak tragically died of a heroin overdose. Devastated by the loss of his friend, Irons could not continue with the group and one year later the Chili Peppers released their first of many commercially successful albums. Irons went on to play drums in Pearl Jam, but left that group as well due to the grueling touring schedule. In 2012, Irons was inducted in the Rock and Roll hall of fame as a member of the Red Hot Chili Peppers and joined them on stage for the first time in 24 years.
Jesse Tabish: The All-American Rejects
This one is definitely the strangest story of all. The All-American Rejects were formed by Tyson Ritter, Nick Wheeler and Jesse Tabish in 1999. In 2001, Wheeler's sister put a hit out on her own husband after she had an affair with a much younger man. The event completely shook guitarist Jesse Tabish who said he couldn't just go back to singing lighthearted songs about girls in high school. He left the group and less than a year later the Rejects signed with DreamWorks and released the hit "Swing, Swing." The band went on to have incredible success, becoming one of the most well-known bands of the 2000's emo and pop-punk scenes. Tabish eventually formed a folk group, Other Lives, which is still active today.
Josh "Gnar" Brainard: Slipknot
Slipknot guitarist Josh "Gnar" Brainard was an original member of the band appearing on their debut record Mate Feed Kill Repeat and also recorded most of the guitar on the band's self-titled album released on Roadrunner Records. That album was a stylistic change for the band with less experimental sections and guitar solos and more of the classic Slipknot sound we know now. The record was pretty much finished before the band took a break for Christmas, but it was during that time that Brainard decided to leave the band. It's rumored that he was unhappy with some decisions that were made in the band, but according to Joey Jordison, Brainard was lonely and didn't want to be away from his family. So Jim Root was brought in to replace Brainard and record two more songs for the album, which went on to be the band's first Platinum album and the record that turned Slipknot into a household name. Brainard is still living in Iowa, playing in various bands.
Mitch Guindon: Nickelback
Most of Nickelback's biggest albums feature Ryan Vikedal or Daniel Adair on drums, but just before they signed their first major label deal with RoadRunner Records, Mitch Guindon was behind the kit. It was long rumored that Guindon simply left the band so he could go work at a car company, but Kroeger and the boys have revealed that it was actually a dermatology issue! In an interview with Loudwire, Kroeger said Guindon's skin was not able to handle cold weather and they felt it would be in best interest of his health for him to leave the band. "He was not meant for the road," Kroeger explains. "He was allergic to cold air. We got to the middle of Canada in winter, and obviously it's gonna be cold as hell, and his skin started coming off his body. He's like, 'Yeah, I can't do this.'"
---
Hailing from the (alleged) birthplace of Rock 'n' Roll, Cleveland, Ohio, Jesea Lee is a retired punk with a passion for discovering "the next big thing" in music. Lee is a must-follow for staying up-to-date on what's happening in the rock and metal worlds—or he's an idiot. It depends on which comments you read on his . He's a host on Sirius XM Octane and has contributed to Loudwire, SPIN, Alternative Press, Hot Topic, and more.