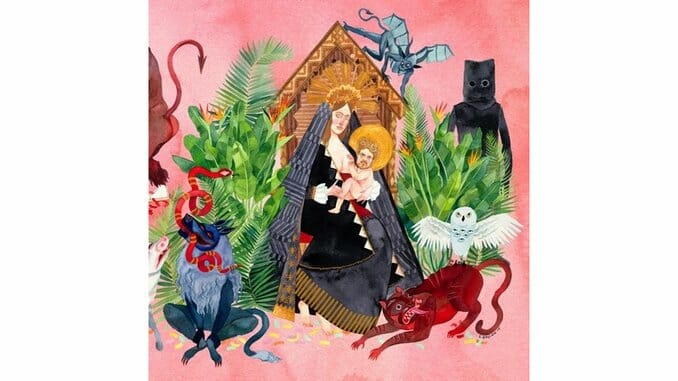 Josh Tillman's backstory is so sprawling and strange, it reads like an impossible hybrid of assorted rock myths. The 33-year-old singer/songwriter grew up in a stifling Christian household, fled to Seattle at age 21 to work a series of dead-end jobs, shopped around a series of self-recorded solo albums, joined indie-folk trend-setters Fleet Foxes as a drummer, had a psychedelic spiritual awakening inside a California oak tree and quit the burgeoning band at the height of their cultural saturation—only to re-emerge as Father John Misty with 2012's Fear Fun, a set of lushly tongue-in-cheek Laurel Canyon gems.
Tillman's creative persona feels like a natural extension of that weirdness: He's part cultural provocateur (see: his recent low-fi streaming service gimmick), part hippie-rock satirist, part soulful balladeer. What's most surprising about I Love You, Honeybear, his long-awaited sequel, is how it balances that cartoonish character with the real-life Tillman—who married his current wife, Emma, in 2013. Honeybear thrives on the knife's edge of that enigmatic split personality, as he attempts to reconcile the love-swept optimist with the world-weary wise-ass.
Fittingly, the LP's most striking moments meditate on the sublime and deeply complicated art of sharing life with a single partner. The title track is an apocalyptic love song submerged in waltzing, Spector-styled orchestrations—with Tillman embracing his wife, at peace as they drown. On the breeze-swept chamber-folk strummer "Chateau Lobby #4 (In C for Two Virgins)," he daydreams about the formative stages of a romance, reflecting on jarringly intimate details—kitchen sex, his wife's crime-scene wedding dress—amid mariachi horn blasts and crackling percussion. But these are love songs with a distinctly Tillman-like bent— he can't resist framing his feelings in sarcasm or a clever jab. "I haven't hated all the same things as somebody else since I remember," he sings on "Chateau," the swelling harmonies wringing out the sweetness in a line that reads like snark on paper.
Sonically, Honeybear finds Tillman in a ruminative mood, favoring lavish strings, sweeping layers of voices and acoustic guitars. But he still has a knack for unexpected flourishes, like the psychedelic guitar solo on "Strange Encounter" that lands somewhere between a pitch-shifted trombone and a wet fart. The album's one clear aberration is the stunning "True Affection," a glitchy electro-orchestral pop song that recalls Sufjan Stevens circa Age of Adz. Here, Tillman pares his verses down to emotional textures ("When can we talk with the face?" "It's a trial run / Let me show you how"), his gliding falsetto evoking heartache as much as his lyrics. The restraint is admirable, even refreshing: At his wordiest, he still puts off the vibe of a dude too cool to approach at a party (see: the tiring but dreamy "The Night Josh Tillman Came to Our Apartment," in which a character is offended by yet magnetically drawn to an air-headed hipster).
With I Love You, Honeybear, Tillman wrestles with a lot of heady subject matter: modern narcissism ("Bored in the USA"), his own tendency to doom personal relationships ("The Ideal Husband"), the general downfall of mankind ("Holy Shit"). But the less he strains, the more his songs resonate. On threadbare closer "I Went to the Store One Day," his voice skirts into falsetto over hushed fingerpicking and strings, as he croons about buying a plantation with his wife and letting the yard grow wild—and how that dream originated from a chance parking lot hello. Tillman will probably always write with a wink—but he's learning to infuse that approach with genuine heart.