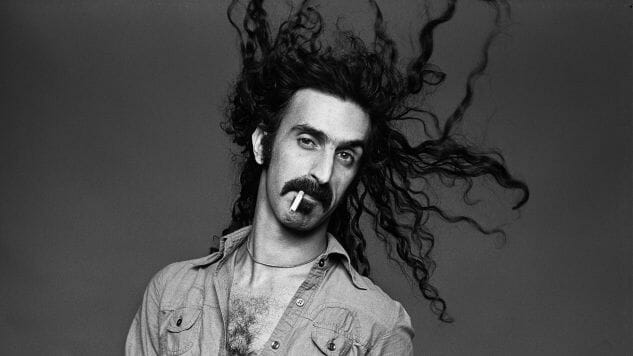 Frank Zappa fans are an obsessive sort, and to be into Zappa feels like being in on a big secret. Thanks to his prolific output, listeners can spend years delving to his catalogue without fully digesting it. One need not be a total Zappa fanatic to appreciate his work, and specific elements of his output—acerbic social commentary, virtuosic guitar work, and complex usage of time signatures—stand strongly enough on their own to appeal to the listener who's never quite gotten it. Spencer Dryden of Jefferson Airplane once said, "If we have to have a spokesman for what is going on today, musically and every other way, Frank Zappa gets my vote."
For many, the hype surrounding Zappa's persona overshadows the merits of his music. The highly quoted composer can be controversial, countercultural, and contradictory—sometimes all at the same time. What's most problematic in separating the man from the music is coming to terms with his frequent sleaze and misogyny. While elements of the former can pass as a forgivable element of satire, lyrics emphasizing the later (in songs like "Crew Slut" or "Fembot in a Wet T Shirt") are so blatant that it's hard to accept such grotesque chauvinism as playful parody.
But when separating the man from the music, the cultishness from the catalogue, reasons for Zappa's longevity and intrigue remain. From repeated stylistic elements to incomprehensible guitar solos, these five songs should serve as introductory tracks for people who just don't get Zappa.
1. "Cosmik Debris," Apostrophe
Apostrophe is a great place to start for those entirely unfamiliar with Zappa's catalogue. But this song in particular, with Zappa goofily narrating nonsense like, "With the Oil of Aphrodite and the dust from the Grand Wazoo!?" shows how he can be both silly and substantive. The protagonist of the track refuses to buy into a guru's shtick, which illustrates Zappa's tendency to question those who self-identified with the counterculture of the '60s. And for anyone looking to dig deeper, this playful song also references a track off and a previous Zappa album, Over-Nite Sensation.
2. "Peaches En Regalia," Hot Rats
An epic jazz-fusion composition, this song is one of Zappa's best known melodies. The triumphant, easily digestible, instrumental track has been reinterpreted by many artists (from an interpretation in a jazz Real Book to jam band kings Phish), and his son's tribute band Zappa Plays Zappa won a Grammy award for their take on the track back in 2009.
3. "I Am the Slime," Over-Nite Sensation
In his quintessentially creepy way, Zappa's narrates a track that reminds the listener of the dreck their televisions feed them. Said political commentary feels more relevant than ever in an era where humans spend any moment of free time absorbing media through the screens in their pockets.
4. "Shut Up And Play Yr Guitar," Shut Up and Play Yr Guitar
Do you love guitar-driven rock with progressive elements? Cool. Shut up and listen to this song that deserves assorted clichés as the face-melting guitar solo. The album itself is entirely instrumental and, as you may have guessed, full of fire-spitting guitar solos. Should you find yourself in awe of Zappa's virtuosic compositions and guitarwork but can't quite stomach his lyrics, Shut Up And Play Yr Guitar should be your go-to.
5. "The Ocean is the Ultimate Solution," Sleep Dirt
This song showcases Zappa flexing on jazz musicians, both compositionally and technically. And he does so for a whopping 13 minutes and 20 seconds. Sleep Dirt is an entirely instrumental album, so those put off by Zappa's opinions can listen freely.