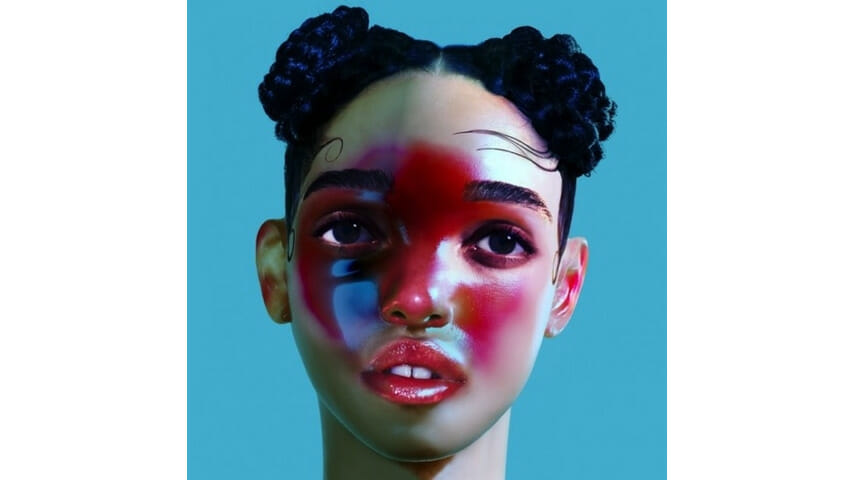 Since FKA twigs slipped into culture behind a mutated face, disembodied and spinning nervously in the surreal video for "Water Me," nearly all of the visuals accompanying her music have focused on the body. "Papi Pacify" stitches together loops of the 26-year-old songwriter submitting to a male partner in cinematic black-and-white. In "How's That," a virtual body shivers and deflates, the human form reduced to its surface area and then glitched past recognition. On the cover of her first full-length album, Tahliah Barnett appears twisted, her features subtly distended. A glossy bruise blooms over her face. Elsewhere in the album art, she appears to have caved in completely. She's mutilated, broken, but never seems to be in pain.
On LP1, twigs works nuance back into a genre that over the past five years has been exposed, flattened and drained of life by The Weeknd and his imitators. Even How to Dress Well gave up on it this year, trading in his sexless, sentimental R&B for broader pop strokes. "PBR&B," as it was sardonically dubbed, became a channel for white male melancholy, for vague sadness instead of the active desire of its early '90s inspirations. LP1 flips the script. It's a record that drips with sensuality and, yes, sex in all its dynamics and complications.
For twigs, sexuality isn't just fulfillment of desire, but a means to transcendence. "Preface" begins the album with the kind of high, delicate harmonies you might hear in sacred choral music, undercutting them with jagged beats and hellish whispers. Later in the album, a song called "Closer" reaches even higher for the ramparts, a hymn embellished with pitch-shifted chirps. I can't help but imagine that it shares a kinship with the Nine Inch Nails single of the same name. The lyrics "I want to fuck you like an animal" and "You get me closer to God" both occupy space in that song: FKA twigs understands that they're not necessarily contradictions.
Though its followup "Pendulum" comes close, nothing on the album kicks quite like "Two Weeks," LP1's first single and the closest twigs gets to a traditionally structured pop song. Its fluttering beats clench and scatter at each hook, while twigs' voice rains down in sheets at the climax. With her gasping staccato, it's a transparently sexual song, but the steamy details in the lyrics might not reveal themselves until the third or fourth listen.
That's the trick twigs pulls: Her outer layers hint at innocence. At first glance, that record cover might look like a cartoon character, an anime girl with a tooth gap. Give it a few more glances, and it starts to resemble nothing more than Rihanna's battered face in doll form: a candy-colored wound.
These tensions—between desire and pain, lust and satisfaction, sanctity and profanity—percolate through LP1. With both immediate appeal and density that demands long-term digestion, it's one of those rare debuts that manifests a fully-grown, deeply engaging sound. Rather than align herself on one side of the dichotomy between crude sexuality and neutered sentimentality, twigs allows herself to be complicated. She thrives because of it.