Heaven Helps the One Who Leaves
In the first installment of her column Flirted With You All My Life, Niko Stratis writes about Warren Zevon, bar karaoke and what it means to capture the hardest days' fleeting good moments
Photo by Virginia Turbett/Redferns
Music
Features
Flirted With You All My Life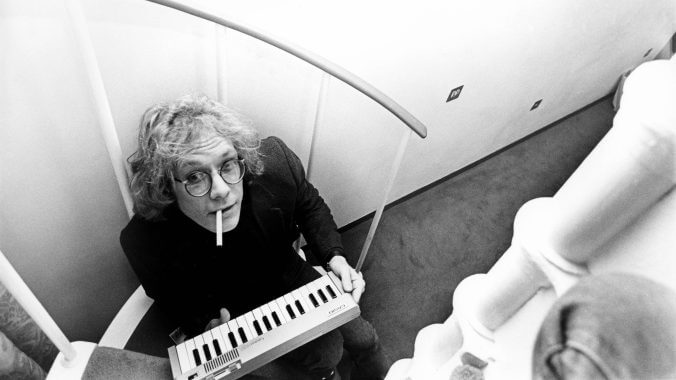 This is Flirted With You All My Life, Niko Stratis' column of personal essays about the intersection of sobriety, popular culture, recovery and music.
Someone stole my bit. They didn't know it, we've never met nor spoken or even so much as glanced at each other to the best of my knowledge. But there they were all the same, taking what was mine and making it their own—singing "Werewolves Of London" at karaoke night in the basement of a legion hall on a Saturday evening. Somewhere in the distance, a dart meets its end on a board, the superfluous rhythm of brown bottles of Labatt 50 clinking in revelry the only other sounds in the room, all muffled by a best-guess attempt at a cherished Warren Zevon track.
When I say this is my bit, what I mean is that I used to be that person, holding a microphone that hundreds of people had held and singing into without it being cleaned even once, belting Warren Zevon's best-known song that I am also aware he had grown to hate. It's part of the human condition that, when you become known for a single achievement, you may grow to despise every shade of its memory. Cobain hated "Smells Like Teen Spirit." Wally Conron regrets creating the Labradoodle. Warren Zevon wanted to be more than a single hit.
Zevon disliked the attention that Werewolves got in contrast to his other more compelling work, and grew to hate his one big moment in the center of a swiftly moving spotlight. When he did revisit it live—perhaps out of some sick commitment to the needs and desires of an audience that cares little for those of the artist—he would change the words to the song to his own amusement. I'd like to meet his tailor becomes He's looking for James Taylor.
"Werewolves Of London" was my go-to karaoke track. Someone once told me I have perfect pitch after hearing me sing it—my voice and bravado fueled by cheap whiskey in a bar in the basement of a hotel with a Bo Jackson poster on the wall overlooking a pool table that was more decoration than function. I knew the words by heart before too long and it became more of a performance piece than simple pastime. Something to do with the energy brown liquor had indebted to my anxieties. I don't do any of it anymore, the fueled by whiskey part or the perfect pitch renditions of "Werewolves Of London" part.
It's not Warren Zevon's best song. I'm not even here to tell you what the best Warren Zevon song is. At best, this is subjective and, for a long time, I would have honestly said "Werewolves" myself anyway. Some days, I will be willing to tell you—with all the confidence my little heart produces—that "Nighttime In The Switching Yard" is the one but, like all confident statements, it's probably a lie puffing its chest out to ward off any challengers.
The thing with Zevon is his desire to write lovingly about the imperfect beauty of the failing world that existed in the blast radius of his life. Zevon did not live easy or leave a perfect legacy behind, his is a story riddled with the hard realities of addiction and the fallout of self destruction. He pushed people—even his most ardent supporters and collaborators—away; he was physically and emotionally abusive. The tense with him is, of course, past. Zevon died many years ago. He once told his longtime friend and endless champion David Letterman that he hadn't been to the doctor in decades, and the minute he went he was told that he was going to die. Life'll Kill Ya. Enjoy every sandwich was his advice for living with death imminent on the horizon.
I was describing my alcoholism to a friend who had last seen me as a functional alcoholic who'd long perfected keeping secrets hidden in all of the places no one ever thought to look. In the years after we had ceased our closeness to one another, I had shifted whimsical binge-drinking to chasing blackouts with a bottle of scotch and a half-case of beer on casual Saturday nights. I didn't remember any of the nights lost to the dark, but there was always a photo or two featuring me, face red like a neon sign on a midnight highway, that informed me of shames that will haunt me—shames that I will never fully remember.
I was blacking out when I drank more than I wasn't and, in the murky darkness of the night and the hard light of the morning after, I thought a lot about taking my own life. The thoughts you can never walk back and you are forced to contend with, the reality of your brain so thoroughly having turned on you. It's hard to live with the memories of these single moments we worry will define us forever. If we really want to be honest with each other, I think that "Desperados Under The Eaves" is, if not the best Zevon song, at least the perfect vantage point from which to survey the breadth of his work. It just happens to be a deeply personal reflection of the ennui in the midst of a life of destructive alcoholism.
A song told in the backdrop of run-down hotel bars in Los Angeles, "Desperados Under The Eaves" is a lament that weaves between bitterness, sorrow and resignation; unsteady footsteps searching for their mooring on a sinking ship. It is the remorse of the morning after, where coffee is a survival tactic more than a beverage of deep appreciation. I have sat in this moment, staring into the expanse of the bottom of a white porcelain mug and wondering what fresh Hell I have brought to my own front door.
"Desperados Under The Eaves" pulls its most tender strings from an unexpected heart: When Zevon makes mention, in his best leaning-on-the-counter-of-a-diner voice, of listening to the backline hum of an air conditioner; where his voice finds the humming rhythm of the artificially cooled air a chorus rises from its resting place, string sections crashing against the wall of quiet desperation, building with a righteous fury; the blessings tucked away in the mundane parts of bland backgrounds; the flicker in time when the room isn't spinning and the despair has not quite caught up to you and you think, for just a minute, that this is all, somehow, worth it.
When I walked into that bar in that basement where someone was singing my song, it all came back to me and my brain yelled the word "whiskey" into every corner of my psyche—because the two are intrinsically linked for me. I have never walked into and out of a room so quickly, I am a GIF of Grandpa Simpson walking into, then out of, a brothel. Walking home, I fumbled for the airpods in their extremely losable case in my jacket pocket and felt the stab of an oncoming panic attack hit my chest as I put Warren Zevon on, as I walked home with a brisk and furious speed in my feet. The air conditioner hum hit me as I fought my own body for air for just a moment and stopped in the middle of a sidewalk and stared into the night sky that is vastly different from the one that lived over my head when I would drink brown liquor and forget the hours of the night around me.
Zevon was a poet of the quiet beauty of despair. He sings of the moments, those little spaces, we exist in when it's the morning after day 2 of an ongoing situation. People are surprised when I say that I sometimes miss hangovers. Because in a hangover, all is kind of forgiven—like a church for agnostic addicts. The breakfast and coffee and lament of it all is a ritual, like all rituals in life, and it was the best part of any night out or continued bender. In "Desperados Under The Eaves," Zevon paints that moment as a masterpiece of his own design, a tender ballad sung to the quiet spaces in the air before the coffee turns to brown liquor and the energy starts once more.
Don't you feel like Desperados under the eaves
Heaven help the one who leaves.
Like a lot of songwriters who wrote songs about barstools and morning afters, Warren Zevon struck me as someone who held a deep fascination for people and proclivities. It is easy to jump to the end of the book and proclaim the works of someone who lived hard and died in tragedy as a sadness dwelling in the dark. In so much of Zevon's work, I hear someone sketching the inherent beauty thriving under a layer of dirt you just need to clear away to see. Even someone who knew and wrote about his very real and worsening relationship to addiction.
[Also, fun-fact for the curious hearted: Carl Wilson is singing backup on that song. Beach Boy Carl Wilson, singing backups on a song about LA being the kind of town you get stuck in a hotel dive bar in. Jackson Browne too, but he was always there in Zevon's work.]
Being sober for years now has dulled the passive ideation in my head, but those moments will define me in good and bad ways for the rest of my life—even when I'm the only one who holds fast to their memories. I hope to die by some unknown force many, many years from this one. And, as my soul departs from this life to whatever black slate is after when we go, I hope to hear that artificially cold, angelic choir emanating from an air conditioner, humming my soul to whatever waits for it in rest and peace.
I championed that person in the karaoke bar at the basement of a legion, the one singing my go-to song, as I watched them bound away at the moment of the track's completion into a crowd of enthusiastic conspirators and heard the clink of brown bottles as I fled the dangerous notion eating away at me that I could catch up if I wanted to. Just because you can never go back does not mean you have to lose touch of what good moments live in the hardest of days.
Listen to Warren Zevon's performance at Auditorium le Plateau in 1978 below.
---
Niko Stratis is a freelance writer whose work has appeared in outlets like SPIN, Bitch, Autostraddle, Catapult and more. Her work primarily focuses on culture, the 1990s, queer/trans topics and as often as possible where all those ideas intersect. Niko lives in downtown Toronto with her fiancé and their dog and 2 cats. She is a cancer.