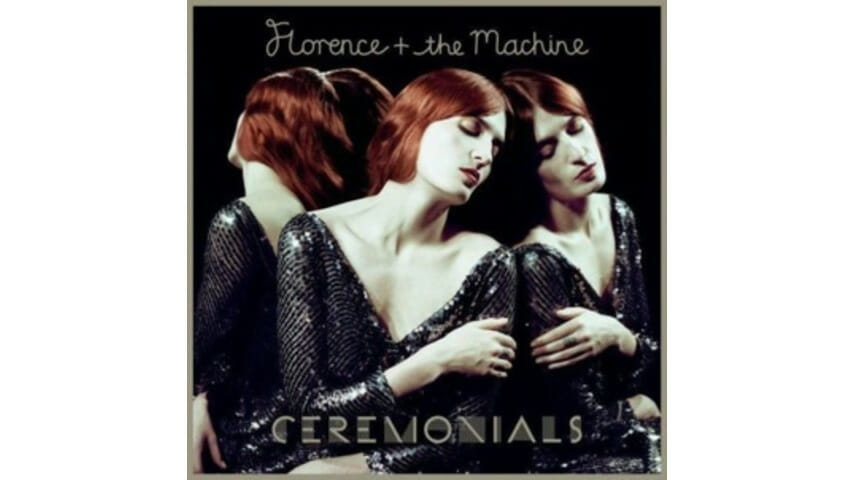 Florence + the Machine's 2009 debut, Lungs, was every bit as visceral as its title suggested, exploring the extremes of startling emotional violence and stark spiritual catharsis. With her red hair and pagan-glamour fashion sense, frontwoman Florence Welch came across like an artist still discovering what all she could get away with, and it proved surprisingly varied, with the tremendous "Dog Days" jostling against the straightforward "Kiss with a Fist." She rode that slow burner of an album all the way to the Grammys, where she outsung Christina Aguilera and Jennifer Hudson and proved she didn't need to resort to ostentation to convey soul and conviction.
By contrast, her follow-up, Ceremonials, is just as ethereal as its own title implies, even as it locates some power in the repetitions of ritual. It's the sound of an artist who has grown much more confidence not only in her talents but also in her eccentricities. As a result, it's more consistent, but—as with most sophomore efforts—much less surprising. Every songs reaches for the same sense of drama and release, with only minor variations in style or sound. "Lover to Lover" is lovely gypsy gospel, complete with a choir that tries but can't quite match Welch's own vocal power. Projecting its chorus to the cheap seats on other planets, "Shake It Out" competes with Coldplay for rousing arena-filling hooks, yet where Chris Martin has to strain to get there (that strain being a large part of that band's appeal), Welch gets there almost too easily.
In fact, Ceremonials is so attuned to her powerful instrument that the songs tend to be either big or really, really big. Producer Paul Epworth gives the arrangements extra oomph to make those drums pound harder and those choruses soar even higher. There's not much attention paid to dynamics: It's pretty intense from start to finish, with few moments for listeners to catch their breath. On the other hand, as befits a woman who started out as a drummer and then sang at open-mic nights with only her own handclaps and footstomps for accompaniment, Welch emphasizes rhythm over melody. Even the piano and harp are absorbed by her army-sized rhythm section, which only highlights her vocals even more. The effect can be entrancing, as on the majestic crescendos of "What the Water Gave Me" and the buoyant triumphalism of "Heartlines."
Still, it's hard to dismiss the impression that Welch has hemmed herself in even as she moves forward. Ceremonials abandons so many of the musical avenues she mapped out on Lungs and focuses instead on a monolithic sound that is certainly affecting but is becoming increasingly conventional in 2011. She has come so far, and hopefully still has far to go.