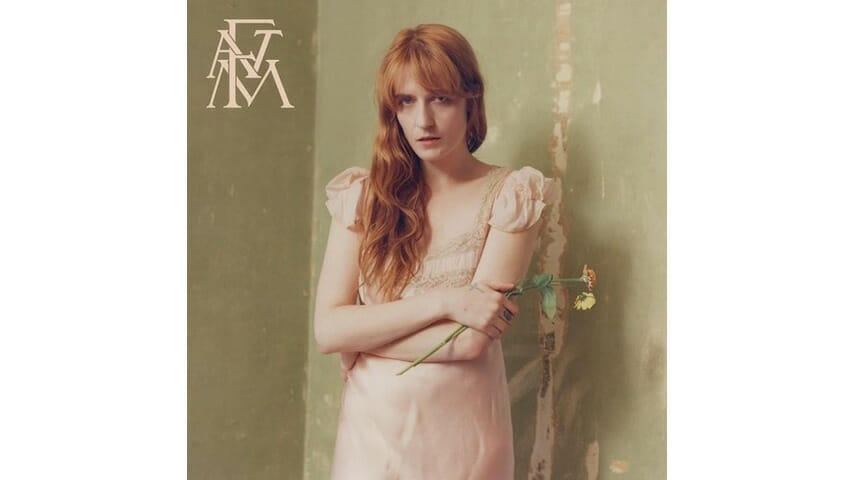 A mix of raw-nerved personal reckoning and outward-looking, life-affirming anthems, Florence and the Machine's follow-up to the chart-topping How Big, How Blue, How Beautiful soars just as high. A new level of vulnerability from Florence Welch and deft, atmospheric production from Emile Haynie (Lana Del Rey) makes High As Hope another album of cathedral-filling, mountain-moving sound, with Welch's vocals the main source of power.
In the past, Welch has had a turbulent relationship with fame, turning to alcohol and other vices in an attempt to consolidate her newfound notoriety and deep-seated insecurities. It's something that's addressed throughout the album on songs like the stomping, propulsive "Hunger" and "South London Forever," which traces the roots of her hard-partying tendencies. "Young and drunk and stumbling in the street outside the Joiners Arms / Like foals unsteady on their feet," she sings, her muscular, agile voice dancing around references to a restless, reckless youth before heartbreakingly betraying the cry for attention it actually was: "Everything I ever did / Was just another way to scream your name."
As if delving into the pages of a stained and worn diary, the melancholy "Grace" is a song-length apology to someone Welch treated poorly—lots of heavy, atmospheric air hanging around her voice before the song reaches its stormy climax. The excellent "Big God" takes an instance of a lover who ghosts to epic-poem proportions; "Shower your affection / Let it rain on me / And pull down the mountains / Drag your cities to the sea," she sings, the ominous piano and her guttural attack of the words "Big God" erotic in their vengefulness. "Patricia" is a song-length ode to Patti Smith, fittingly badass with a stomp and fierceness that gives way to an ultimate message of love and openness. It's this love and openness that characterizes the less-personal songs on the album, an obvious reaction to the turbulent and polarized climate we now find ourselves in.
"Hold on to each other," Welch urges over and over again during "June," a plea for basic humanity during a time where love itself is viewed as "an act of defiance." What begins as her naked voice becomes a massive, sweeping conglomeration of multiple voices, crashing cymbals, and a propelling movement forward. "100 Years" has Welch seeing a light at the end of the tunnel, singing "I believe in love / And the darker it gets the more I do" over stomps and handclaps as her vocals take on the impassioned gospel-tinged tone of a feverish preacher.
It's the last song of the album, "No Choir," that proves to be the most revealing. Like the title suggests, it begins with Welch's voice alone, until the piano comes in as she delivers the most vulnerable lyrics of the album: "But I must confess / I did it all for myself / I gathered you here / To hide from some vast unnameable fear." It's one of the ultimate divulgences that an artist can make—admitting to using their art, fans, and fame to distract them from everything dragging them down. And in Welch's case, it didn't work. But that was then, High As Hope is now, and the song ends with Welch sounding finally at peace, the faint "La da dah-da da's" closing out Welch's latest chapter on a distinctly positive note.