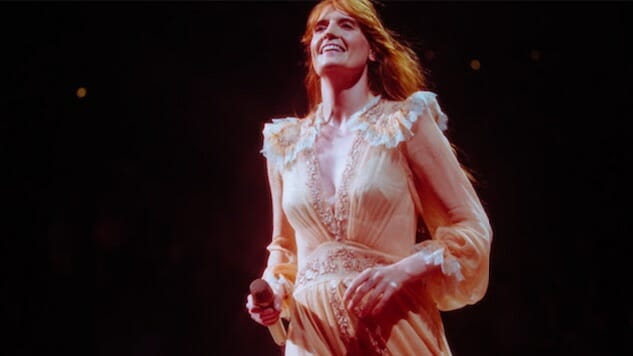 Florence Welch proved she was a believer in "Cosmic Love" on Thursday when she helped one fan propose to her partner onstage during her band's performance.
Welch and her bandmates played a headlining set as part of the Edinburgh Summer Sessions music festival in Scotland's capital city on Aug. 8.
In a video tweeted out by the the festival, Welch brought two fans onstage, hugged them and asked their names. They identified themselves as "Steph" and "Jenny."
"Jenny, there was a Scottish flag there that had a very special request, and I'm fulfilling this request," Welch told the two fans. "Steph has something she would like to ask you." Welch handed the microphone to Steph.
Steph then proposed to Jenny onstage as Welch and the entire audience looked on. Cheers, whistles and claps can be heard in the video as Welch holds up a Scottish flag, and the couple share a life-changing and unforgettable moment.
Florence + The Machine recently unveiled two unreleased tracks from their Lungs era, "My Best Dress" and "Donkey Kosh," as part of a special re-release of their debut studio album in July.
Welch previously recorded a song for the Game of Thrones soundtrack, "Jenny of Oldstones," which was released in April.
Last year, the baroque-pop group released the album High as Hope and have been touring in support of it ever since.
Watch Welch bring "Lover to Lover" in the romantic proposal below.
A summer of love! An incredible setting with a perfect proposal at @florencemachine this evening Congratulations to the happy couple! You've got the love I need to see me through… pic.twitter.com/bNwtIPUQjl

— Summer Sessions (@SmmrSessions) August 8, 2019
Thank you Edinburgh
Photos by Euan Robertson pic.twitter.com/7DM1pRmeOG

— florence welch (@florencemachine) August 9, 2019