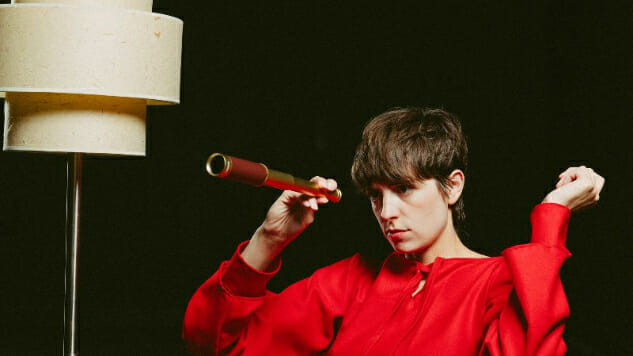 Maria Jacobson is a fresh face in Chicago's indie scene, but with "Company," the lead single off her debut record, she's rolling in ready to stir things up. Under her recording moniker Fran, Jacobson has announced her debut project A Private Picture, out this fall on Fire Talk, with an empowering video for "Company" to match.
"Company" is a song about control—specifically Jacobson putting it back in her own hands. The song oscillates between a laid-back verse and chorus of explosive energy, separated by tense moments of stillness. While the instrumentation is minimal, Jacobson's guitar work serves as a crunchy accent to her dynamic voice, singing, "This is what you asked for."
The music video for "Company," directed by Reilly Drew, follows Jacobson as she patrols the streets on a Bird scooter with calm determination on her face. When she comes across a group of long-haired guys playing basketball, she slowly walks up to one, cuts his braid off and leaves with it in hand. The video then takes a turn for the surreal, as we see Jacobson using the braid along with others as percussive props in a bizarre live show.
Jacobson explains the underlying symbolism of the video as a critique on of male spaces that she's observed as a musician:
I wanted to explore the traditionally male-dominated spaces and dig into the absurdity of that entitlement. And it is ridiculous at this point because the tide is changing so much. I think everyone is tired of all-male bills, condescending sound guys and unsafe, aggressive music spaces.
Fran's debut album, A Private Picture will arrive Nov. 15 on Fire Talk, with vinyl and digital preorders available on Fran's Bandcamp. You watch the video for "Company" below, and find the details of A Private Picture further down.
A Private Picture Tracklist:
1. Now
2. Company
3. So Surreal
4. Time and Place
5. In My Own Time
6. (I Don't Want You to Think) I've Moved On
7. A Private Picture
8. Desert Wanderer
A Private Picture Album Art: