Watch Freddie Mercury's Previously Unreleased "Time Waits for No One" Performance
Images via Universal Music, A. Sawa
Music
News
Freddie Mercury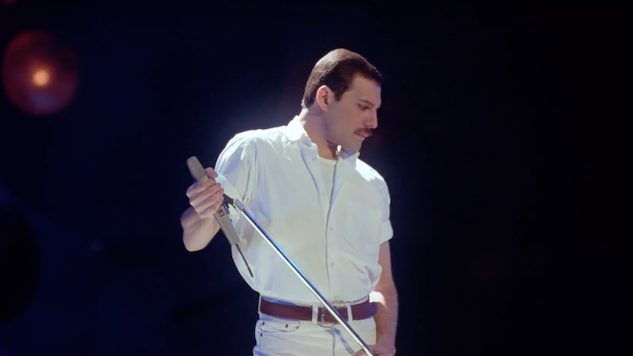 Freddie Mercury has some of the best and most recognizable vocals in the history of music, and fans get another taste of them with Mercury's newly released "Time Waits for No One."
Released by Universal Music, the performance is equally emotional as it is powerful. With Mercury's legendary, poignant vocals at the forefront, "Time Waits for No One" is a piano ballad for the masses. With Mercury centered with a mic in London's Dominion Theatre, the video is simplistic despite Mercury's presence and performance being anything but. Similarly, after four decades of being unheard, "Time Waits for No One" shows that Mercury is still one of the greatest vocalists and frontmen the world has ever been graced with.
"Time Waits for No One" was originally recorded with songwriter/producer Dave Clark in April 1986 for the concept album of the musical Time. Mercury's version stands as a stark contrast to the heavily produced official release for the musical, as well.
"Dave Clark had always remembered that performance of Freddie Mercury at Abbey Road Studios from 1986," a press release explains. "The feeling he had during the original rehearsal, experiencing 'goosebumps,' hadn't dissipated over the decades, and he wanted to hear this original recording—just Freddie on vocals and Mike Moran on piano. After much searching through the vaults to find the version without all the backing vocals, he finally retrieved it from his tape archive in the spring of 2018."
The release of "Time Waits for No One" comes just after Queen's seminal track "Bohemian Rhapsody" was named the most-streamed track of the 20th century, as well as the most-streamed classic rock song of all-time, in December 2018.
The 2018 biopic Bohemian Rhapsody heralded a resurgence of Queen support in the 21st century and saw actor Rami Malek portraying the Queen frontman. Malek not only took home a Golden Globe for his performance as Mercury, but also won Best Actor at the Oscars.
Watch the video for Mercury's "Time Waits for No One" and a 1986 interview with Mercury and Clark below. We've also included a 1983 Mercury interview from the Paste archives further down.