Exclusive: Frightened Rabbit's Grant Hutchison Shares Tiny Changes Album Notes
The drummer and brother of the late Scott Hutchison breaks down the tracklist band by band
Music
Features
Frightened Rabbit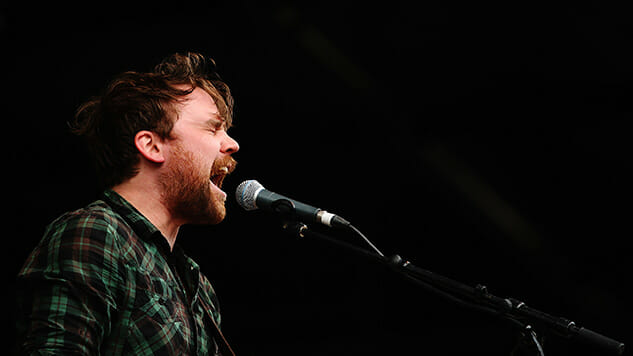 On April 15, 2008, Frightened Rabbit released their now-indie classic The Midnight Organ Fight. It was an album that frontman and lyricist Scott Hutchison never thought the world would hear—"For some stupid reason, I didn't even really consider that they'd ever be particularly public," he once told me. He wrote without an audience in mind because, well, there wasn't really one back then. The demos he'd been sending to Fat Cat Records since 2004 were raw and unfocused, and the band's live shows were all over the place, loud as hell and not necessarily crowd-friendly.
But then something clicked. Peter Katis (The National, Interpol) signed on to produce the record, a follow-up to the Hutchison brothers' self-produced Sing the Greys. The resulting album, The Midnight Organ Fight, benefitted from a word-of-mouth campaign that, against all odds, was overwhelmingly successful: The album made its way onto many end-of-the-year—and decade—lists as the band became stars both at home in Scotland and across the Atlantic in the U.S.
Scott Hutchison's account of his on-again-off-again relationship, exceedingly vulnerable and devastatingly honest, won him heaps of praise as a lyricist. His words were the true catalyst to the band's slow-cooked success. Fans around the world identified with tales of his never-ending breakup, from the split itself, to his inability to truly stay separated, all the way to his acceptance that it's actually over. It's impossible to listen to tracks like "My Backwards Walk," "Good Arms vs. Bad Arms" or "Poke" and not see some of yourself in them.
A real community formed around these songs, both amongst fans and fellow musicians, the latter of which loved the band just as much as the former, perhaps even more so. Despite his morbid lyrics, Scott had a really bubbly personality, one that artists routinely flocked to for drinks or long chats about music.
So it makes sense that instead of releasing a 10-year anniversary box set with demos and b-sides, Frightened Rabbit decided to recruit their musician friends, many of whom date back to the band's early days, to cover the songs. Scott helmed the project, which was supposed to be released shortly after the band's anniversary shows early last year when they played the album. But tragically, Scott passed away about a month later, and the project was shelved for over a year.
That tribute album, titled Tiny Changes (from the line "While I'm alive, I'll make tiny changes to Earth" on "Head Rolls Off") will finally see the light of day Friday. In an extraordinary show of emotional strength, bandmates Grant Hutchison, Billy Kennedy, Andy Monaghan and Simon Liddell put the finishing touches on it all.
Today (July 11), a day before Tiny Changes hits the shelves of record stores and streaming platforms, Grant Hutchison is sharing the album notes he wrote for the record, detailing the band's connection to every act on the tracklist, from Julien Baker to Biffy Clyro, Death Cab For Cutie's Ben Gibbard to Sarah Silverman—many of whom performed at a show celebrating Scott's life at Rough Trade in Brooklyn late last year. It's a beautiful project, one that has gained new meaning since its inception, but also one that showcases the variety of musicians who were influenced by Frightened Rabbit over the course of its 15 years as a band.
1. Biffy Clyro: "The Modern Leper"
We first toured with Biffy back in 2008 and they have been such great supporters of the band ever since. It was really inspiring to see them get up every night as a three-piece rock band and make so much noise and make people so fucking happy. It definitely gave us inspiration and motivation to be as true to ourselves as we could but still aspire to be as big as we hoped we could be.
2. Oxford Collapse: "I Feel Better"
We were first introduced to this band through a mutual friend in New York. We toured with them from the very beginning in the US and they were some of the most fun tours we've ever done. The stories these guys have of being on the road are worthy of a book and I really hope someone writes it one day!
3. Fiskur: "Good Arms vs. Bad Arms"
Ross Clark is a very old friend of ours from Glasgow. He used to pester us constantly asking if he could support us so we finally gave in one night and we've been great pals ever since. We took Ross out on tour with us many times and every time we had such a great time. I wouldn't recommend a day off in Blackpool if you're touring the UK with these boys!
4. Right On Dynamite: "Fast Blood"
The very first time we visited New York we played The Mercury Lounge and this band supported us. We had them out on a North East US tour with us and we have traded many "good luck" animals over the years and are still close friends. They're also all in The Woodpile video if you look closely. I think Molina ate three bags of Cheetos that day!
5. Josh Ritter: "Old Old Fashioned"
Scott was a fan of Josh'd from when he released Hello Starling in 2003. When we heard that he was a fan of FR we were blown away and getting the opportunity to tour with him was amazing. Scott played these shows solo and there was a real connection between him and Josh that you could also hear in some of their songwriting. The Girl In The War EP will forever be my favourite EP and holds a lot of memories of Scott.
6. Wintersleep: "The Twist"
We knew as soon as we met this band that we would be friends forever. Almost every day we would arrive in our dressing room and they were already in there drinking our beer and avoiding our raw veg platter. We love everything about these people and their music. Again we probably have a books worth of stories with these guys.
7. The Philistines Jr: "Bright Pink Bookmark"
Peter Katis is such a huge part of our careers and specifically The Midnight Organ Fight. We flew out to Connecticut with very little studio experience and instantly clicked with Peter on a personal and professional level. He pushed us at times and we pushed back harder which meant the swear words stayed on the record! We are still one of his wife's favourite bands and that's something we'll be forever proud to say.
8. Craig Finn: "Head Rolls Off"
The Hold Steady were a huge influence on Scott and in particular Craig's lyrical style. The openness and honesty they both used in their lyrics is what people loved about them and it meant the connection they had was strong and one based on respect and admiration. Also Craig Finn knows how to do a night out and this is important to Frightened Rabbit.
9. Harkin / Sarah Silverman: "My Backwards Walk"
Katie Harkin and her original band Sky Larkin have been friends of ours from the first time we toured in Leeds. We played The Brudenell together a bunch of times and toured together in 2010. Katie is an amazing musician and songwriter and a bloody lovely person too. It was nice to know that there were lovely folk in bands and not just arrogant pricks!
Sarah Silverman tweeted a lyric from a FR song and that put Scott and her in touch when he was living in LA. I think they performed at the same night at some point and I imagine the fact they're both funny as fuck meant they got on well! Scott always described Sarah's part in this song as "The mustard in the macaroni." You might not realise it's there but if it wasn't then you'd know something was missing.
10. Benjamin Gibbard: "Keep Yourself Warm"
Getting the offer to support Death Cab For Cutie in Europe in 2008 was probably our first "Fuck me" moment in the band. To hear that a band we all loved so much wanted us to join them was totally surreal and totally brilliant. Ben has become a good friend to us all over the years and more than just a musical peer. The shows we did with them gave us massive boost and are proof that support tours work if you get the mix right.
11. Inletts: "Extrasupervery"
Jeff Ziegler was our US tour manager from 2008 til 2010. There are too many in jokes for us to even consider writing anything personal here but he is one of our closest friends and one of the best producers in the world. He's had a hand in The War On Drugs, Kurt Vile and any other Philly band of worth over the past few years and Scott recorded a demo of Footshooter with him in 2009. He is a legend. No other word fits.
12. Daughter: "Poke"
We met Daughter when we were on the same bill at Laneway Festival in 2014. The whole lineup that year was incredible but we really got on great with Daughter and ended up hanging out a lot. Their version of Poke on Tiny Changes is one of the most interesting interpretations of any of the songs on the album.
13. The Twilight Sad: "Floating in the Forth"
This band are simply the most important band in Frightened Rabbit's history. They've done more for us as people and musically than anyone else and they are family to us. The tours with The Twilight Sad are the best we've ever done and they constantly made us want to write better songs and play better live. This song was always going to take on a new meaning after Scott's death and nobody could have done a version close to this. We love them and always will.
14. Aaron Dessner & Lauren Mayberry: "Who'd You Kill Now?"
Aaron had such a huge impact on the sound of the last record and had a real deep understanding of what the band wanted to achieve with it. Working with him as producer on Painting Of A Panic Attack was a no brainer. We are all such massive fans of The National and knowing how much Aaron has to do with that sound meant it was an easy decision. His musical mind is like nobody else and it's an incredible thing to see in action.
When we mentioned to Lauren that we had tried to contact the band about doing a cover and got no response she was pretty pissed off. So we all did our best to make it happen and here it is! Chvrches have continued the trend of Scottish bands moving away from whatever the current sound is and creating their own thing and that's something we should all be proud of.
15. Julien Baker: "The Modern Leper"
Julien is a ridiculously good songwriter and a really inspirational person. We played a few shows together a couple of years ago and she was such a great opener for us. I love watching a crowd fall in love with someone who's going on before us and it happened every night on that short run. Her version of Modern Leper is a favourite of a few of ours too.
16. Piano Bar Fight: "The Twist"
Obviously we had to have Andy and Si's old band on here! It's some direct lineage of Frightened Rabbit! I think it's interesting to show Andy's mind working on something different from FR even though it's still a FR song. We played a few shows with PBF back in the day too and that's how Scott and Grant got to know Andy a bit better. Billy already knew him through college and confirmed he was not a dick when we spoke about him joining FR.
17. Manchester Orchestra: "My Backwards Walk"
Scott and Andy Hull are very similar songwriters and when they recorded a song together for Record Store Day it was clear their voices really worked beautifully together. The initial contact came through the label but we have all been huge fans for quite a while so having Manchester Orchestra on this record made perfect sense.
Watch Frightened Rabbit perform in the Paste offices in 2011 below: