Nothing Like You: Celebrating the Songs of Scott Hutchison
Ahead of a tribute show in honor of the music of the Frightened Rabbit lead singer, we spoke to some of the performers about the massive impact he had on their lives.
Photo by Mark Metcalfe/Getty
Music
Features
Frightened Rabbit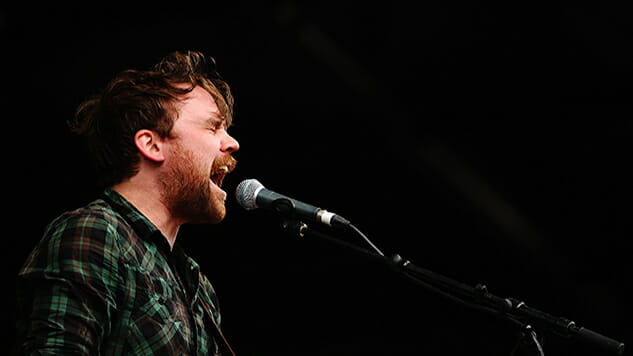 "Obviously, I wish it wasn't happening," Kevin Devine explains.
And he's right—no one is especially happy that "Tiny Changes: A Celebration of the Songs of Scott Hutchison" is happening; Ben Gibbard, Julien Baker, Craig Finn, Aaron Dessner, and Devine all wish the Frightened Rabbit frontman was still with us and that this tribute show, taking place in Brooklyn tonight at Rough Trade, wasn't necessary. They'd do anything to grab one more pint and shoot the shit with their friend, their collaborator, and their favorite lyricist and performer.
But just over six months since the Scottish indie rocker took his own life, this group of five musicians, all close with the late songwriter in various ways, is set to take the stage and perform a handful of Hutchison-penned songs that are most meaningful to them, choosing tracks that remind them of a specific tour, influenced their individual careers or represent something else entirely. The concert sold out in (literal) seconds, with all proceeds going to the Scott Hutchison Fund, a mental health charity set up in his memory.
Given the events that transpired in late May, each performer is beyond grateful to be given the opportunity to cover their friend's songs in front of an adoring—and still grieving—audience.
"I'm glad they asked me," Devine adds. "You'd rather not have to be doing it, but to be doing it a) for the purpose of the music, b) to support the foundation they started and c) with that group of people—if something like that's going to happen, it's an honor to be asked to be a part of it. I take that seriously and I want to do it right, so I'm trying to get my head around and making sure I get up there that night and do the songs justice. I know he would get a kick out of it; he'd probably try to take the piss out of it a little bit and feel pretty sheepish about the fact that he's being cast in such a serious light."
Julien Baker—who once recorded a song with Hutchison & co. and opened for both Frightened Rabbit and Kevin Devine just months apart in 2016—echoed Devine's sentiment, noting the strange feeling of preparing for the show.
"As beautiful and memorable of a night as it will be and as much as I want to commemorate and celebrate Scott's songs, I have an inability to separate it from the loss that caused it," Baker says. "I think it's a beautiful thing that so many artists that I admire and admired Scott are coming together to share in this joint celebration of his work, but there's something sort of somber and hesitant about it. It's one thing for me to listen straight through the records and work through my feelings about the songs alone—which is something that helped and I've been trying to do so those songs aren't so loaded—but I think when you then make it a performance, one thing that I'm really wary about is like, 'What is the focus or the objective?' With the group of people organizing it and of what I know of Ben and Aaron and Kevin Devine and everyone, it's a really pure event and it's going to be a genuine celebration without any pretense about it."
The two organizers—Canvasback Music founder Steve Ralbovsky, who signed the band in 2010 for their final two records, and The National's Aaron Dessner, producer of 2016's Painting of a Panic Attack—are coming from an extremely sincere place, putting together a pitch-perfect bill of the musicians who helped Frightened Rabbit feel at home on this side of the Atlantic. Each individual performer's life and career were positively affected by Hutchison's kindness, remembering instances where the frontman reached out in times of need.
For Kevin Devine, who finally met Hutchison in person in 2016 after emailing on and off for six years as virtual pen pals, that meant helping out following a tour cancellation and talking through the ups and downs of constantly being on the road.
"We were talking about doing some touring here and then last year as they were doing their last round of shows for Painting of a Panic Attack, we were supposed to do this tour with Modern Baseball and they cancelled the tour at the last minute, and the whole spring kind of fell through," Devine remembers. "I reached out to a few people and asked if there was anything going on, and Scott wrote back immediately and said, 'We have these shows if you want to play them; you're welcome to come play them.' He put me on a handful of shows with them when I was in a spot where that was really super helpful. My interactions with him were exclusively funny, positive, warm, gregarious and even when they were intense and heavy, they were in the service of both of us trying to figure our heads out a bit. In two very specific instances something happened in my career where I needed a little help, and both times he was, within the first 10 minutes, the person that was like, 'Yeah, I've got you. What do you need?'"
These kinds of stories are commonplace when talking to Hutchison's peers, who almost all mentioned his ability to be both serious and lighthearted simultaneously, reflecting his onstage persona—constantly joking between brutally honest and extremely dark songs. While he was struggling more internally than anyone could have possibly known, he always made sure he was there for his friends and musician colleagues, routinely putting their needs before his.
For The Hold Steady lead singer Craig Finn, that meant something as simple as staying up late and hanging out after their shows in Hutchison's native Glasgow. "Some of my favorite tour memories are being in Glasgow and going out with Frightened Rabbit folks after the shows," Craig Finn wrote in an Instagram post the day the news broke of Scott's passing. "It's kind of a tradition, in both Glasgow and NYC, and always so fun. Last summer I was there and we had an absolutely great night out, hitting a few places after the show, staying out late, talking music and whatever else. I woke up the next morning thinking about how lucky I am to know these people, and how kind they've been to me. His songs are often sad, but being in a room singing them along with a crowd made things feel better, even triumphant."
Others had been big fans for quite awhile before even meeting Hutchison in person. In a recent interview with Spotify, for example, Ben Gibbard mentioned that Frightened Rabbit's breakthrough album, The Midnight Organ Fight, which the band toured in full for its 10th anniversary earlier this year, had a massive effect on him, prompting Death Cab for Cutie to invite them out for an extensive tour in 2008 and again in 2011.
"When you're younger, music has a power more frequently over you," Gibbard told Spotify earlier this year before jumping into a cover of "My Backwards Walk." "I had noticed as I'd gotten older it happens less frequently than it once did, but when The Midnight Organ Fight came out … it made me feel the same way I felt when I heard the Cure's Disintegration or Superchunk's Foolish—records that were really important to me at a younger age."
And if Gibbard was right about certain records having more career-altering power at an earlier age, Julien Baker is his prime example, who frequently talks up the influence Hutchison's gritty lyrics about the dark side of love and sex has on her own music. She discovered 2013's Pedestrian Verse while in college, seeing the band open for The National at the Ryman and being floored by their performance of "Acts of Man."
"When I sat down with [Pedestrian Verse], it was like a complete revelation," Baker says. "I really clung to that record. I don't think I realized how deeply until I had been listening to them for about a year—'Oh my god, this is one of my favorite bands.' When I was in college, I just wore out Pedestrian Verse, and I looked up to Scott and the rest of the band as writers before I even had an inkling that I'd be even get to play shows with them or know them personally or have extensive conversations with them. That is very interesting to me how without ever knowing that we would meet or make music together, Scott had already had such a profound impact on my life. Once I met them, the admiration or the mystic wonder at their artistry never wore off; becoming friendly with them never detracted from my amazement at him as a songwriter."
With each artist performing tonight having such an intense connection both to Frightened Rabbit's music and Scott Hutchison himself, the show is sure to be a memorable one, celebrating the accomplished catalogue of one of indie rock's most literate and expressive songwriters in recent memory. Hutchison, in some way or another, left a colossal impression in the five musicians hitting the Rough Trade stage tonight—as well as everyone in the crowd—making monumental changes in each of their lives.
"I'm here, I'm here, not heroic but I try," goes the refrain on "Acts of Man," the song that first blew away Julien Baker. It might as well be a metaphor for the entirety of Hutchison's songs, that he's not perfect—far from it—but he's trying to be a better person, proving that just showing up is the first step towards improving himself. In a lot of ways, it describes his kindness and extreme generosity towards others, including, but in absolutely no way limited to, the five artists celebrating his music and life tonight. And in return, though they all wish he was still with us and prepping his band's rumored sixth album instead, they're making a point to be here, no matter how hard it'll be to step up to that microphone.