Listen to Frightened Rabbit's Graceful Daytrotter Session, Recorded in 2009
Mourning the loss of an empathetic soul and taking solace, as always, in the music.
Illustration: Johnnie Cluney
Music
Features
Frightened Rabbit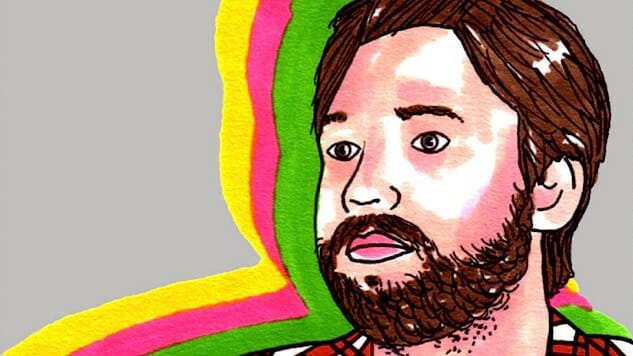 On Nov. 26, 2009, a year after Frightened Rabbit released their beloved sophomore album, The Midnight Organ Fight, frontman Scott Hutchison and his band visited our sister site, Daytrotter, for an intimate performance of three songs from that album, as well as one from their 2006's debut, Sing the Greys.
Hutchison, who was found dead Friday in his native Scotland after an apparent suicide, was a uniquely gifted songwriter with that rare ability to pour forth empathy and essential human experience with only the flickering of a light in the darkness. That was immediately evident on this day in 2009, when Frightened Rabbit performed songs full of disquiet, longing and mystery including "The Twist" and "Head Rolls Off," with the latter's existential chorus:
When it's all gone, something carries on / and it's not morbid at all
Just when natures had enough of you / when my blood stops, someone else's will not
When my head rolls off, someone else's will turn
And while I'm alive, I'll make tiny changes to Earth
Today we're mourning the loss of an empathetic soul, a voice we want to hear again, and we're taking some solace, as always, in the music. Here's Frightened Rabbit's gorgeous four-song performance, captured nine years ago in Philadelphia, complete with the text we included with it at the time, written by Sean Moeller:
Nov 26, 2009: Miner Street Recordings, Philadelphia, Penn.
Frightened Rabbit lead singer Scott Hutchison isn't ruining anything for the listener by leaving nothing up to the imagination in his lyrics, because he leaves everything up to his imagination and it's so preoccupied with all of the minute details of sight, touch, taste, smell and sound. He covers it all and in doing that, makes a collage of patches and squiggles that is dynamic and wondrous in its own right. He sends forth all of the navigable sensations and inclinations, asides and strewn-about sweeps of thought that tend to get the better of him and turn him into knots, wrestle his consciousness to the ground and just ride him out, smothering him sufficiently until he can release them. He sets these concerns free and when he does so, his bandmates—including his brother Grant on drums and Billy Kennedy on guitar—tend to make them sound like pained, but emotionally liberating exasperations.
Frightened Rabbit records sound like rainy-day weepings that aren't at all depressing or too bleak. There's actually green grass and clouds opening up in slivers in the songs on The Midnight Organ Fight that create the illusion that all that was needed was venting and time to distract him from anything getting too overcoming or harmful. Or so it seems. All of the minor blights and short instances that seem to turn him into a sensitive bloke without a shield to fend them off are numerous and obviously distinctive. They mess with him and the needle him, consuming his head until their definitions are such that they are beasts of different colors and they come from him like wounded butterflies in a controlled and sullen voice that makes you want to nurture someone, that makes you want to apologize to someone for something you did a long time again, that makes you want to just finally act on your attraction and not be such a coward about your own heart.
The details that get to Hutchison, that really work themselves through his whole body are the glimpses of good stuff that he finds that he can't have or get to. He makes a lot of time for physical references that are so forbidden at times and beautiful that they are nauseating. They make a body swelter and get all jittery with lord knows what, we'd all love to know. They are the sights and sounds that get someone sexed up and curious about possibilities. It's catching a bra strap hanging off of a shoulder, it's seeing a gorgeous ankle or stomach, or catching an unencumbered smile and shine. These are the killers, the daggers and Hutchison ingests them fully, leaving them in his mind to just expand and expand into fantasies that sound and feel so real. He sings about body parts—the ones that we all get to see mostly uncovered in public all the time—and he finds them to be as enchanting as any breast might ever be.
Or maybe not, but it's close. He reminds a woman to "keep your naked flesh under your favorite dress and leave the rest at arm's length," and there are so many parts of him that we hear, aching to see a bare thigh or shin and getting so involved with the thought that it starts to feel real and you understand him completely when he sings, "I need human heat." It's exactly the way you feel most nights. Not many people could deny that, nor would they want to. They'd be deceased.