Gabby's World (fka Eskimeaux) Previews New Album Beast on Beast with New Single, "Rear View"
Photo by Chris Sikich
Music
News
Gabby's World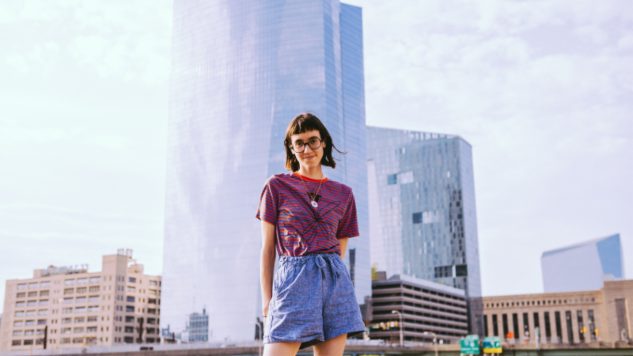 Gabrielle Smith has announced her new album Beast on Beast, also sharing its lead single "Rear View."
Smith has previously recorded music as Eskimeaux (and briefly as Ó), and now she has a new name: Gabby's World. The record will be Smith's most recent full-length since 2015's O.K., and the first album under her latest moniker.
Smith began making music over a decade ago, building what can be better described as atmospheric soundscapes than your run-of-the-mill record. Throughout her career, the dynamic singer-songwriter has managed to combine folk with pop, somehow making you want to break down and cry, and get up and dance, all at the same time.
Although the wait was painful, Smith has returned after an extended hiatus with the same haunting vocals and live sound as "I Admit I'm Scared" or "Broken Necks," but with rejuvenated energy and enthusiasm.
Beast on Beast was recorded live in summer of 2017 in Brooklyn, and mixed by Carlos Hernandez and Julian Fader of Ava Luna. The album features the same group of band members, including Oliver Kalb of Bellows, Felix Walworth of Told Slant and Jack Greenleaf of Sharpless.
Smith and Kalb spent the next season adding layers of guitar and vocal harmonies, string and choral arrangements, and contributions from collaborators, including Yoni Wolf of WHY?, Greta Kline of Frankie Cosmos, Luke Jenner of The Rapture and Alex Bleeker of Real Estate.
Beast on Beast is available for preorder now and set to be released on Nov. 2 by Yellow K Records. Keep scrolling for the tracklist and album art, but first, listen to "Rear View" via SoundCloud here.
Beast on Beast Tracklist:
01. Winter Withdraw
02. Rear View
03. Ode
04. I Get You
05. Beast on Beast
06. Eyes For You (u_u*)
07. Body
08. Vignette / Lesson
09. Capable
10. Tour Mate Sex Dream
11. When I Felt Giving
12. Arrival
Beast on Beast Album Art: