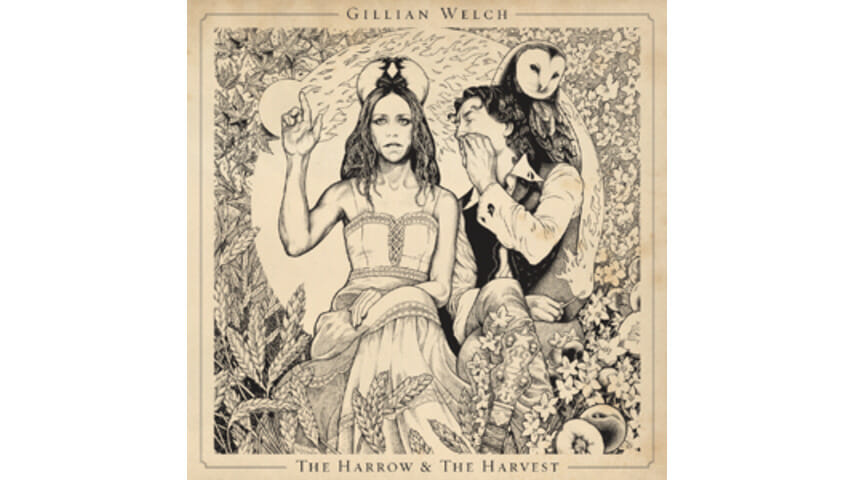 "Some girls are bright as the morning, some girls are blessed with a dark turn of
mind"
If you're an artist who plays music that sounds as if could have been written a century ago, what difference does it make if you take eight years between albums? No difference at all if you're Gillian Welch.
Her loyal fans' appetites were whetted last year when Welch and her musical partner David Rawlings released A Friend of A Friend under the mantle of Dave Rawlings Machine. Sounding much like a Welch album—maybe the missing link between her Soul Journey and Time (The Revelator), A Friend of A Friend was a hopeful indication of good things to come.
The duo don't seem to have tinkered much with their approach to singing or recording music with The Harrow & The Harvest. Their interplay is as empathetic as ever, reminding us how rare it is to hear musicians with such highly developed senses of intuition. At times, it's still difficult to know when Welch's vocals end and Rawlings' harmonies begin with the interweaving of string melodies as expansive and deceptively complicated as anything this side of vintage Grateful Dead.
The songs featured on The Harrow & The Harvest are every bit the equal of those on her career-defining Time (The Revelator), which will be good news for those who were disappointed by the comparatively lightweight songs on 2003's Soul Journey. Songs like the harmony-drenched "Dark Turn of Mind," "Hard Times" and "Tennessee" illustrate how much Gillian Welch's literary sensibilities have developed as she plays with words and phrases taken directly from the darkest corners of the Old Weird American songbook. While it's true that Gillian Welch isn't the first artist to use the rugged quality of early American folk music—with its rich iconography and imagery—as inspiration, what separates her from other artists who have done so is the deftness with which she employs familiar themes from archaic songs and adapts them to reflect the concerns of a person living in the 21st century. It's a difficult conceit to pull off, but on song after song, Welch balances the ancient and the modern with an ease and grace that scarcely seems possible.
It would be inaccurate to call The Harrow & The Harvest a concept album, but many of the songs—most notably the progressively titled "The Way It Goes," "The Way It Will Be" and "The Way The Whole Thing Ends"—are subtly connected by themes of coming to terms with the past and finding the resolve to move on. Listening to these songs, one can hear that the eight years taken between releases has caused Gillian Welch to ruminate and pour all of her weighing up and accounting of life's sad twists and turns into one of her best albums. The Harrow & The Harvest is simply one of the richest, most expansive roots albums to be released in some time.