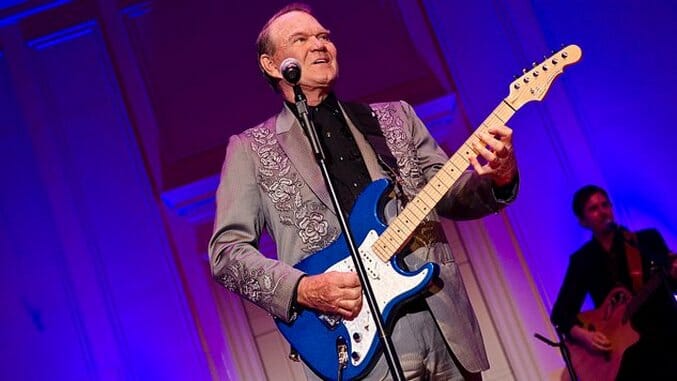 With the release of his final album Adios last Friday, Glen Campbell has offered his fans a final farewell. The country singer and TV icon publicly disclosed his battle with Alzheimer's disease in June 2011, and shortly thereafter, recorded this collection of familiar standards rendered with his usual amiable delivery. We gave Adios a favorable review that you can check out here.
Before this disease took over, of course, Campbell's career was marked by one triumph after another. He hit the heights of the pop and country charts on so many occasions, while never lowering his sights when it came to artistic excellence. (Incredibly, he had seven albums go to No. 1 on the U.S. Country charts between 1967 and 1969, starting with 1967's Gentle on My Mind.) His partnership with songwriter Jimmy Webb brought success to both men, resulting in some of the most enduring songs of the past 50 years. To celebrate the Campbell's final record and a life full of music, here are a dozen songs that prove his place in the pantheon of great American masters.
12. "There's No Me…Without You"
The final song on what could have been his final album (2011's hauntingly titled Ghost on the Canvas), "There's No Me…Without You" is a love letter to his wife Kim, an obvious thank you for her devotion and support as the scourge of Alzheimer's begins to take its toll. One could also make the connection to his fans, who lent their support over the course of his career. Still, this is no weary retreat; with the additional talents of a disparate cast of special guest stars—Billy Corgan, Rick Nielsen and Brian Setzer among them—the song rings with anthemic endowment, suggesting that Campbell hasn't conceded, yet.
11. "These Days"
Although it's been covered innumerable times since Jackson Browne first penned it in the late '60s, Campbell manages to sing "These Days" with the kind of reverence and reflection that only a veteran artists like himself can bring. Taken from his 2008 album Meet Glen Campbell, it's sung in a way that aptly sums up his career—before the onset of his disease, but well after his run of hits had ended. A fitting soliloquy, it's an ideal postscript to a triumphant run.
10. "Don't Think Twice, It's Alright"
Taken from his new album Adios, here's another indelible cover again transformed in Campbell's signature style. It's hard to put an individual imprint on a Bob Dylan song that's been rebooted as often as this. And yet when he sings the line, "I'm going down that long, lonesome road babe, where I'm bound I can't tell," they bode special meaning given where his twilight journey leads him.
9. "Dreams of the Everyday Housewife"
This lead single from 1968's pop record Wichita Lineman is another poignant tale of one whose dreams have faded, but still manages to find happiness in everyday happenstance. It's even more proof that even the most uneventful existence can bring a sense of celebration. But as another celebration for Campbell, the song hit No. 3 on the Billboard country charts.
8. "Southern Nights"
Joyful, jaunty and a major hit to boot, Campbell momentarily shed his furrowed veneer and simply turned celebratory instead. Written by Allen Toussaint, the song finds a common bond with a remembrance of the joys that came with being raised in the deep south and swept up in its idyllic embrace. Audiences were obviously able to relate; the song claimed the top spot on both the country and pop charts.
7. "God Only Knows"
Prior to his turn as a consistent chart topper, Campbell was a reliable session player and when the Beach Boys called, he was a ready recruit. He also toured with the band early on, so it was only natural that he should choose to cover one of their most memorable ballads, doing so in a touching and tender way that makes it his own. Campbell truly honors this tender love song and effortlessly conveys its sweet sincerity.
6. "Rhinestone Cowboy"
Often misinterpreted as Campbell's attempt to spotlight his own superstardom, "Rhinestone Cowboy" is instead, a satirical (and surprisingly serious) look at the foibles that accompany success. It more or less mocks the faux sanctity that comes with being placed on a pedestal and the thin veneer between popularity and the actual reality of forced loneliness. The line that describes "the cards and letters from people I don't even know, and offers coming over the phone" aptly details the depth of the plastic bubble that surrounds a successful artist.
5. "By the Time I Get to Phoenix"
Few songs have better conveyed the sadness that comes when relationships are suddenly severed, but fewer still have described it from the point of view of the one who is doing the leaving. There's no animosity and very little regret, but the ability to share the sadness from that perspective, while also offering empathy for the one left behind, made this song as poignant as it was powerful. Plus, it became a massive hit, winning two Grammy awards in 1968.
4. "Country Boy (You Got Your Feet in L.A.)"
Campbell's aw-shucks, good 'ole boy persona always served him, adding to his likability and the feeling of familiarity he conveyed to his fans. But like "Rhinestone Cowboy," this song emphasizes his humble roots and describes the sense of displacement that comes when one is assumed to be an icon, despite the fight to maintain humility and humanity on the way up that gilded ladder.
3. "Gentle On My Mind"
Filled with imagery and illusion, the lyrics nearly overshadow the message, which is in fact, all about a lover's hold on the singer's subconscious. Although it follows the same formula as his earlier hits, Campbell speeds up the tempo on this John Hartford-penned tune, which adds a certain urgency that's both personal and profound.
2. "Wichita Lineman"
This massive hit was also a superb example of the singer and songwriter symmetry Campbell shared with Jimmy Webb. "Wichita Lineman" tells the tale of the lonely lineman braving the hazards of the job, while the narrator's heart keeps its hold on a lover in the distance. When Campbell sings the line, "I need you more than want you, and I want you for all time," desire and desperation become one.
1. "Galveston"
A rugged western narrative appropriate for a novice actor who appeared with John Wayne in the film True Grit (which, by the way, earned The Duke his first Oscar nod), "Galveston" is so evocative that you can practically feel the wind and hear the rough tide of the sea. Other than Jesse Winchester's "Biloxi," no song has ever captured the feeling of the Gulf Coast quite as well, while doing so with a defiance that stirs the imagination and reaffirms a heroic creed.