Everything We Know about Grimes' New Album So Far
The singer today released her first proper single in years, "We Appreciate Power"
Photo by Eli Russell Linnetz
Music
Features
Grimes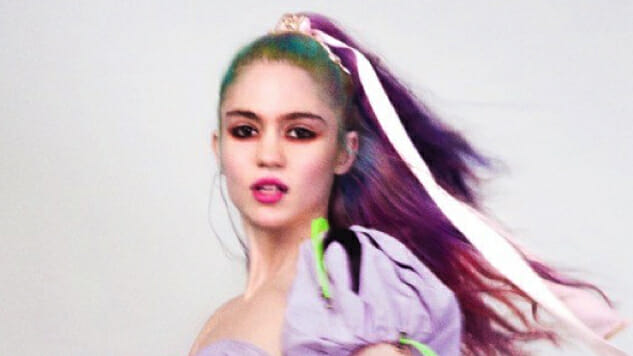 "Everything We Know about … " is Paste's series of deep dives into the forthcoming projects we're most excited about. Explore them all here.
Today (Nov. 29), Grimes released "We Appreciate Power," the first single off her as-of-yet-unnamed fifth album. The track is a glitchy, agit-prop anthem in favor of the AI revolution, and the first official single Claire Boucher has released in over three years. She's gone on record stating that she hopes to have an album out by the end of 2018, and with this song, that goal appears a bit more in reach. But that doesn't change the fact that we still know next to nothing about the release. So let's take a look at everything we do know about the art-pop songbird's impending release, and see if we can't get a grasp on just what's in store.
---
When Exactly Can We Expect It?
In February of this year, Grimes responded on Twitter to a fan asking when her next album would be due out, saying that "realistically" it would be out in the fall, with another one to follow shortly. She then said that the first album would her last for 4AD. ""One final album for my shit label and then my first album on a label of my choosing which I'm crazy stoked about eeeee," she wrote in a post that has since been deleted. "The second one will be extreme darkness and chaos, the first will be highly collaborative and most glorious light."
It's unclear whether the two-album plan has been collapsed into one, or if the plan is still on and we're just hearing about the first one. The tensions with 4AD may be a contributing factor to how quiet the details surrounding the album have been so far, but Grimes rescinded her statement, apologizing for saying "negative shit" about the label.
What Has She Been Up To?
Even if you don't know Grimes, you probably know who she is by now. In May of this year, she and eccentric billionaire/future Bond villain Elon Musk took their relationship public with an appearance at the Met Gala. This was, in a word, surprising to some people—the art-weirdo feminist Grimes hooking up with the techno-capitalist Musk was a little too much for some people to handle. Their public relationship has only gotten weirder, including feuds with opponents as disparate as Azealia Banks and people who accuse Musk of union-busting.
But Boucher's personal life has not slowed her musical life down one bit. She appeared on Janelle Monae's Dirty Computer on the song "Pynk," which she also produced. The song follows the pair's collaboration on 2017's "Venus Fly" video, off of Art Angels. She appeared on K-pop band LOONA yyxy's song "love4eva" the following month. Other recent collaborations include "The Medicine Does Not Control Me" with Mindless Self Indulgence's Jimmy Urine and "Play Destroy" with Poppy. Grimes also wrote the theme song for a Netflix animated series, Hilda, and earlier this week, she teased new music, updated her online store with new, Russian-scripted merch, and shared what appears to be her new album's cover art.
— Grimes (@Grimezsz) November 26, 2018
What Will It Sound Like?
Even without the outrageous year Grimes has had in her personal life, we still could't guess at what to expect from her next album. Boucher is nothing if not a constant mover—the gap between Visions and Art Angels was so enormous that it's hard to imagine what could possibly come next. But she's not exactly been keeping silent—her collaborations notwithstanding, Grimes has shared quite a few snippets of songs off the new album.
Before "We Appreciate Power," she shared snippets of two demos via her Twitter feed. The videos show an album called "13 decent tracks," and feature song titles such as "DARQ SOULS IDEA," "Black Swan Blues" and "Blaze Forever." The first snippet is from a track titled "X Adore u," which Grimes describes as a "cheesy song" that "I don't like but everyone else likes." It sounds very electronic dance-y, and apparently was written on the mellotron. The second is described as an "ethereal chav jam that's like .. a cyberpunk interpretation of this Bajirao Mastani movie." She also teased new music in an ad for Apple's "Behind The Mac" campaign over the summer.
It's hard to get a read on just where Grimes' musical mind is at—the collabs, the snippets and now the single are all so disparate-sounding that it's hard to classify anything as a specific sound just yet. But then again, that seems just about right for Grimes. At least she's still the wonderful weirdo we know her to be.
---
Listen to Grimes' 2013 Daytrotter Session below and stay tuned for more on her new album.