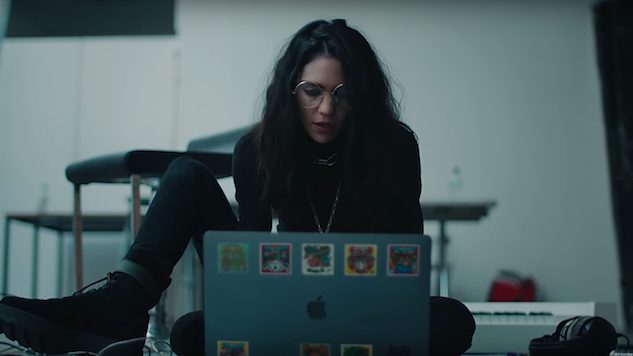 Another day, another smidge of hope that new Grimes music is coming soon.
In a new Apple commercial, Grimes gives us a look into her creative process while a new song, "that's what the drugs are for," soundtracks the ad.
"You can do way weirder things if you're alone in a room and you are not worried about people judging you," she says, mentioning she prefers the freedom of having space to herself where she can work on the floor, rather than in a traditional studio. She also encourages people to use the access they have to technology to create their own weird music.
This is the third track we have heard from the forthcoming album Grimes has been teasing since the beginning of the year. Earlier this month, she tweeted two videos sharing clips of "adore u" and "4am," from an iTunes playlist that is presumably the working tracklist for the album, which she has said can be expected in the fall.
"I hate permission, you know. I don't want permission. If I wanna drop something, I just drop it," Grimes says in the ad, and if all these hints are any indication, hopefully we'll be hearing a full track from the Art Angels follow-up soon.
See the Apple ad in question and stream Grimes' 2011 Daytrotter Session below.