The 15 Best Guns N' Roses Songs
Celebrate 30 years of Appetite for Destruction with a trip down seedy Sunset Boulevard.
Photo: Getty Images
Music
Features
Guns N' Roses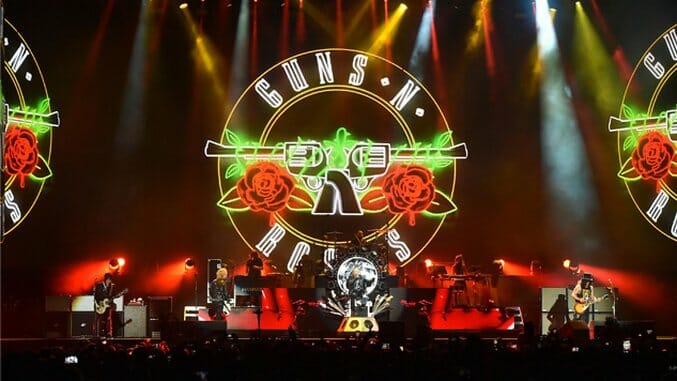 Few bands inspire such spirited debate or judicious ranking of their catalog as Guns N' Roses. The rabid fandom becomes even more remarkable when you consider that in their prime, Guns released only three-and-a-half studio albums of original material—1987's seminal debut Appetite for Destruction (which celebrates its 30th anniversary this year), follow-up EP GN'R Lies the next year and the sprawling Use Your Illusion double album in 1991. Cover album The Spaghetti Incident? followed in 1993, and Axl Rose released the long-awaited Chinese Democracy in 2008 with the help of countless hired guns (pun intended), but few fans would consider those crucial entries in the band's discography.
Still, every Guns N' Roses album has its splashes of brilliance, and all were taken into consideration when assembling this ranking of the group's 15 greatest songs. To Axl, Slash and Duff, if you're reading this, maybe consider incorporating more of these songs into the next leg of your Not in This Lifetime Tour.
15. "There Was a Time"
Drum samples, digital pocket symphonies and clobbering breakdowns bordering on nu-metal are not exactly the first things that come to mind when you consider the ingredients for a classic Guns N' Roses song. But fans who doubted Axl Rose's ability to seamlessly blend these disparate elements into one spellbinding track must have ignored a knack for sprawling arrangements that dates back to Appetite. On "There Was a Time," the standout track from Chinese Democracy, Rose weaves a bitter tale of broken promises and wasted time to the tune of bluesy guitar flourishes and mournful orchestral swells. "I would do anything for you!" he belts over cascading guitars, his voice sanded by time but still ear-piercingly high. Chinese Democracy reportedly holds the crown for most expensive rock album of all time. "There Was a Time" attempts to justify it.
14. "You Could Be Mine"
Written during early Appetite for Destruction sessions, "You Could Be Mine" was first released as the theme song for 1991's Terminator 2: Judgment Day, then appeared on Use Your Illusion II. It would have fit neatly on the group's debut. Slash's reverberant feedback drenches the militant drum-and-bass intro, and the verse riff slices through Rose's unrepentant vocals with the same menacing swagger as "Out Ta Get Me." But muscular riffs and vocal hooks alone do not make a GN'R classic: the most vaunted songs in the band's catalog create a palpable sense of drama and unpredictability, the feeling that the track could implode at any moment. That moment appears in the song's bridge, where Rose delivers one of his most caustic diatribes over maxed-out power chords that teeter on the brink of destruction. His performance proved inimitable, both live and in the studio, and thus "You Could Be Mine" captured the frontman at his most volatile.
13. "Patience"
Guns N' Roses' later ballads collapsed under their own self-importance, but the group sounded effortlessly cool and tender on this acoustic GN'R Lies number, which peaked at No. 4 on the Billboard Hot 100 and set the precedent for countless MTV Unplugged specials. The band recorded "Patience" in a single take, lending the track a homegrown, slightly ramshackle aura that recalls Beggars Banquet-era Stones. Rose sells the frustrated tale of love gone sour with his gorgeous, tragically underutilized low range, and Slash's languid guitar solo proves he could still make grand statements in his quietest moments. Of course, Rose's demons rear their head in the end, and the singer hits the way-outta-sphere as he wails with insufferable longing.
12. "Bad Apples"
Slash and Izzy Stradlin never hid their affinity for the Stones, and they crank out some of their most joyously funky riffs on this Use Your Illusion I cut, which the group performed live only once. It's a shame, too, because the entire band sounds positively on-fire on this track, particularly Dizzy Reed's honky-tonk keyboard and Duff McKagan's slap-n'-pop bass fills. Rose delivers offbeat yelps, scats and slurs in one of his most charismatic vocal performances. When he whines, "I got some genuiiiiine imitation bad apples, free sample for your peace o' mind, only $9.95!" you can picture Mick Jagger and Steven Tyler cracking smiles and nodding in approval.
11. "Paradise City"
One of the key elements to Guns N' Roses' meteoric success was their ability to write and perform for stadium-sized audiences while they were still paying their dues in dive bars and clubs. "Paradise City" was borne out of that dichotomy, with its instantly memorable riffs and anthemic, slightly boneheaded chorus becoming a fixture of sporting events, movies and videogames for decades to come. It's not all utopian sex fantasies, though: the song's verses find Rose musing on his pre-fame poverty, the trappings of stardom and the degradation of the American dream. Likewise, the music video may initially seem like a rote performance number, but it actually proves a self-mythologizing concept piece from a band that had mastered the art of faking it till you make it. Oh, and that double-time outro solo still kicks ass.
10. "Sweet Child O' Mine"
"Sweet Child O' Mine" is a perfect pop song—and a mildly subversive one. Think about it: While Bon Jovi and Whitesnake were churning out saccharine Top 40 slop, GN'R released a sinister, sprawling pseudo-ballad that resembled "Fade to Black" more than "Never Say Goodbye." Originally conceived as a finger warm-up for Slash, "Sweet Child" took on a life of its own when Rose penned his plainspoken ode to then-girlfriend Erin Everly. The fireball frontman delivers the song's first half with uncharacteristic restraint; truly, it's just a vehicle for Slash's volcanic solo, a tense slow-burner that erupts into a firestorm of wah-drenched licks and bends that established the 22-year-old guitarist as one of the all-time greats.
9. "November Rain"
"If it's not recorded right, I'll quit the business," Rose told Rolling Stone in 1988 about his magnum opus, the longest song to ever crack the Billboard Top 10. The frontman allegedly began writing the song as early as 1982, and a pre-Illusion rendition swelled to 18 minutes before being chiseled down to nine. In that time, the full breadth of Rose's vision becomes crystal clear, as does his meticulous studio craft (all the symphonic overtones are digitally programmed) and razor-sharp pop instincts, honed by years of practicing Elton John and Queen songs on piano in his childhood home in Lafayette, In. Rose gives his most tender vocal performance and Slash lays down one of his most spellbinding solos in the song's cathartic, climactic outro.
8. "Civil War"
As protest songs go, "Civil War" is a disaster: There are vague admonishments of a war that ended when the members of GN'R were barely teenagers, capped by Rose's laughably naïve plea, "What's so civil 'bout war, anyway?" (Remember: this is the same man who hurled racial and homophobic epithets on GN'R Lies B-side "One in a Million" three years earlier.) As a rock song, however, the Use Your Illusion II opener is a brilliant spectacle, a masterwork of the soft-heavy dynamics that Nirvana and Soundgarden would later employ as they spearheaded the grunge movement. Slash and Stradlin overlay acoustic guitar arpeggios with massive, distorted chords, creating a palpable sense of dread as Rose wails, "My hands are tieeeeddd!" Throw in a Cool Hand Luke sample, quotes from a Peruvian guerrilla officer and some double-time barroom boogie in the song's final two minutes, and you've got a rightful fan favorite.
7. "Locomotive"
On this winding Illusion II deep cut, GN'R trade the furious bravado and sonic wallop of Appetite for the emotional turbulence and complex arrangements that defined their later work. Slash and Stradlin trade chugging, serpentine riffs atop one of McKagan and drummer Matt Sorum's most seductive grooves, as Rose bitterly laments a failed relationship in stunning detail. The frontman alternates between a nasally sneer hinging on self-parody and a full-throated wail, as Slash punctuates every verse with bite-sized, nuclear solos. The band literally almost derails in the chorus before salvaging the rhythm and captivating listeners for the song's entirety. "Locomotive" fades as the band members jam on a feverish, "Layla"-esque coda, showing that, in their lives and in their songs, resolution often proved just out of reach.
6. "Perfect Crime"
The popular narrative surrounding the Use Your Illusion albums states that Guns N' Roses abandoned Appetite's gritty punk-metal cocktail in favor of swaggering, bluesy rockers and melodic anthems, suggesting that perhaps Rose had grown soft in the four years since the band's debut. That narrative quickly crumbles upon hearing "Perfect Crime," the speed-metal firecracker off Use Your Illusion I that roars to life with one of Slash's most combustible riffs and Rose's feral banshee wail. Matt Sorum slams his skins with a metronomic precision that eluded predecessor Steven Adler, transitioning seamlessly from breakneck chorus to groovy bridge and back again. Rose's hyper-aggressive delivery belies a deep-set insecurity and paranoia; when he barks, "I got the time and I got the muscle, I got the need to lay it all on the line," you best believe it's the only attack method he knows.
5. "Coma"
"Mr. Brownstone" might be GN'R's de facto heroin ode, but nowhere does the band sound more smacked-out than the labyrinthine, doom-laden "Coma." Written by Slash during a "heroin delirium," the 10-minute epic mounts a circular chord progression that constantly shifts keys without ever reaching a proper chorus, alternating between dreamlike interludes and thunderous slabs of feedback. Meanwhile, Rose delivers a chilling narrative inspired by a pill overdose in 1986, unsure whether he'd rather live or die. "All I needed was clarity and someone to tell me what the fuck is going ooonnnnnn!" he screams, as heart monitors beep incessantly, doctors scramble to resuscitate him and a trio of women nags him for being a sex-crazed degenerate. It's both stupefying and, against all odds, disarmingly vulnerable—a potent combination that defines the most timeless entries in the group's catalog.
4. "Rocket Queen"
Let's address the elephant in the room: Yes, those moans during the "Rocket Queen" solo are the result of Rose recording himself having sex with Steven Adler's then-girlfriend, Adriana Smith, who wanted to get back at the drummer for cheating on her. Depending on your view of the band, this either registers as completely reprehensible or merely an classic piece of rock trivia. Carnal minutiae aside, the Appetite for Destruction closer still rocks with abandon, boasting the group's funkiest drum-and-bass groove and a claustrophobic slide guitar solo that builds tension almost to the point of eruption. Rose shifts abruptly from sexual deviant to concerned friend in the song's transcendent coda, bellowing some of his most tender sentiments at a blood vessel-popping pitch over Slash's lilting solo. In the last two minutes of Appetite, Rose let his guard down for the first and last time.
3. "Nightrain"
Steven Adler worshipped at the altar of cowbell, and his impossibly cool drumbeats set the pace for this deceptively glamorous Appetite for Destruction number. "Nightrain" exposes the members of Guns N' Roses for what they truly were in their pre-fame days—a gang of sleazebag junkies who had no problem bumming cheap booze off their girlfriends. But when you're a "West Coast struttin', one bad mother" like Axl, all it takes is one flash of that "dog-eat-dog sly smile" to bend the world to your whim. Izzy takes a rare crack at lead guitar on the first half of the first solo, laying down taut blues licks before Slash ignites his fretboard with one of the most heroic outro solos this side of Led Zeppelin.
2. "Estranged"
It's hard to listen to "Estranged" with 25 years of hindsight. The Use Your Illusion II mega-ballad consummates Guns N' Roses' shift from piss-broke, streetwise urchins to bombastic arena rockers with the funds to indulge their every whim, while also signaling the end of their world domination. The song plows through multiple movements in nine minutes, anchored by Slash's aching guitar melodies and Rose's explosive, melancholy vocals. "Estranged" is the sound of the biggest band on the planet collapsing before the entire world—and knowing it. In the midst of their dysfunctional tailspin, they cranked out one final masterpiece, as Rose looked back mournfully on the book he couldn't help but close, "I knew the storm was getting closer / and the waves they get so high / Seems everything we've ever known's here / Why must it drift away and die?"
1. "Welcome to the Jungle"
"Welcome to the Jungle" established Guns N' Roses' 30-year mythos in just four-and-a-half minutes. It bears every hallmark that made them the biggest band in the world—sinewy guitar riffs, fireball solos, swaggering cowbell blasts, rumbling bass breakdowns and the police siren vocals that ushered in a new era of rock 'n' roll. No two images better encapsulate the band's dichotomy than "mental patient Axl" strapped to a chair and forced to watch violent, pornographic videos, as his teased-hair, leather-clad alter ego prowls the stage and screams the lines that still echo through stadiums today: "You know where you are? You're in the jungle, baby! You're gonna die!" Guns N' Roses fell victim to their own fame just a few years later, but now they're back in 2017 to make up for lost time, self-fulfilling prophecies be damned.